Woolworths Gift Cards Discount & Voucher for December 2019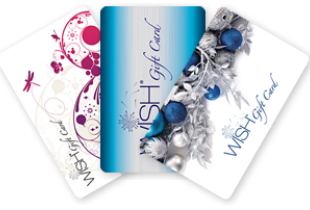 Woolworths Gift Cards - Save 5% Instantly (via ShopBack Desktop/Mobile Site)
Instantly save 5% on groceries, petrol, liquor & more with WISH eGift cards!
Woolworths Ltd ABN 88 000 014 675 is the issuer of the Woolworths WISH Gift Card. Woolworths WISH Gift Cards are redeemable at participating stores only. For a list of participating stores and full Terms & Conditions visit www.everydaygiftcards.com.au

This offer is only available through ShopBack's desktop and mobile site.

Allow up to 48 hours to receive your purchase.

If it is your first time purchasing at Woolworths Gift Cards via ShopBack, you may experience a slight delay as Woolworths verifies your order.

For queries regarding the purchase of Woolworths Gift Cards, please contact Woolworths Customer Contact Centre on 1300 10 1234 (Mon-Fri 8am-8pm AEST, Sat/Sun 9am-5pm AEST), or email [email protected]
More about Woolworths Gift Cards
Woolworths Gift Cards
Woolworths is a name that every Australian will know. They are a $50 billion organization with multiple retail chains and an incredible online presence. Their famous supermarkets that we all love are spread throughout the landscape of the country making them an essential entity for the overall economy of Australia. It is important to know that the hefty revenue generated by the Woolworths group also involves their businesses in merchandise, hotels, and liquor.
History
Starting in 1924, with five founders incharge of the different aspects, Woolworths saw their first variety store open in a basement on Pitt Street, Sydney. In the last 94 years, Woolworths has grown to become a massive organization with recognition & clients all around the world. They are so big where they own 75% of the Australian leisure & Hospitality group.
While the history and evolution of an organization is always intriguing, it is their current status that makes them relevant. As for Woolworths, they are very successful in Australia, making them extremely relevant. Be it online or their retail stores, Woolworths serves thousands of consumers on a daily basis with absolutely no limitation to the availability of products needed by everyday people.
Among the many ways that Woolworths offers to help citizens save money, Woolworths gift cards are certainly the best ones. One of the most important reasons for the top spot is the consistency of the offers that you get when you use a Woolworths gift card. Unlike offers such as Christmas sale, when you buy a Woolworths gift card, you will have the opportunity to use it at your will and wish. This means that there is a discount always waiting for you. Woolworths has made it easy to use their gift cards too. Do you know how easy it is to check Woolworths gift card balance? Just download the Woolworths Money App and track your Woolworths gift card balance. It enables you to have full control of when to use your gift card, how much to use and where to use it.
Gift Card Products sold by Woolworths Australia
The gift cards available at Woolworths are not limited to Woolworths alone. They can also be used at stores such as BIG W, Dan Murphy's, BWS, Cellarmasters and Caltex Woolworths Petrol. Let us look at the gift cards that are available.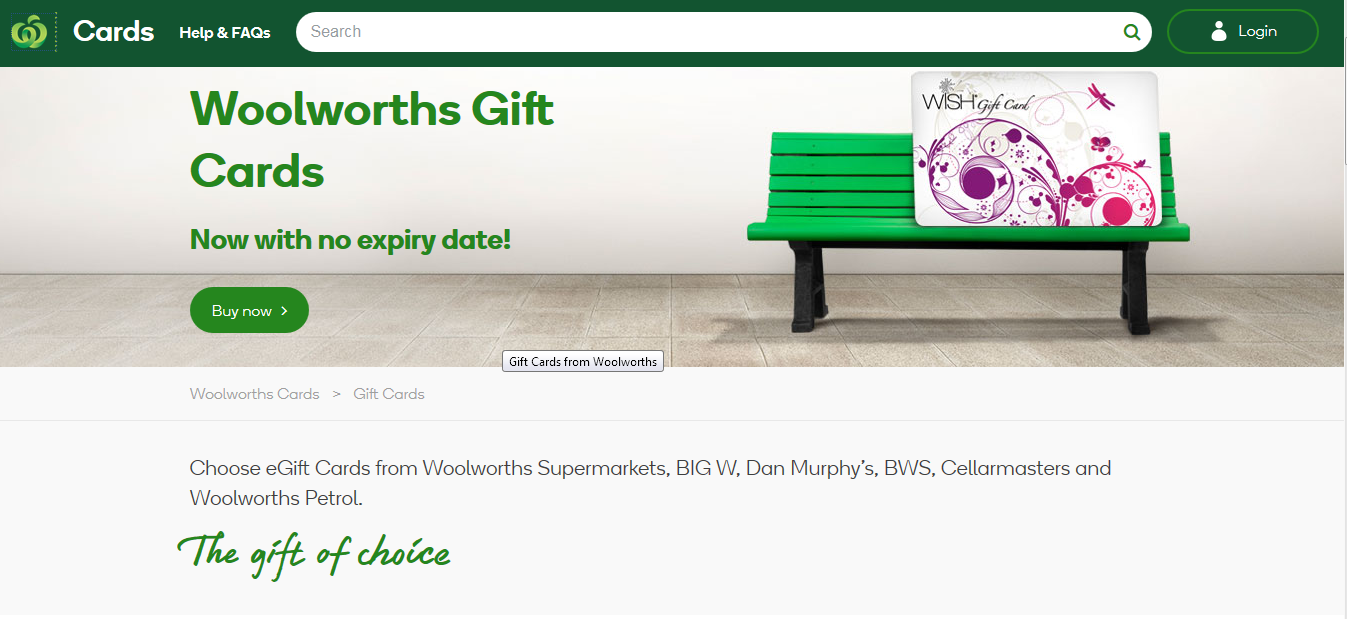 Woolworths Wish gift card - These cards are available as Classic Gift Cards that can be used at retail stores and as eGift card Woolworths for online shopping. As the name states, these cards can be used as a gift to your family and friends on any of their achievements. Choose between classic and eGift depending on the person who is going to use it.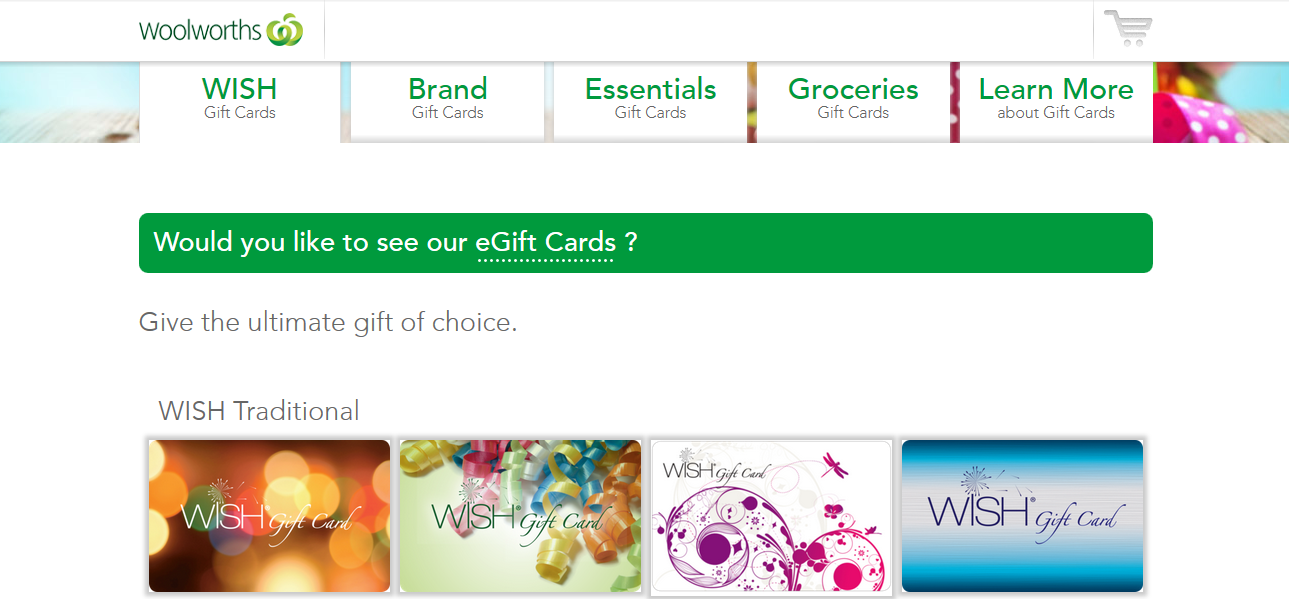 Brand Gift Cards - You can use these gift cards at Woolworths Supermarkets, BIG W, Dan Murphy's, BWS, Cellarmasters and Woolworths Petrol. They also have the option to choose between classic cards and Woolworths online gift card.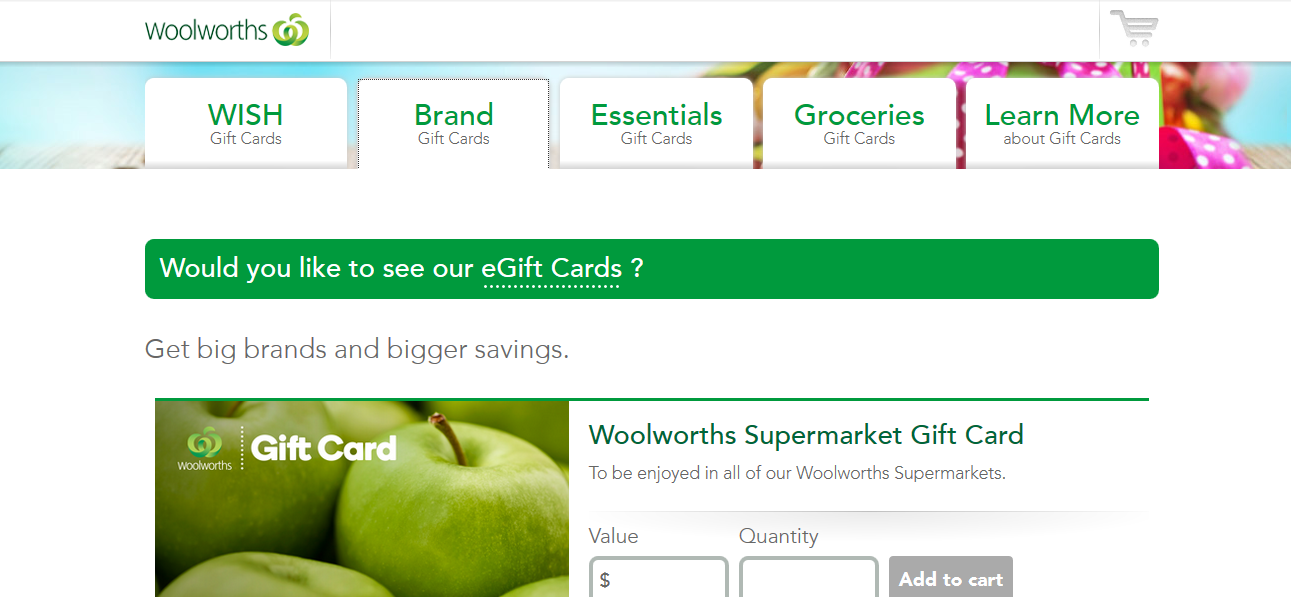 Essential Gift Cards - These are the best gift cards for everyday usage. Petrol, groceries, and clothing are the primary categories for these cards.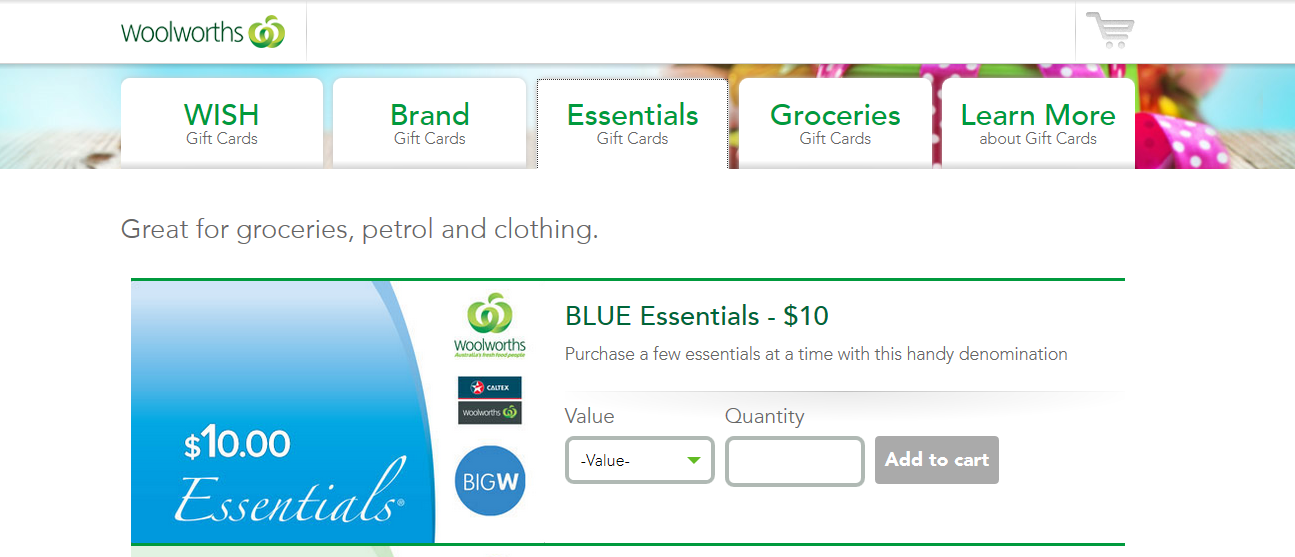 Groceries Gift Cards - Who doesn't need groceries on a regular basis? Getting a groceries gift card would certainly help family and friends stock up the kitchen!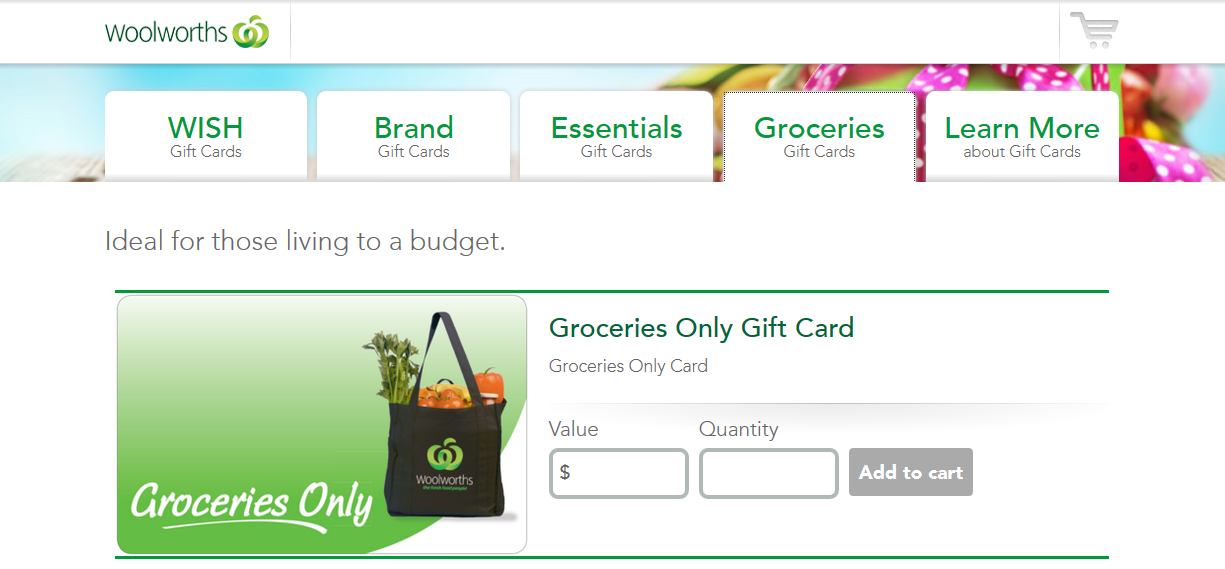 | Wish Gift Cards | |
| --- | --- |
| Classic Gift Cards | WISH Traditional |
| eGift Cards | WISH Traditional, WISH Celebrations, WISH Heritage, WISH Birthday |
| | |
| Brand Gift Cards | |
| --- | --- |
| Classic Gift Cards | Woolworths Supermarket Gift Card, BIG W Gift Card, BWS Gift Card, Dan Murphys, Gift Card Cellarmasters Gift Card |
| eGift Cards | Woolworths Supermarket eGift Card, BIG W eGift Card, Petrol Divisional eGift Card, BWS eGift Card, Dan Murphys eGift Card, Cellarmasters eGift Card |
| | |
| Essentials Gift Cards | |
| --- | --- |
| Classic Gift Cards | BLUE Essentials - $10 GREEN, Essentials - $15, RED Essentials - $20, YELLOW Essentials - $50, PURPLE Other Essentials - $5 - $500 |
| | |
| Groceries Gift Cards | Groceries Only Gift Card |
| --- | --- |
| | |
How to Shop for Woolworths Gift Cards
You can find easily find a Woolworths eGift card of your choice at their online portal. It is as easy as buying a product from any other ecommerce website.
Go the gift card section by clicking on the 'Gift Cards' link on the Woolworths website home page.
Select the card you need and now click 'Add to cart'.
You can add a Woolworths gift card promo code if you have it and get a Woolworths gift cards discount before you check out and pay.
Woolworths Gift Cards Discount and Voucher
It's a fact: we're always looking for deals and discounts to get the best things possible while shopping! You can easily wing a Woolworths gift cards discount from their online portal. You can also find gift cards on sale at Woolworths at their retail stores. Do check for a Woolworths gift card offer which can save you some money. You can also get discounts on Woolworths gift cards from the comfort of your home through ShopBack!
Save by looking out for latest Woolworth' Gift Card's Melbourne Cup deals!
Get eGift Cards from Woolworths to redeem groceries, alcohol, petrol and more for the biggest race event. Enjoy more exciting moments and save by looking for a Woolworth's Melbourne Cup offer from Shopback!
How to Shop for Woolworths Gift Cards through ShopBack
ShopBack is the destination for cashback, promos, discounts, coupons, vouchers and more. You can get a 5% Woolworths gift cards discount when purchasing Woolworths Gift Card through the Woolworths Gift Card page in ShopBack.
As part of the Woolworths gift card promotion, buyers can use the Woolworths Gift Card at these stores: BIG W, Dan Murphy's, BWS, Cellarmasters and Caltex Woolworths Petrol.
Are you looking for a sweet discount while shopping at Woolworths online? Well you will not get it unless you use the Woolworths gift card or Woolworths Visa gift card to pay at least partially. For example, just offset a $100 order with $40 from a Woolworths Gift Card, and you can now earn a discount at the rate stated on the Woolworths merchant page on ShopBack for the remaining $60!
Customer Support
Can we imagine our shopping experience being peaceful without a customer support team being in place? Absolutely not. For any problem with your gift card or Visa gift card Woolworths lets you reach them at 1300 10 1234 or email them for any of your queries.
Connect with Woolworths
To get discounts while shopping for groceries, you can also check out Harris Farm on ShopBack.