Vodafone - Mobile Devices, Internet Broadband Plans
Vodafone Hutchison Australia is a telecommunications company founded in 2009. Commonly referred to as Vodafone or VHA, this company is a joint venture between Hutchison Telecommunications and Vodafone Group Plc. It provides broadband and mobile services to over 6 million Australians. It is Australia s third largest telecommunications provider. The 4G network provides coverage to over 22 million Aussies.
Products Sold by Vodafone
The Vodafone online website provides you with devices, modems, plans and exciting offers that you simply cannot miss. There is a wide range of plans that you can choose from. There are Vodafone mobile phone plans and there are broadband plans that your entire family can use. Here are the main categories of products provided by Vodafone:
Mobile:

You will find all the information related to Vodafone mobile phones and the plans here. Want to get a Vodafone upgrade for your current plan? Then you can find information related to that here as well. Ensure to check out Vodafone special deals for saving on mobile services.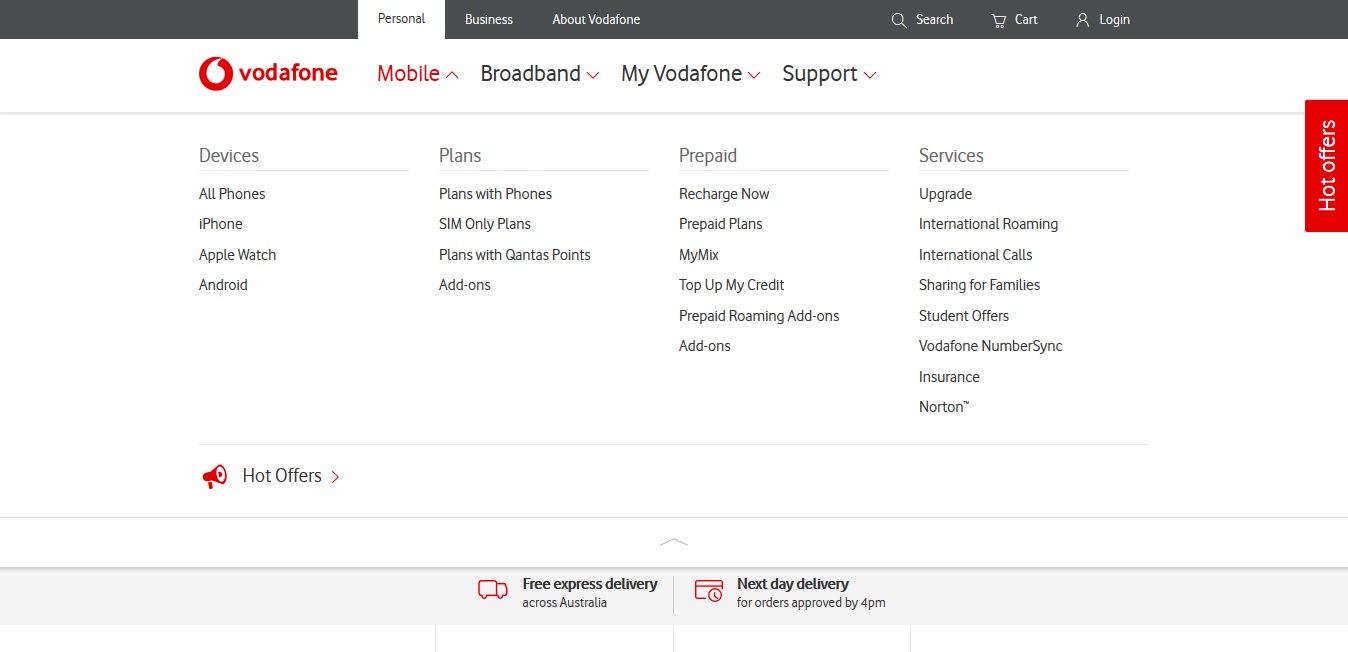 Broadband:

You will find all the broadband-related information in this section. You can find out about modems, plans, sharing and nbn plans too. Remember to use Vodafone coupon to save before you purchase something.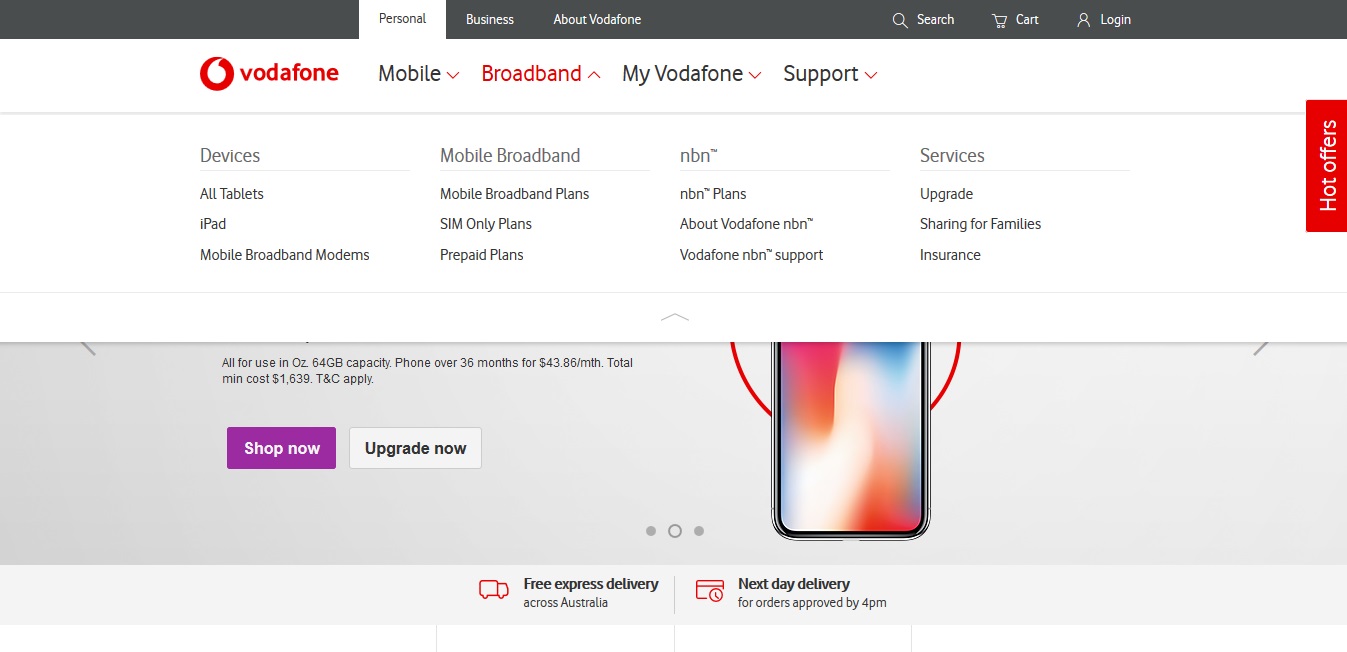 | Product Categories | Product Types |
| --- | --- |
| Devices | iPhone, Android, All Phones, Apple Watch |
| Plans | Plans with Qantas Points, Plans with Phones, Add ons |
| Prepaid | Prepaid Roaming Add Ons, Recharge Now, My Mix, Add Ons, Prepaid Plans, Top Up My Credit |
| Services | Insurance, Sharing for Families, Upgrade, Norton, International Roaming, Vodafone Number Sync, International Calls, Student Offers, |
| Devices | Mobile Broadband Modems, All Tablets, iPad |
| Mobile Broadband | Prepaid Plans, Mobile Broadband Plans, Sim Only Plans |
| Nbn | Nbn plans |
| Services | Upgrade, Insurance, Sharing for Families |
You can shop at the Vodafone store, through their website or the app. The website is easy to navigate. You can find all the Vodafone mobile plans, Vodafone SIM information and everything you want to know on their website. You can add what you wish to buy and then purchase it by adding it to the cart from there. The interface is simple to use. You are directed to a step-by-step process through which you can purchase the plan that you want. Use a Vodafone promo code to save.
Vodafone s payment options depend on what you are paying for. If you are making an online payment for prepaid recharges, then you can use Visa, MasterCard, American Express, PayPal, My Credit and Vodafone voucher. If you are paying for a postpaid bill, then you can use credit and debit cards. Additionally, you can use BPAY and Diners Club International. Don t forget to utilize Vodafone discount coupons at checkout to save before you pay!
Vodafone Deals and Promo Codes
There are many Vodafone deals that you can find on the website. The home page of Vodafone consists of the latest deals and offers you can save lots on. You can find different types of deals such as Vodafone SIM only deals, Vodafone data plan offers and Vodafone monthly plans deals. There are two other sections on the website where you can find the latest Vodafone deals and saving options- the 'Hot Offers section and the 'Student Offers section.
The 'Hot Offers section consists of all the details about the top Vodafone offers. These offers include phone deals, Vodafone data offers and more. You can find Vodafone student discount as well on the 'Student Offers section on the website. This section contains discounts that are applicable only by students and provides you with some of the best offers you will ever come across. Ensure to keep checking these two for the latest updates on offers.
How to Redeem Discount Coupons
Your Vodafone coupon code can be redeemed by entering the code before you check out. Once you apply the Vodafone discount code, you will be able to determine how much you are able to save. There are other ways of getting coupon codes. For example, you can find a Vodafone voucher code on other websites as well. ShopBack consists of various Vodafone codes that can be applied to a plethora of Vodafone plans. Make sure to check ShopBack before paying for your plan - and you can save some money while you re at it!
How to Shop on Vodafone using ShopBack
You can get up to $75 Cashback when you shop on Vodafone through ShopBack! But that is not the only Vodafone cashback offer available on ShopBack. There are many other Vodafone deals and offers that help you earn Cashback when you shop on ShopBack! Depending on the Vodafone phone plans or Vodafone mobile plans that you choose, earn the various amounts as Cashback!
Return and Shipping Policy
When you order on Vodafone Australia, all the orders will be shipped for free through express delivery. The Vodafone promo code can be added before you pay for more savings! You can find more information about delivery and shipping policies under the 'Delivery Information section. There is a 'Repair, Exchange & Refunds Policy section that has information about all you need to know regarding devices, servicing options and product exchange.
Do you want to know more about Vodafone unlimited data plans and other plans? You can use the chat option that is available on the website to talk to their customer care team directly. You can contact Vodafone on 1300650410 or you can dial 1555 from your Vodafone mobile phone. Vodafone customer care is always available to help you out. You can request a call back from the Vodafone team too. The 'Contact Us page contains detailed information about all you need to know.
You can stay updated for Vodafone sales and Vodafone special offers by following Vodafone on social media:
Looking to earn Cashback like you just did with your vodafone purchase? Check out ShopBack for more tantalizing deals like this!