Only The Finest From Vintage Cellars
Is your favourite brand out of stock at the local liquor store and won t arrive until next week? There is no need to wait that long any more.
You can get your fix at the Vintage Cellars web store where you will find several universal brands and your favourites as well. Join The Wine Club and earn exclusive rewards.
Vintage Cellars is a liquor chain that has over 83 stores and offers an extensive selection of wines, spirits and beers.
With the website functioning since 2000, Vintage Cellars has not only built an extensive collection of wines and spirits but has also been rewarding its customers through its wine club - which by the way is one of the largest in Australia!
Products Offered by Vintage Cellars
Browse through an amazing list of wines, spirits and beers on the Vintage Cellars Aus website, and check out the deals and promotions at the checkout and the offers section.
Red Wine:
Choose from a wide range of red wines on Vintage Cellars and shop with a Vintage Cellars discount code today.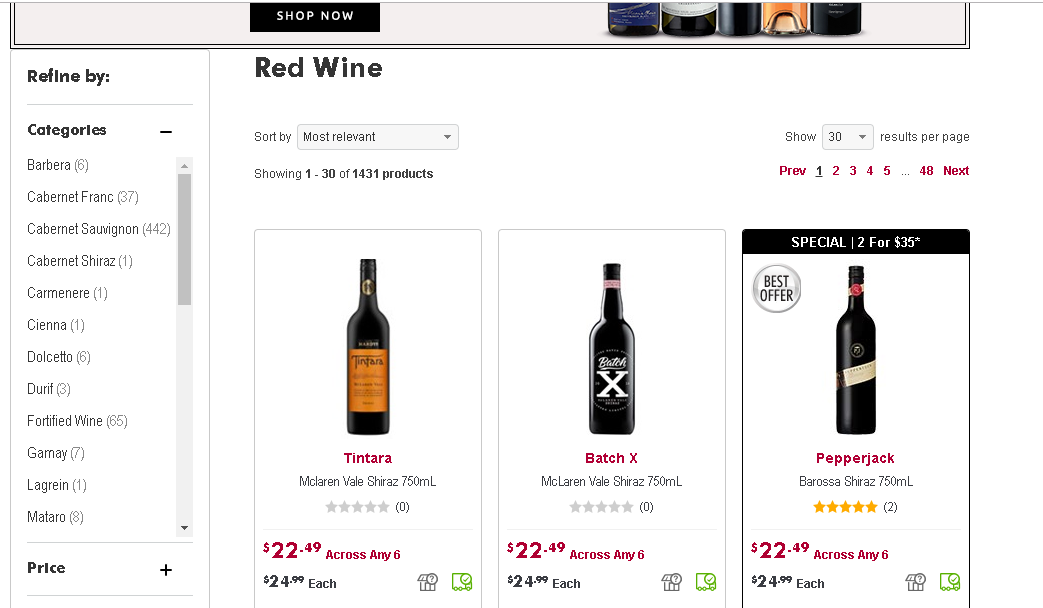 Rosé:
Order your favourite Rosé with a Vintage Cellars coupon code and enjoy a superb Vintage Cellars discount.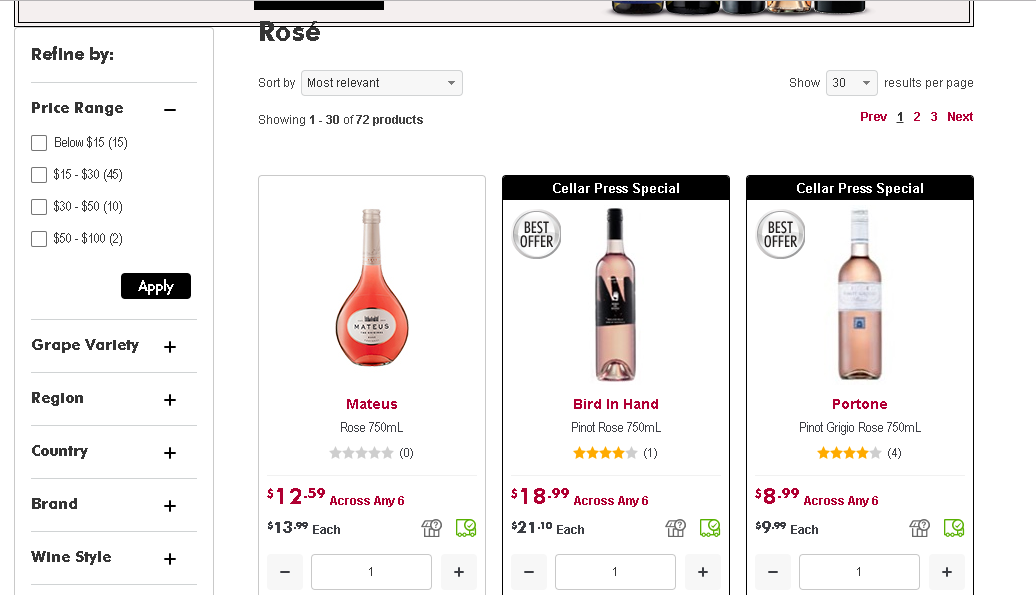 White Wine:
Every celebration calls for a bottle of white wine! And what s better is that now you can save more with Vintage Cellars vouchers or a Vintage Cellars coupon when you shop on the website!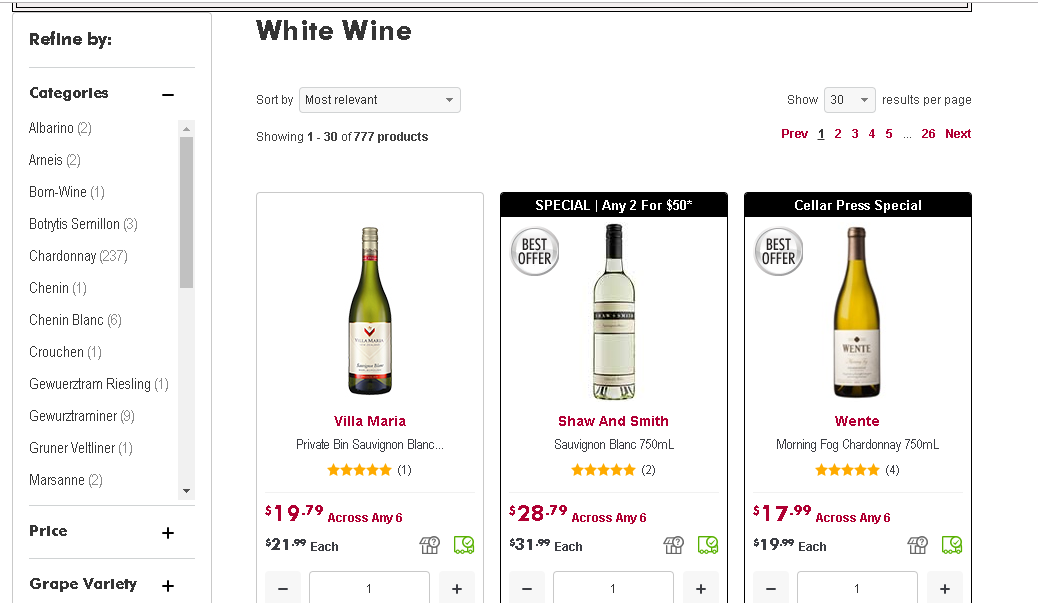 Sparkling Wine:
Use a Vintage Cellars voucher or a Vintage Cellars voucher code when you buy any bottle of sparkling wine for affordable prices. Sip on your favourite drink guilt-free, knowing that you saved a fortune!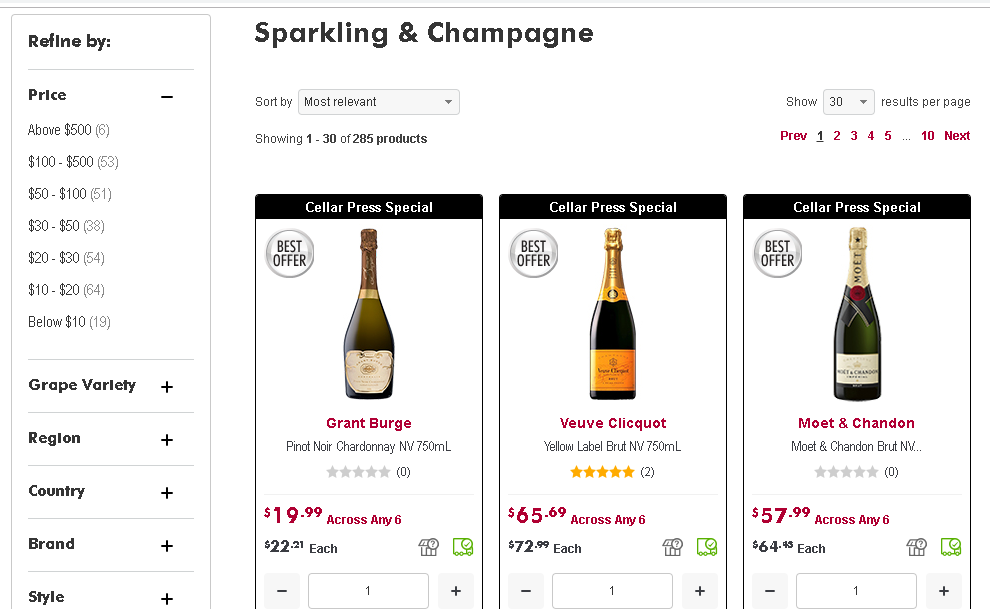 Spirits:
Vintage Cellars likes its customers to be in high spirits - literally! Enjoy a discount using a Vintage Cellars discount code when you shop from the web store.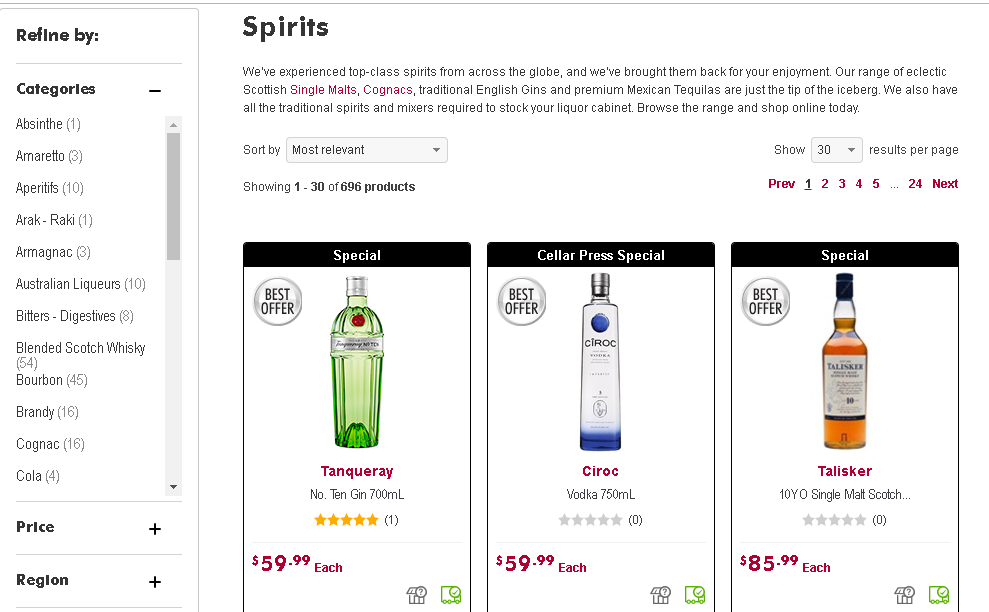 Beer:
Vintage Cellar offers over eight types of beers so you can choose the one that suits your taste the best!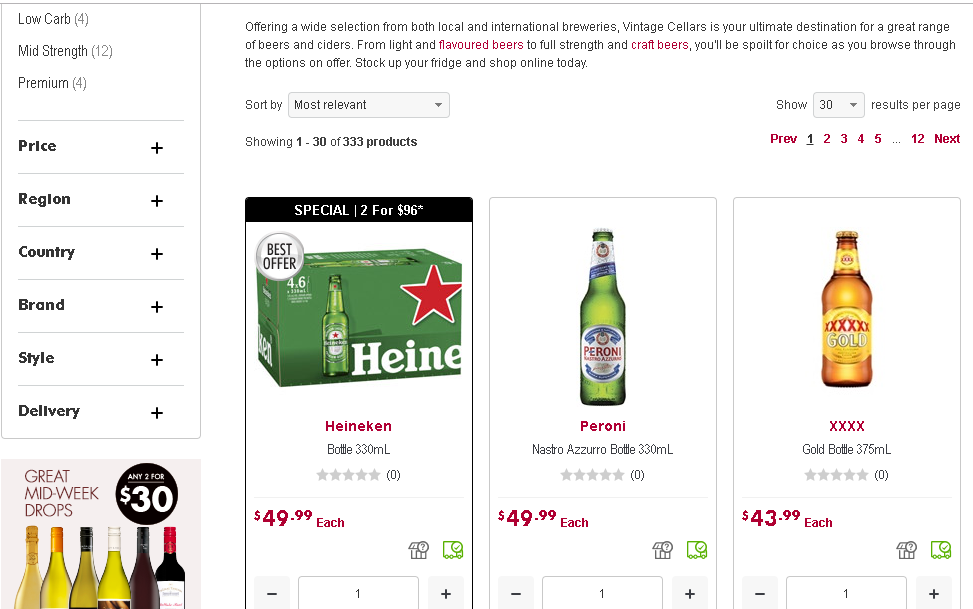 | Categories | Products |
| --- | --- |
| Red Wine | Shiraz, Cabernet Sauvignon, Merlot, Pinot Noir, Red Blend, Grenache, Cabernet Franc, Other Red Varietal, Mourvedre, Sangiovese, Barossa, Mclaren Vale, Bordeaux, Coonawarra, South Eastern Australia, Margaret River, Yarra Valley, Clare Valley, Burgundy, Rhone, Australia, France, New Zealand, Italy, Spain, Portugal, Chile, Israel, United States, Austria, Penfolds, Wynns, McWilliams, De Bortoli, Taylors, Grant Burge, Katnook, Wolf Blass, Giaconda, Jacob s Creek, Above 500$, $100-$500, $50-$100, $30-$50, $20-$30, $10-$20, Below $10 |
| Rosé | Pinot Noir, Mixed Varieties, Shiraz Cabernet Blends, Cabernet Sauvignon, Merlot, Pinot Grigio or Gris, Other Red Varieties, Shiraz Blends, Tempranillo, Provence, McLaren Vale, Adelaide Hills, Barossa, Hunter, Marlborough, South Eastern Australia, Central Otago, Clare Valley, Costieres De Nimes, Australia, France, New Zealand, Argentina, Italy, Portugal, Bird In Hand, Deep Woods, Le Chat Noir, Logan, Shingleback, Angove, Audrey Wilkinson, Barton & Guestier, Billette, Blue Pyrenees, Below $15, $15-$30, $30-$50, $50-$100 |
| White | Chardonnay, Sauvignon Blanc, Semillon, Riesling, Pinot Grigio Or Gris, Marlborough, Margaret River, Adelaide Hills, Hunter, South Eastern Australia, Australia, Austria, Chile, France, Germany, Penfolds, Bundle Buys, De Bortoli, Tyrrell s, Taylors, Brown Brothers, Chalkboard, Yalumba, Brokenwood, Ch D Yquem, Below $10, $10 - $20, $20 - $30, $30 - $50, $50 - $100, $100 - $500, Above $500 |
| Sparkling | Chardonnay, Pinot Noir, White Blends, Other Red Varietals, Prosecco, Champagne, South Eastern Australia, Tasmania, Yarra Valley, Veneto, Australia, France, Germany, Italy, New Zealand, Bollinger, Charles de Cazanove, Grant Burge, Moet & Chandon, Mumm, Perrier Jouet, Piper Heidsieck, Pol Roger, Taittinger, Veuve Clicquot, Below $10, $10 - $20, $20 - $30, $30 - $50, $50 - $100, $100 - $500, Above $500 |
| Spirits | Malt, Scotch, Whisky, Gin, Blended Scotch Whisky, Other Dark Spirits, Vodka, Speyside, Highlands, Cognac, Islay, Bourbon, Australia, Barbados, Canada, China, Croatia, Johnnie Walker, Bundaberg, Jim Beam, Wild Turkey, Jack Daniels, Smirnoff, Absolut, Glenfiddich, Jameson, Bacardi, Below $10, $10 - $20, $20 - $30, $30 - $50, $50 - $100, $100 - $500, Above $500 |
| Beer | Craft, Cider, Imported, Full Strength, Flavoured Beers, Canberra, NSW, Vic, Yarra Valley, California, Australia, Belgium, China, Czech Republic, El Salvador, Coopers, Rekorderlig, Carlton, 4 Pines Brewing, James Squire, Hahn, Little Creatures, Matilda Bay, Somersby, Tooheys, Below $10, $10 - $20, $20 - $30, $30 - $50, $50 - $100, $100 - $500 |
Vintage Cellars Offers and Deals
On the offers section of the website, you can check out all the special deals and take advantage of a fantastic Vintage Cellars offer! There are bundle offers as well, that help you get maximum savings. Visit the site often to make the most of a Vintage Cellars sale or get a phenomenal Vintage Cellars deal with a Vintage Cellars code.
Payment Options on Vintage Cellars
Vintage Cellars accepts payment through PayPal, Visa, Mastercard, Diners Club International and American Express.
How to Redeem a Vintage Cellars Promo Code on Vintage Cellars
Use the Promotion or Discount code field at the checkout to enter your Vintage Cellars promotion code or your Vintage Cellars discount code to get a flat discount on your order.
How to Shop on Vintage Cellars Using Shopback
Enjoy a cashback of up to 2.5% when you purchase wines from Vintage Cellars through ShopBack.
Step 1: Visit Shopback.com.au and search for Vintage Cellars on the search bar and click on the prompted result.
Step 2: Click on the 'Activate Cashback button on the top left portion of the page.
Step 3: Look for offers by clicking on 'deals on the right side of the page. Click on the 'Get Deal button.
Step 4: You will be redirected to the Vintage Cellars website. Shop on the Vintage Cellars website to become eligible for a Vintage Cellars cashback.
Make sure you use a code approved by ShopBack so that you re eligible for a cashback.
Vintage Cellars Shipping and Refund Policy
For deliveries within the city, Vintage Cellars charges $6.95 for standard delivery, $14.95 for same day delivery and $9.95 if you want to schedule the delivery for the next business day. For regional deliveries, it charges a fee of $11.95, whereas a fee of $18.95 is charged for deliveries outside the country.
For cancellations, you can contact their customer service team on 1300 366 084 and an executive will provide you with further assistance.
To avail of a refund, if you change your mind, the product has to be returned within 28 days of purchase in original its packaging, in a re-saleable conditioned and should be unopened.
Vintage Cellars Customer Service
Click on the 'Contact Us button at the footer of the website to get in touch with the company through phone, post or email.
Stay ahead with new launches and be the first to find out about a Vintage Cellars sale by following them on their social media pages.
gible for cashback even when you shop from Wine Market or Beer Cartel and several other stores via ShopBack.