ShopBack Escapes Travel Sale 2019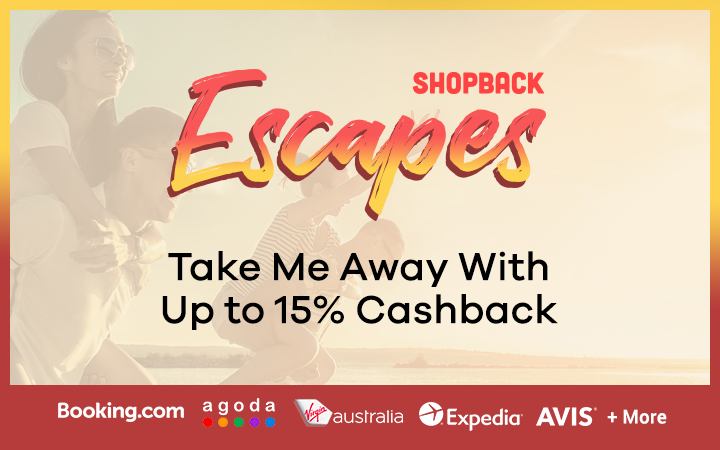 $5 Bonus through the ShopBack Button Browser Extension - Terms and Conditions
To qualify for the $5 Cashback Bonus, you must 'Activate Cashback' at any participating store through the ShopBack Button browser extension and make a transaction through that store (AU $100 minimum spend, excluding taxes) between 12am and 11.59pm AEST (inclusive) on 16 September 2019.
Purchases through ShopBack's app, mobile site and direct desktop site do not qualify for the bonus. Purchases must be done through the browser extension.
Participating stores include Agoda, Booking.com, Expedia, Klook and Trip.com.
The AU $100 minimum spend must be accumulated with one participating store, not across multiple participating stores.
The $5 cashback bonus is in addition to the usual cashback you will receive for transacting through a participating store.
The $5 cashback bonus will be credited separately into your ShopBack account by 31 October 2019.
Limited to one bonus per customer.
Note down the respective store's purchases excluded from cashback, as the purchase of such items will not qualify you for the bonus.
Cancelled orders/bookings will void your eligibility for the bonus.
If your tracked cashback is rejected, your bonus will be voided.
ShopBack reserves the right to dishonour bonuses for members who have participated in this offer in a fraudulent manner (ie. using multiple accounts). Such members may be banned and any cashback on their accounts forfeited.
You must have earned at least $10 confirmed cashback from general purchases to withdraw the $5 Cashback Bonus.
Best Travel Deals and Discounts on Shopback Escapes Travel Sale 2019
Learn about different cultures and human behaviour by travelling to different places around the world. There are different types of travellers, some prefer a luxurious trip while others prefer to travel on a budget. All of them lookout for best deals and discounts on their travel deals. There is a plethora of travel agencies and websites who promise you great discounts, but you might lose interest in comparing their prices on different sites. On Shopback you can find all deals and discounts from different companies collated on one single platform. This makes it easier for you to compare prices and pick the best deal to suit your needs. Let's take a look at the travel deals available on Shopback Escapes Travel Sale 2019.
Deals on Hotel Booking
Once you have decided on a destination, your first agenda will be to look out for cheap hotels with good facilities and surroundings. Hotel Booking Sites such as Booking.com, Expedia, Airbnb, Agoda, etc give out great discounts and offers on booking of your favourite hotel. Shopback Travel sale endorses travel deals from top travel companies under one roof to make choices easier for its customers. So stop dreaming and start packing. Pick the best and cheap hotels based on verified reviews and photos displayed on different hotel booking sites collaborated with Shopback.
Deals on Flight Booking
Are you worried about flight fares touching the sky? You need not worry when Shopback is here. Booking flights through Shopback Travel Deals is much easier than you imagined. Find cheap international flights to suit your budget and needs on Shopback. Get flight information from different top travel sites with details of price comparison and flight timings displayed on Shopback. Do not let the flight prices stop you from exploring your favourite holiday destination. Know more about cheap international flights and discounts on travel booking by visiting Shopback website.
Deals on Car Rentals and Transports
Renting a car and other transport facility makes it easier to explore the neighbourhood around your travel destination, at your convenience. Shopback is associated with many leading car rental companies to provide you with the best deals for car rentals. Look out for attractive deals and offers during Shopback escapes travel sale 2019. Leave your worries behind and enjoy a hassle-free trip to make unforgettable memories with Shopback.
Secure Your Travel with Great Deals on Travel Insurance
The feeling of losing valuables, luggage and travel documents during travel is insane. Many countries deny visa approval for travellers without travel insurance. Travel insurance is an additional cost which is added to your travel expense. You can save a few bucks by purchasing travel insurance from top insurance companies through Shopback. During Shopback escapes travel deal you can buy travel insurance with great deals and offers.
Buy Holiday Packages Through Shopback
To have a wonderful holiday experience it is important to have everything in place. Booking hotels, flights, car rentals and details about places to explore needs a lot of time to analyse before finalizing them. In today's busy world not everyone can afford to spend a lot of time in analysis. This is why Shopback offers deals on holiday packages at affordable prices. Travel experts at Shopback do the analysis for you to find the best package to suit your needs. Shopback's collaboration with top travel companies provides a wide range of options on the holiday package deals.
Pick Travel Essentials at Attractive Prices
Shopback has got your back completely. You don't have to visit many malls to purchase travel accessories, just log into Shopback and pick smart travel accessories at affordable prices. Orders will be delivered to your doorstep as you conveniently shop from home. Earn cashback along with discounts during Shopback Escapes Travel Sales. Pick all required travel accessories such as travel bags, clothing, footwear, sports gear, medicines, etc through Shopback to avail travel vouchers and other benefits. Shopback makes travelling much easier than expected.
Travel Deals on Clothing and Fashion Accessories
Make yourself look stylish and fashionable in your travel photographs with top fashion picks from Shopback. Shopback's collaboration with top clothing brands offers great discounts on clothing and other fashion accessories. Avail great deals from online shops such as Amazon, Kathmandu, COTTON: ON, The Iconic, etc to pick the most comfortable travel wear. Get all your products delivered for free and much faster than expected. This distracts your shopping worries and keeps you in a good mood for travelling with no tensions.
Recommendation on Top Travel Destination
Do you need help in deciding on your travel destination? Shopback recommends on top travel destination to suit your preferences. The recommendations suggest the best places to visit according to different seasons. Shopback travel experts can also modify travel deals according to your budget and needs. They suggest great places with affordable flight and accommodation package. Shopback Travel Page also displays a holiday hack sheet with the list of holidays for the year. It also segregates weekend holidays to make easy travel plannings.
Collaboration with Top Travel Websites
There are plenty of travel websites which offers great deals and discounts on planning your vacation. There are too many of them and you often get confused on which one to pick. It is difficult to remember offers of each site while you keep shuffling between them. This problem can be solved by Shopback it gets all travel deals from different travel website on one platform. Shopback acts as a travel fair where you get to see various options all at one time. Shopback is collaborated with all top travel websites to display an array of trending deals. Get huge benefits while you pick your best-suited travel package during Shopback Escapes travel deals 2019.
Get Cashback Along with Huge Discounts
Shopback saves your money through discounts and cashback too. While you shop through Shopback to make travel bookings, you can get cashback offers too. Remember Cashback is valid only for customers who shop through Shopback website. Do click on the Activate Shopback option under the deal selected to avail cashback offers. Saving money in every step of travel booking gets exciting and you can use the savings to explore other adventurous activities during the trip.