Protect Your Tech with Trendy Cases and Other Assorted Accessories from The Daily Edited
The Daily Edited is an Australian luxury lifestyle brand that provides personalized leather products for women and men. The brand is based in Sydney and sells through its website and stores.
The Daily Edited allows you to personalise your leather bags, pouches and phone cases.
The Daily Edited was founded in 2011 by Alyce Tran and Tania Liu. Initially, it was a lifestyle blog. Soon it started selling accessories and leather goods in Australia.
Now they offer worldwide shipping.
In 2017, the Stallone Sisters were featured in The Daily Edited s campaign, #MeetTheStallones.
The Daily Edited sells a wide range of accessories for women and men such as bags, wallets, phone cases, travel, tech and many more!
Let s take a look at the different kinds of product categories available on The Daily Edited:
Women:
Shop for aesthetic pouches, wallets, tech and travel accessories, cosmetic cases and phone cases. You can also customise each one of them. Search for a Daily Edited voucher on their website or social media pages and get great offers on these products!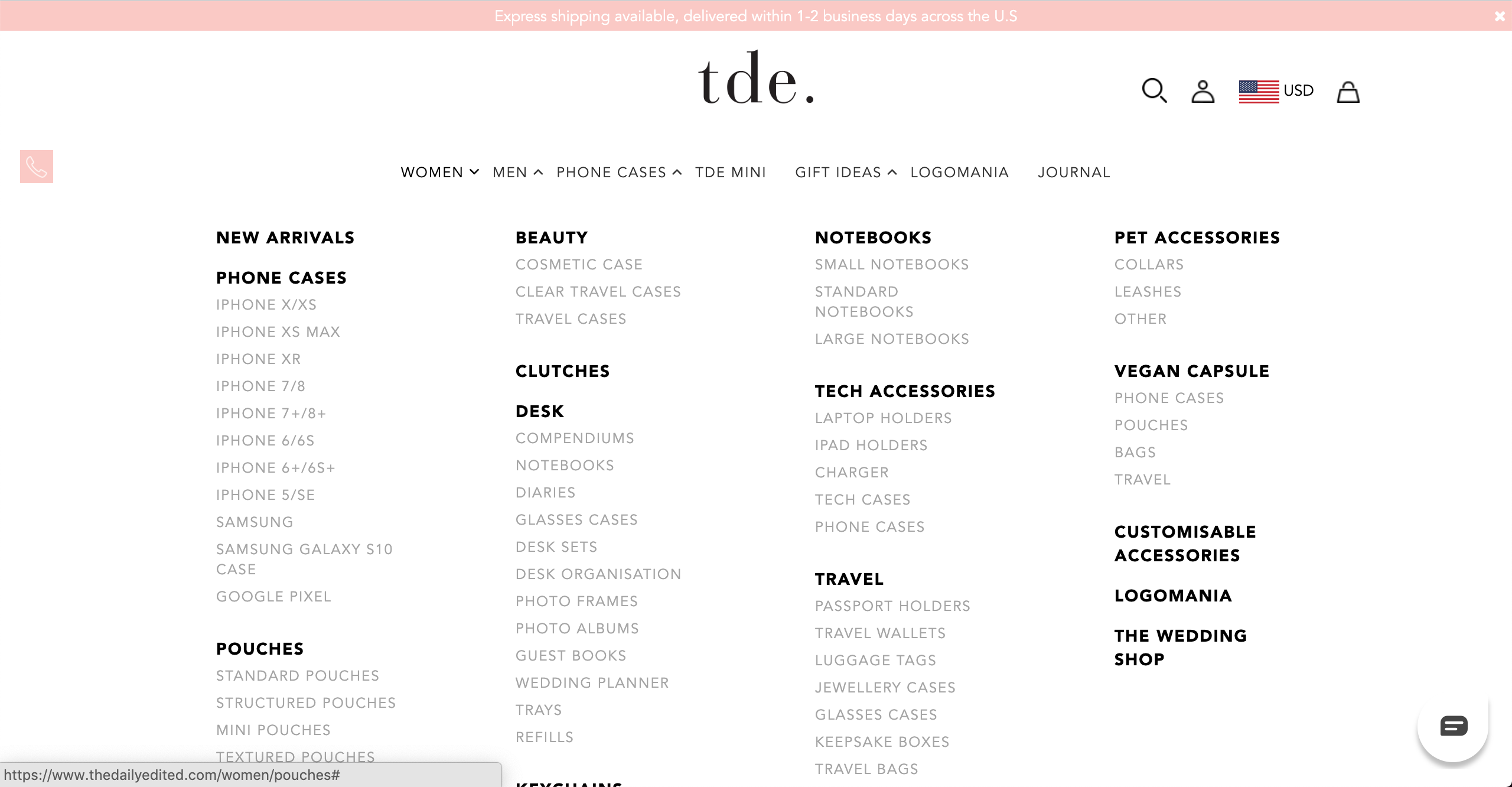 Men:
You can buy customised notebooks, wallets, bags, accessories for desk, travel and tech. They are very convenient to use and they look great.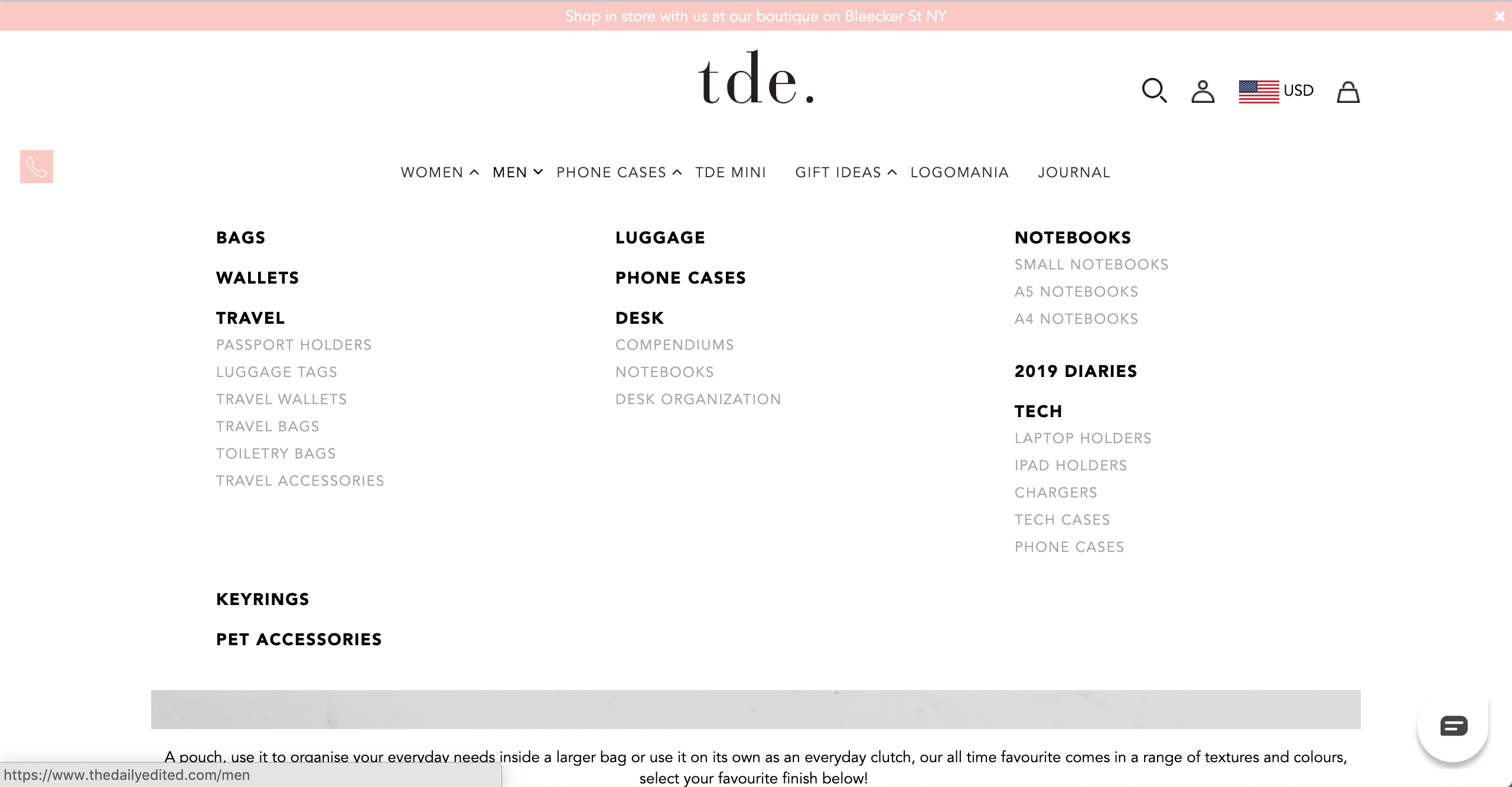 Phone Cases:
The Daily Edited provides a range of phone cases for iPhone, Samsung and Google Pixel. Carry your smartphone with style! Use a Daily Edited discount code that you can find online and get these products at an amazing discount.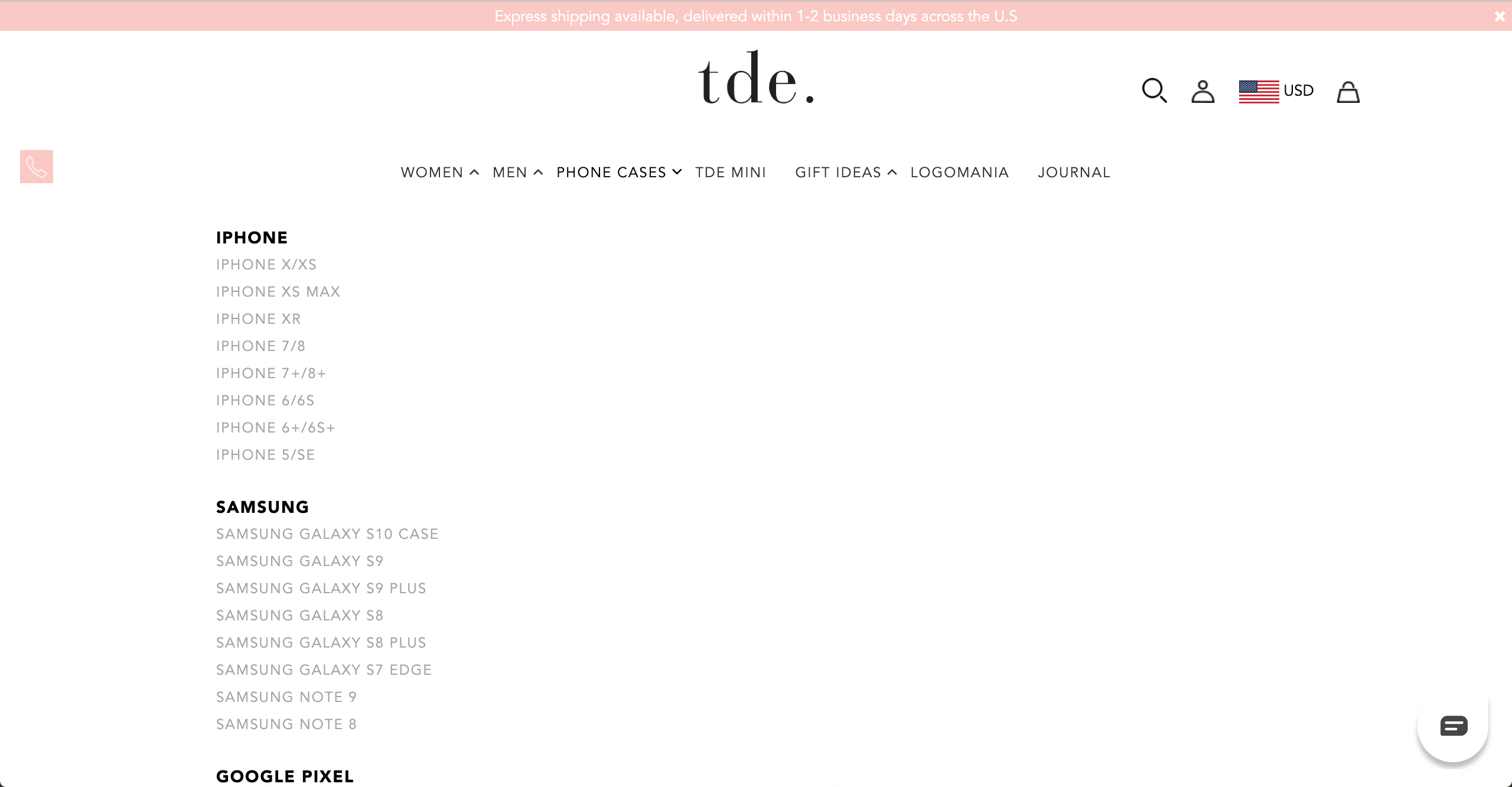 | Categories | Products |
| --- | --- |
| Women | iPhone X/Xs, iPhone Xr, iPhone Xs Max, iPhone 7+/8+, iPhone 7/8, iPhone 6+/6s+, iPhone 6/6s, Samsung, iPhone 5/Se, Google Pixel, Samsung Galaxy S10 Case, Standard Pouches, Mini Pouches, Structured Pouches, Vegan Pouches, Textured Pouches, Clear Pouches, Custom Pouch, Cross Body Bags, Travel Bags, Tote Bags, Everyday Bags, Evening Bags, Cosmetic Case, Travel Cases, Clear Travel Cases, Compendiums, Diaries, Desk Sets, Glasses Cases, Photo Frames, Desk Organisation, Guest Books, Photo Albums, Trays, Wedding Planner, Refills, Small Notebooks, Large Notebooks, Standard Notebooks, Laptop Holders, Charger, iPad Holders, Phone Cases, Tech Cases, Passport Holders, Luggage Tags, Travel Wallets, Glasses Cases, Jewellery Cases, Travel Bags, Keepsake Boxes, Clear Travel Cases, Cosmetic Cases, Travel Sets, Travel Cases, Small Wallets, Continental Wallets, Cardholders, Classic Wallets, Bag Straps, Chains, Wrist Straps, Leashes, Collars, Other Phone Cases, Bags, Pouches, Travel |
| Men | Passport Holders, Travel Wallets, Luggage Tags, Toiletry Bags, Travel Bags, Travel Accessories, Compendiums, Desk Organization, Notebooks, Laptop Holders, Chargers, iPad Holders, Phone Cases, Tech Cases, Small Notebooks, A4 Notebooks, A5 Notebooks |
| Phone Cases | iPhone X/Xs, iPhone Xr, iPhone Xs Max, iPhone 7+/8+, iPhone 7/8, iPhone 6+/6s+, iPhone 6/6s, iPhone 5/Se, Samsung Galaxy S10 Case, Samsung Galaxy S9 Plus, Samsung Galaxy S9, Samsung Galaxy S7 Edge, Samsung Galaxy S8 Plus, Samsung Galaxy S8, Samsung Note 8, Samsung Note 9, Google Pixel 3 Xl, Google Pixel 3 |
The products on thedailyedited.com are priced in USD. The Daily Edited accepts Visa, Mastercard and American Express credit and debit cards. They also accept payment via PayPal.
Daily Edited Discount Codes & Coupons
Subscribe to The Daily Edited s newsletter - TDE Newsflash, and get a 10% Daily Edited discount on your first order! You can also follow their social media pages to get updates on a Daily Edited sale and other promotions with which you can avail various discount offers.
Browse through the new products and categories on the homepage and you might be able to find a Daily Edited coupon. Redeem the coupon and get great offers on their products.
How to Redeem a Daily Edited Promo Code
The Daily Edited website gives you the option to enter a Daily Edited discount code at the time of checkout. Enter the Daily Edited code and get your personalized accessories at a discounted price.
How to Shop on Thedailyedited.com using ShopBack?
When you shop for phone cases, notebooks, bags or any other product on The Daily Edited via ShopBack you are eligible for 5.00% cashback.
Here is what you need to do to avail this Daily Edited deal:
Step 1: Visit Shopback.com.au and search for The Daily Edited on the search bar and click on the displayed result.
Step 2: Click on the 'Activate Cashback button you see on the top left corner of the page.
Step 3: Look for deals on phone cases, pouches and other accessories on the right side of the page. Click on 'Get Deal .
Step 4: You will be redirected to The Daily Edited website. Shop on the website to receive your cashback offer.
Remember to use only those Daily Edited discount codes that are approved by ShopBack.
Shipping and Return Policy
If your order is above $100, the Daily Edited offers free delivery. A standard shipping fee of $8 is charged otherwise. All orders are dispatched via FedEx, DHL or TNT Express to ensure a quick delivery. Orders are delivered within four to six business days.
If you feel the product has a defect, you can write to [email protected] to initiate a return. Returns are valid within six months of purchase.
To reach the customer service team for any queries or concerns, please click on 'Contact Us at the footer of the website. You can email [email protected] or call (02) 9195 3150 from Monday to Friday between 9 am and 9 pm. You can also fill the contact form given on the same page with your query. The team reverts within an hour with a solution.
Follow their social media pages and you might find a Daily Edited discount code, use the code and get a discount on your desired product.