Headquartered in Hangzhou, China, Taobao is an ecommerce platform under the Alibaba Group. Taobao (淘宝), which means searching for treasure in Mandarin, is one of the biggest e-commerce websites in the world. They feature among world s top 10 most visited websites with over 580 million monthly active users. These users are mainly found in Chinese-speaking regions such as Mainland China, Hong Kong, Macau and Taiwan as well as abroad. Offering a wide array of products from categories like women and men clothing, shoes, bags, furniture, home appliances, mobiles, beauty, jewelry, accessories and health care equipment; you can definitely find some treasure here.

On May 2003, Taobao was launched by the Alibaba Group as a response to American website eBay.com s aggressive expansion in the Chinese market. eBay had acquired EachNet, China s online auction leader at the time. This would have catapulted eBay s popularity and business in China. In response, Alibaba Group launched Taobao, a C2C platform where sellers were offered free listings for products and services, as opposed to eBay which charged the sellers for listing products on the website.
In addition, Taobao introduced features on the website that were designed to suit the best interests of local customers. This included, like instant messaging for facilitating communication between the buyer and the seller, and escrow-based payment tool - Alipay. Taobao then went on to establish themselves as mainland China s undisputed market leader within two years, raising their market share from 8% to 59%.
In 2007, Taobao set up Alisoft.com, a platform where sellers could buy customised software for functions like customer relations or managing inventory from independent vendors. In April 2008, they then established a B2C platform called Taobao Mall. This new platform was established as a destination for Chinese consumers to shop for quality branded items. In the same year, they integrated Alimama.com, an online ad company with an enormous network of more than 400,000 specialised websites which could be used by sellers to post affordable ads to reach their target audience.
Taobao beta launched eTao in 2010, an independent search engine for online shopping which provided merchant and product information extracted from different major e-commerce websites in China. The site could also be used by online shoppers to compare prices from different sellers and identify products to buy.
In June 2011, Alibaba Group announced the split of Taobao into three different companies: Taobao Marketplace (a C2C platform), Tmall.com (then called Taobao Mall, a B2C platform) and eTao (a search engine for online shopping) to tackle competitive threats. In 2012, they started accepting international VISA and MasterCard credit and debit cards. Furthermore in 2013, they allowed their users to link their Sina Weibo accounts with Taobao accounts.
The brilliant market strategies deployed by Alibaba Group have elevated the status of Taobao to become one of the biggest ecommerce sites in the world that ships to Australia and the world.
Taobao is an ultimate destination for all your shopping needs. The platform offers a wide range of products which are categorized. These include: women s boutique, shoes/bags, jewellery/accessories, sports/outdoors, furniture/appliances, mobile/digital, car/home appliances, office/entertainment and beauty. Here is a short preview of categories and products sold on Taobao:
Women s boutique: This is the category where women can buy stylish and trendy clothing for themselves with a huge collection of skirts, pants, T-shirts, wedding dresses etc.
Underwear/ Men s clothing: This section is meant for everyone s daily essentials i.e. underwear. The category classifies different types of underwear for men and women. The category also includes casual and formal clothing for men.
Shoes/ Bags: Under this category, customers can find a comprehensive collection of shoes for men and women as well as bags and backpacks.
Jewellery/ Accessories: Customers who are fond of buying classy and trendy jewellery and accessories can explore this category that carries varieties of jewelleries, watches, hats, scarfs, glasses etc. for men and women.
Sports/ Outdoors: The sports enthusiasts no longer have to search for the products they need at different sports outlets. This category is your go-to place, offering products such as sports shoes, swimwear, fishing equipment, bicycles, helmets etc.
Furniture/ Appliances: The category offers a wide range of products like different types of furniture, lamps and lanterns, decorative items, appliances like TV, refrigerators, Air Conditioners, washing machine etc.
Home/ Home Textiles: This category is a one-stop solution for all your home related needs. You can buy items like curtains, bed sheets, carpets, storage boxes, tableware items like glass, bowls, cups. Jars, cutlery sets, etc.
Mobile/ Digital: If you are someone who loves buying gadgets then this is your go-to category. Customers can purchase Mobile Phones and their accessories, audio and video appliances, digital accessories and smart devices from this category. You can find great Taobao discounts on products listed here.
Car/ Home Appliances/ Wallets: Under this category, you can find a wide array of products for your kitchen, Car/Motorcycle as well as amazing travel packages. Taobao frequently comes up with Taobao offers which can be availed by the customers.
Mother/ Infant/ Toys: This category is meant for young mothers and their infants. You can buy products like baby toys, strollers, walker, crib, kids apparel, kids shoes, maternity supplies etc.
Office/ Entertainment: For book-lovers this category offers comprehensive collection of books in print and digital format. The category also offers products for personal and professional uses such as computers, laptops, keyboards, stationeries, musical instruments, household tools set etc.
Beauty: Under this category, customers can buy a broad variety of beauty products and appliances like lipsticks, BB Cream/Foundation, lotions, hair dryer, Hair Straightener, head massager etc.
When you reach the World Taobao site, you can hit right click to translate the page if you are on Google Chrome and don t understand Mandarin Chinese. The only downside is that the translation isn t fluid, and sentences may seem strange.
However, the site offers a user-friendly interface that is easy to navigate for the customers. The search box at the top of the website page facilitate the users to conduct a product-specific search. The categories of products available on the Taobao shop are listed on the left side of the page while the homepage displays ongoing deals, Taobao promotions and recommendations for items or stores that customers can explore.
Browse the category and then select the subcategory according to your needs and preferences. The website will display subcategories on the top and the products will be listed in the main display area.
Select the product of your choice from the page. You will land on the product listing page. Check the details of the product and its seller. Click on the "Add to Shopping Cart" button if you are satisfied.

You will be directed to the "Checkout" screen. If you want to add more products to your cart, you can continue shopping. Once you have added everything you wish to purchase, click on the button at the bottom of the order summary page to proceed to checkout.
Enter your address details and your phone number in the shipping details. The delivery charges will be displayed on the screen including Taobao shipping fees. If any Taobao coupon or Taobao voucher is applicable, you can add it to save more money. Make payment on the next page to complete the transaction. You will receive a confirmation for your order on your registered phone number with the expected date of delivery within 24 hours.
If you are looking for discounts and great deals, explore the ongoing Taobao sale or Taobao deals on the homepage before adding products to your cart.
*Please note that the cashback offer is not applicable on purchases made on the Taobao app.
Payment Options on Taobao
There are two main ways you can pay for your stuff on Taobao.
International Credit Card (VISA/ MasterCard/ JCB) – Customers can pay for their orders via international credit cards verified by VISA, MasterCard or JCB. These cards can be used to make secure payments from any part of the world. Be it a debit card or credit card
Alipay Shopping Card – Alipay is a third-party mobile and online payment platform that can be used by customers for online transactions. It is a fast, safe and secure payment method that allows online check-out on most Chinese-based websites including Taobao. You can easily add the Alipay shopping card while making payment for easy and safe transactions.
Different Coupon Codes and Discounts on the site
Taobao offers discounts and deals to its customers from time to time. Some Taobao coupon codes are offered for a long time while there are a Taobao discount codes that are only available for a limited period only. The consumers can save a lot of money on a variety of products by applying the Taobao promo codes or Taobao voucher codes that the online store offers during promotional periods.
At present, customers can earn up to 10% cashback on products if they shop with the merchant via a registered account at Shopback. The Taobao cash back is easily available on those products that are listed under the deals section on ShopBack website.
How to Redeem Coupons and Vouchers at Taobao
Online shopping can be a very rewarding experience where customers get plenty of opportunities to save money on their purchase. Several websites offer codes and vouchers that can be redeemed to earn cashbacks and discounts on products.
Here is a step-by-step tutorial on how to redeem coupons and vouchers at Taobao:
Step 1: Select the item that you wish to buy and click on Add to Shopping Cart
Step 2: Proceed to the Checkout page and fill in the details of your shipping address and phone number.
Step 3: Click on next to move to the payment screen. Here, you will find a box under the payment summary section to enter your Taobao promo code or any other applicable Taobao code for availing discounts.
Step 4: Select the payment method as per your convenience and enter the payment details to complete the transaction.
How to Shop on Taobao using ShopBack
One of the Taobao hacks you can use is to earn cashback on products by shopping via ShopBack. You can get up to 10% cashback when you do so. Here is how you do it
Step 1: Visit the ShopBack website and select Taobao.com from the search bar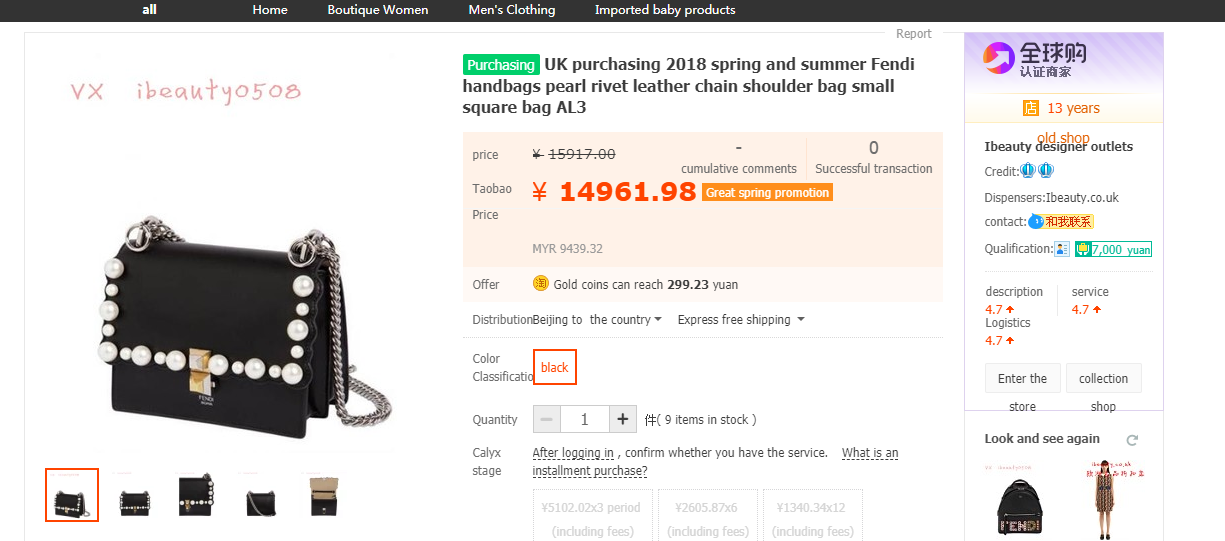 Step 2: Read the terms and conditions as well as any other relevant information provided such as the cashback details and tips to ensure cashback.
easier, you can download the ShopBack cashback buddy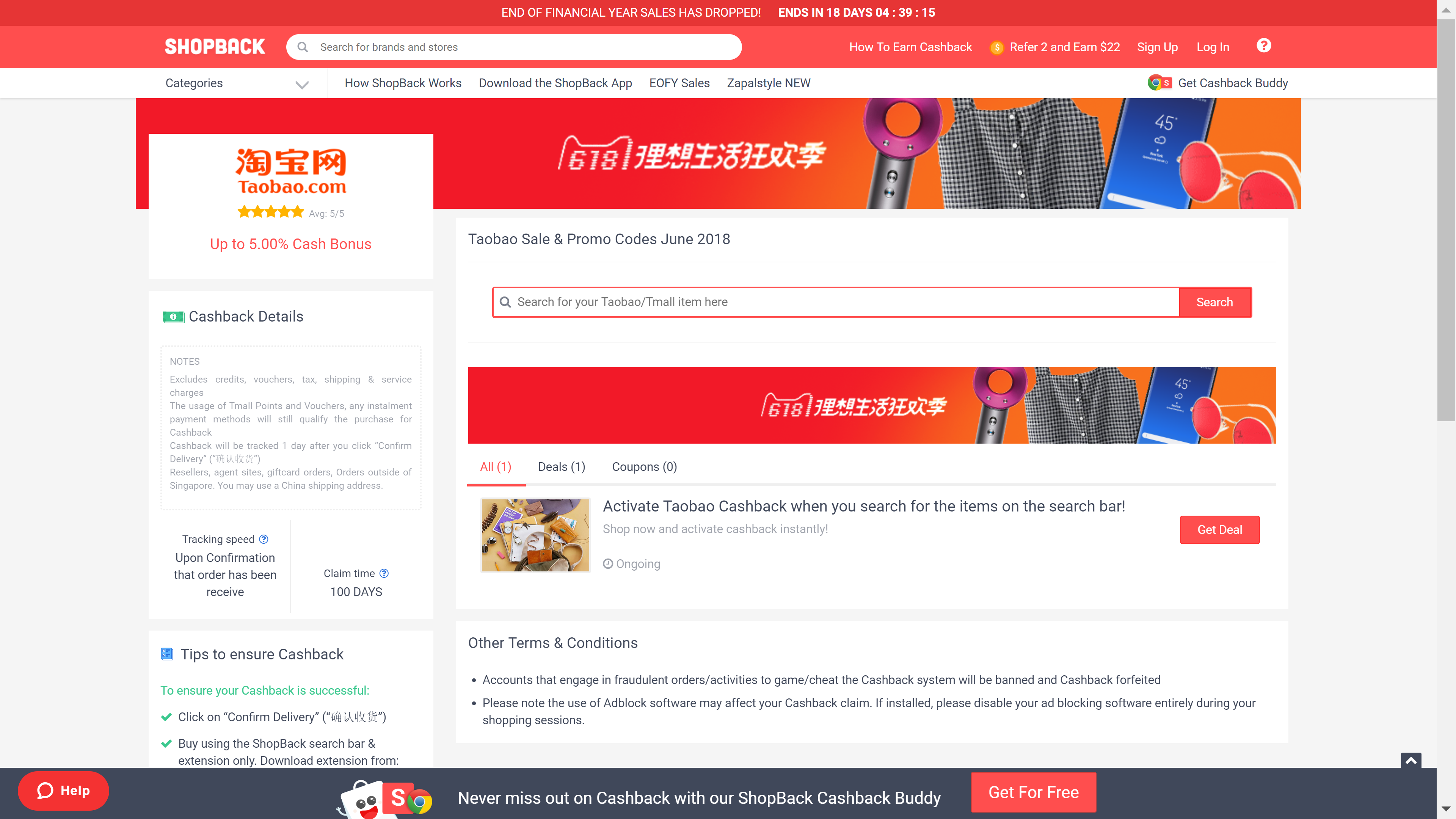 Step 4: Find what you want and copy and paste the name of the items from Taobao into the search bar
Step 5: Click "Activate" If your item appears, add to cart. If you have 2 or more items, for every item, use the searchbar again and add to cart.
Step 6: If your item appears, buy as usual and get Cashback
Step 7: You will be eligible to earn cashback from ShopBack on placing your order. The cashback rates might differ based on your history with ShopBack, i.e. whether you are a new or an existing customer.
Taobao s Shipping and Return Policy
The shipping rates on products are based on their total weight, size, origin and customer s delivery location. The cost of shipping is also calculated on the basis of mode of shipping chosen by the customer. The online store charges for international orders in RMB. Taobao offers two shipping methods i.e. Taobao Global Direct Shipping and Global Consolidate and Shipping.
Under Taobao Global Direct Shipping, the international shipping fee is auto-calculated while making the order. Items in the same order are consolidated and shipped to the customers directly. This mode of shipping is fast and easy.
In the Global Consolidate and Shipping method, Taobao allows different orders to be consolidated into one. Here, customers can choose from 4 courier services charging different shipping fees, according to the weight and size of the items. This method is flexible and more economical than the former method.
While making a purchase at Taobao, all the information regarding exchange and return of items is provided on the customer s order page.
The exchange or return of items is possible only before order is shipped from China. Taobao guarantees exchange or return of items if wrong product is delivered. To initiate an exchange/return request, customers need to specify the reason for such request. Taobao will thereby contact the seller to discuss the possibility of exchange or return of the item.
At Taobao, the sellers set their own rules for exchange/return of items along with Taobao s exchange/return policy. If the seller agrees, the exchange/return process will be carried out as per taobao.com policy and the rules set by the seller, including the cost of delivery and the amount of compensation to be paid in case of return of items (for example, some sellers pay the shipping cost while others agree to exchange items only if the buyer bears the delivery costs. Also, some sellers may not refund the full amount on returning the items). Items exchange process can take up to 7 days or more.
Taobao s Customer Service
y or assistance, Taobao offers help on their Contact Page.
Select Australia from the drop-down menu near the top.
For all your other shopping needs ShopBack has you covered. Check out these similar stores: