Get Connected With Southern Phone Now!
Southern Phone is an amazing choice when it comes to any sort of connectivity products, be it a phone, home internet, or broadband. They are quite popular in Australia and with the launch of the new Southern Phone NBN (National Broadband Network) they have become one of the top selling broadband services in Australia. The website features all sorts of Southern Phone internet connection services such ranging from a single mobile phone internet connection to complete broadband connection for your entire family. What is even better is that there are a host of Southern Phone deals to choose from such as a Southern Phone discount or a Southern Phone promo code. You can search for a Southern Phone promo code online or shop using Shopback to avail various Southern Phone deals as well. Southern Phone is a great choice not only because they have some of the best and the cheapest plans, but also because they provide impeccable connectivity, and top notch customer care services.
Broadband Services Provided By Southern Phone
As soon you visit the website the first thing you will see is a tab titled 'Products which features all the various plans and products offered by Southern Phone. You can click on any of them to get all the details. Here are some of the products and categories available: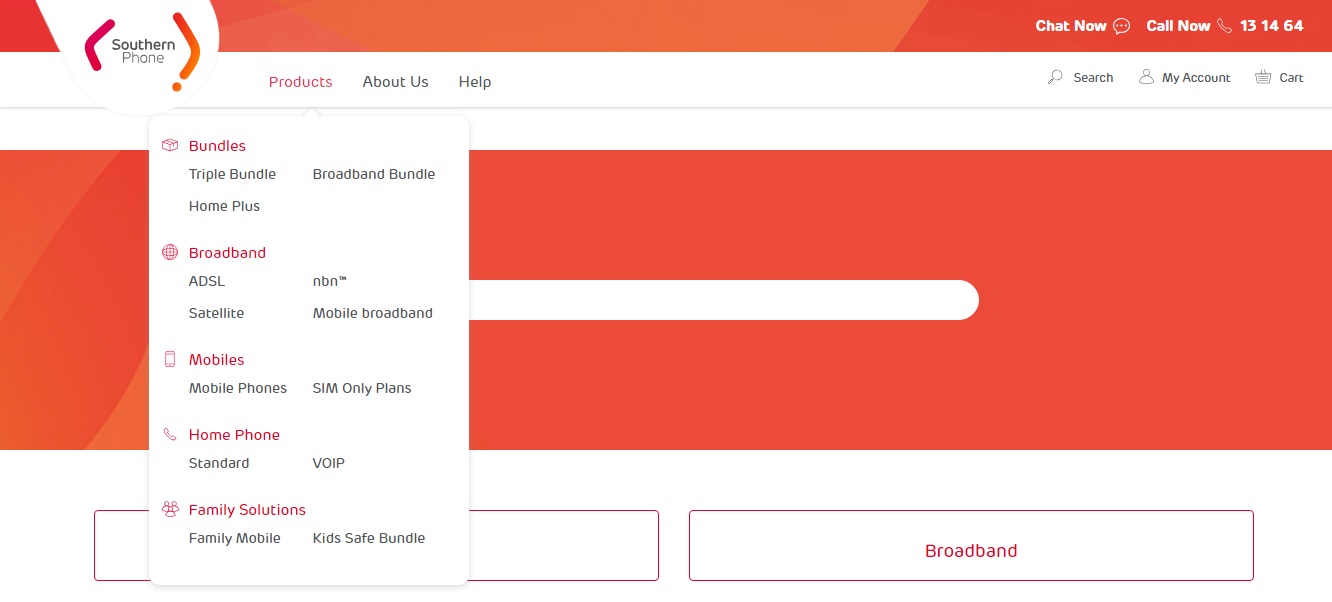 Southern Phone bundles: There are three different bundles to choose from in this category, the Triple Bundle, the Broadband Bundle, and the Home Plus.
Southern Phone Broadband: You can choose between an ADSL connection, a satellite connection, Mobile broadband, or the Southern Phone NBN plans.
Southern Phone Mobile plans: You have the choice between buying a new mobile phone with a preinstalled Southern Phone sim card, or simply purchase plans for a Southern Phone sim card only.
Home Phone: In this category there are two plans to choose from, the Standard plan and the VOIP plan.
Southern Phone Family: You can choose between two different plans for your family the usual Family Mobile plan or the Kids Safe Bundle.
| Product Category | Product |
| --- | --- |
| Bundles | Triple Bundles, Broadband Bundles, Home Plus |
| Broadband | ADSL, nbn™, Satellite, Mobile broadband |
| Mobiles | Mobile phones SIM only plans |
| Home Phones | Standard, VIOP |
| Family | Family Mobile, Kid Safe Bundles |
| | |
How To Shop On Southern Phone (Australia)
Once you have browsed through the various Southern Phone plans and found the right one for yourself, you need to add it to your cart and select the proceed to checkout option. Alternatively, you have the option to enter your address and allow the website to pick the best Southern Phone internet plans for your region. Following this you will be taken to a page where you need to enter your payment details and also add any Southern Phono promo code that you may have. Once the payment is processed your plan should have been purchased. If you are unsure about which plan to choose there are a number of articles on the website, which will help you understand the benefit of each plan.
Southern Phone Special Deals and Offers
The Southern Phone webstore features a wide range of offers on its products which range from exclusive Southern Phone deals to various Southern Phone promos which feature a Southern Phone voucher code or a Southern Phone cashback offer. There are also constant sales going on for various products so keep an eye on that. Apart from these you can also search online for a Souther Phone promo code which you can redeem at the webstore for an added discount. Make sure to check through all the terms and conditions of the Southern Phone promo code you use since these are usually category or product specific, such as Southern Phone mobile phones or Southern Phone broadband. Apart from these deals and offers, the general rate of Southern Phone plans are quite lower than the usual industry rates, so even without any extra discounts you really save money.
How To Shop on Southern Phone (Australia) Using Shopback
Shopback provides a whole range of Southern Phone deals which include Southern Phone cashback offers. Else, you can choose from various Southern Phone vouchers. The current offer available is an 80% cashback offer and you can also check from time to time for any other Southern Phone discount offers that may be available. You can select any of these offers on the Southern Phone Australia merchant page on ShopBack and once you click on the Activate deal button you will be redirected to the Southern Phone Australia website with the selected offer now activated. Make sure to read through the terms of conditions of any Southern Phone Australia discount voucher you may use and also keep in mind that using Adblock may affect the cashback process (ensure you disable Adblock temporarily). Southern Phone offers are available on products such as Southern Phone mobile plans or a Southern Phone broadband connection.
Payment Options At Southern Phone (Australia)
There are two primary methods using which you can pay for your purchase at the Southern Phone webstore. You can use any major credit card such as a Mastercard or a Visa or you can also pay using your PayPal account.
Southern Phone Contact And Customer Care Services
Southern Phone has an amazing Australian customer care service. You can choose to call the customer care number (13 14 64). While there isn t a Southern Phone email you can communicate to, you can chat with a customer care executive using the chat option, which you will find on the top right corner of the Southern Phone Australia website. There is also a tab titled 'Help where you can search for any query that you may have, or read through various articles to realize what plan may be best suited for your needs.
You can follow Southern Phone Australia on the various social media handles on the web to stay up to date on any new promo that is out or simply to keep an eye out for a great discount coupon!