Discover Latest Electronics And Gadgets With Sony!
Sony is not an unknown name to anyone who is even barely knowledgeable about gadgets. Be it Sony Headphones, a Sony Laptop, or the Sony Playstation, most people have heard about Sony, one way or another. The Sony webstore is truly a great place for anyone who is looking to buy some of the latest and the best electronics and gadgets. What is even better is that you can also avail a variety of discounts or even find a Sony promo code which will get you a solid deal on your desired product! There many a Sony sale to look forward to, which may feature products across any of its categories, every once in a while. Just want to buy a Sony remote? You re sure to find a discount on ShopBack! You can also avail Sony Cashback offers by shopping through the ShopBack website.
Products Sold By Sony (Australia)
The Sony (Australia) webstore features a great range of products to choose from and they are categorised as shown below:
Television and Home Theatre
: Under this category, you will find products such as OLED televisions, projectors, home theatre components, etc. That Sony Bravia you ve been eyeing is sitting in here.

Cameras

: Sony is quite known for its series of Cyber Shot cameras which can be found here, along with products such as video cameras and various lenses. Looking for the Sony RX 100? This is where it s at!

Audio equipment

: The Sony webstore offers a wide range of headphones, Bluetooth speakers, and various other audio systems.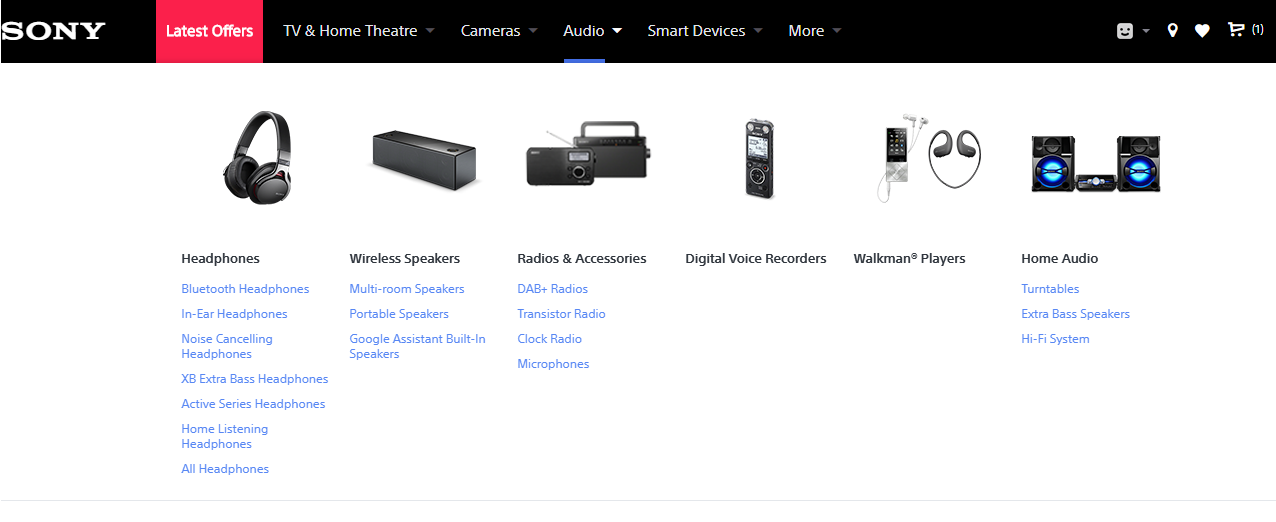 Other devices

: You can also find a variety of other electronic devices such as the Playstation and its components, professional products, batteries, etc.

| Product Category | Product Description |
| --- | --- |
| TV and Home Theatre | OLED Television, 4K HDR Televison, HD Television, Accessories, Home Cinema Projectors, Portable Projectors, Laser Projectors, Projector Lamps, Accessories, Blu-ray Home Theatre, Systems, Sound Bar, Ultra HD Players, Blu-ray Disc Player,s DVD/HDD Players |
| Cameras | Full Frame A9 Series, Full Frame A7 Series, A6000 Series, A5000 Series, SLT Cameras, Full Frame Lenses, G & G Master Lenses, Carl Zeiss® Lenses, Fixed Focal Length, Zoom Lenses, Cyber-Shot Cameras, Camera Accessories, HandyCam Camcorder, Accessories |
| Audio | Bluetooth Headphones, In-Ear Headphones, Noise Cancelling, Headphones, XB Extra Bass Headphones, Active Series Headphones, Home Listening Headphones, Multi-room Speakers, Portable Speakers, Google Assistant Built-In Speakers, DAB+ Radios, Transistor Radio, Clock Radio, Microphones, Turntables, Extra Bass Speakers, Hi-Fi System |
| Other Devices | Playstation 4 Console, PlayStation 4 Accessories, PlayStation VR, Game Titles, Broadcast & Pro A/V, Professional Storage, Professional Audio, Amplifiers Audio Players, Car Accessories, In Car Visuals, Navigation, Subwoofer, Speakers, Portable Power Supply, USB Drives, Memory Stick/SD Cards, Hard Drives & Tapes, Smartphones, Smart devices, Accessories, Tennis Sensor |
| | |
Sony Special Deals and Offers
The Sony (Australia) webstore features a wide range of offers on its products, and these can range from exclusive Sony deals to various Sony promos which feature a Sony voucher code or a Sony coupon. There are also constant sales going on for various Sony entertainment products, so keep an eye on the site if you want to get that Sony Playstation 4 or the Sony Bravia TV for a cheaper price! Apart from these you can also search online on sites like ShopBack Australia for a Sony promo code which you can redeem at the webstore for an added discount. Make sure to check through all the terms and conditions of the Sony promo code you use since these are usually category or product specific, such as on Sony mobile phones or a Sony smart TV.
How To Shop From The Sony (Australia) Webstore
Once you have decided on the product you want to buy click on the 'Add to cart button and proceed to checkout. This will take you a page where you can fill in your personal and shipping details along with any specific shipping instructions. The next page you go to is the payment details page and right on top of this page you have the option to add any valid Sony coupon code you may have with you. Following this you simply have to add your payment details, and once the payment has been processed, your order should have been placed.
How To Shop on Sony (Australia) Using Shopback
Shopback provides a whole range of Sony Australia deals which include Sony cashback offers. Else, you can choose from the various Sony vouchers or find a Sony promotion. The current offers available is a 2% cashback offer and you can also check from time to time for any other Sony discount offers that may be available. You can select any of these offers on the Sony merchant page on Shopback Australia and once you click on the 'Get deal button, you will be redirected to the Sony Australia website with the selected offer now activated. Make sure to read through the terms of conditions of any Sony Australia discount voucher you may use and also keep in mind that using adblock may affect the discounting process, so turn adblock off on your browser. Usually these Sony cashback offers are site wide, which means that they are available on all products such as a Sony phone, a Sony TV remote, or even a Sony VAIO. Keep in mind that the cashback offer may not work if you try to buy from Sony using a mobile app.
Payment Options At Sony (Australia)
There are two primary methods using which you can pay for your purchase at the Sony webstore. You can use any major credit card such as a Mastercard or a Visa or you can also pay using your PayPal account.
Sony also has a great customer care service to help you out with any problems or queries that you may have.
You can follow Sony on their social media handles to stay up to date on any latest Sony promo that is in line, or simply look out for a Sony discount coupon or Sony discount code.
n also avail such offers by shopping brands such as Ebay and Lenovo through ShopBack!