Lastminute.com.au is the only travel companion you need !
Lastminute.com.au is a website offering last minute travel options. You can book flights, hotels, cars and holiday packages on this website. There are a wide range of overseas tours, long weekend getaways and luxury escapes for you to choose from. You can get the best deals on this website and with the help of Last minute promotions, you can save more when you travel to your favorite destination.
History of Lastminute.com.au
Lastminute com was founded in London in 1998 by Brent Hoberman and Martha Lane Fox. By the end of January 2000, there were over 500000 users who used the website regularly. This is when the website was expanded. New services such as travel, entertainment, and gifts were added in the year 2000. At present, Lastminute.com is one of the best travel companion websites that you will ever find to plan your last minute travel.
Products and Services Offered at Lastminute.com.au
Hotels: Lastminute hotels can be found here. There are hundreds of hotels you can choose to stay in and book for your holiday.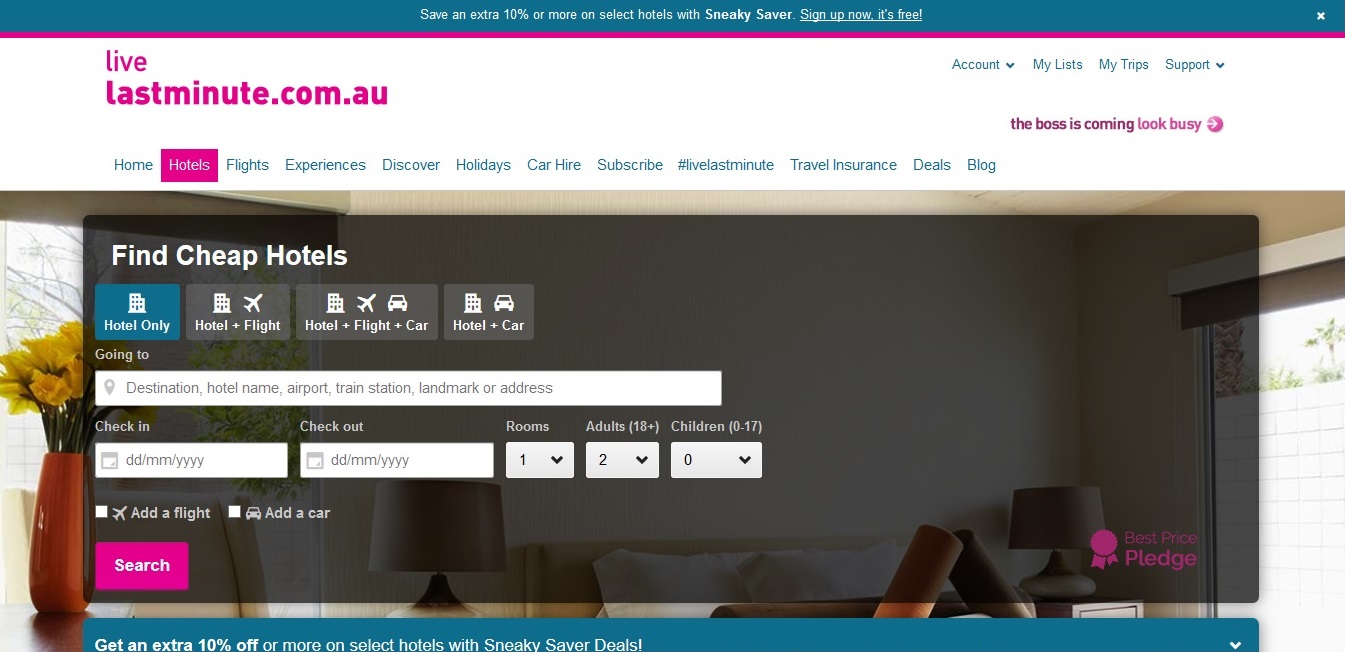 Flights: Want the best deals in flight? Explore the Lastminute flights section for all the flight options you can choose from and save more on.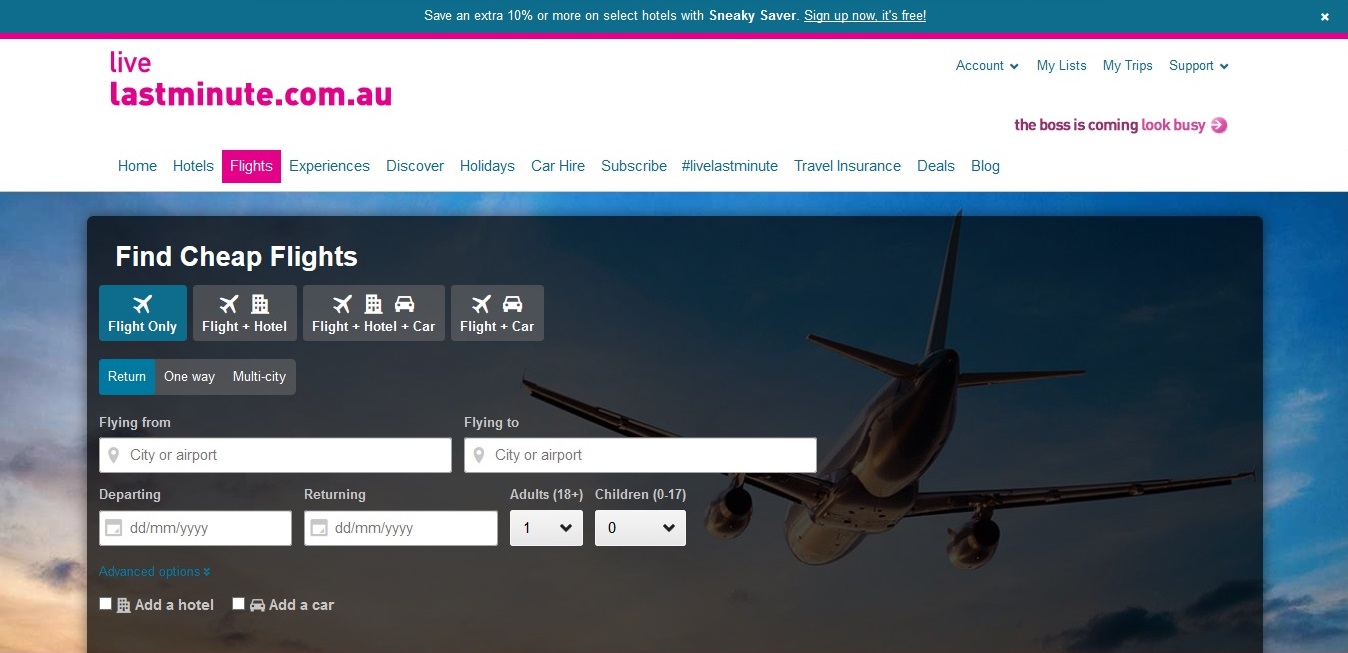 Experiences: This section helps you in finding what you should do when you reach your destination. Let Lastminute help you find the activities that you can do.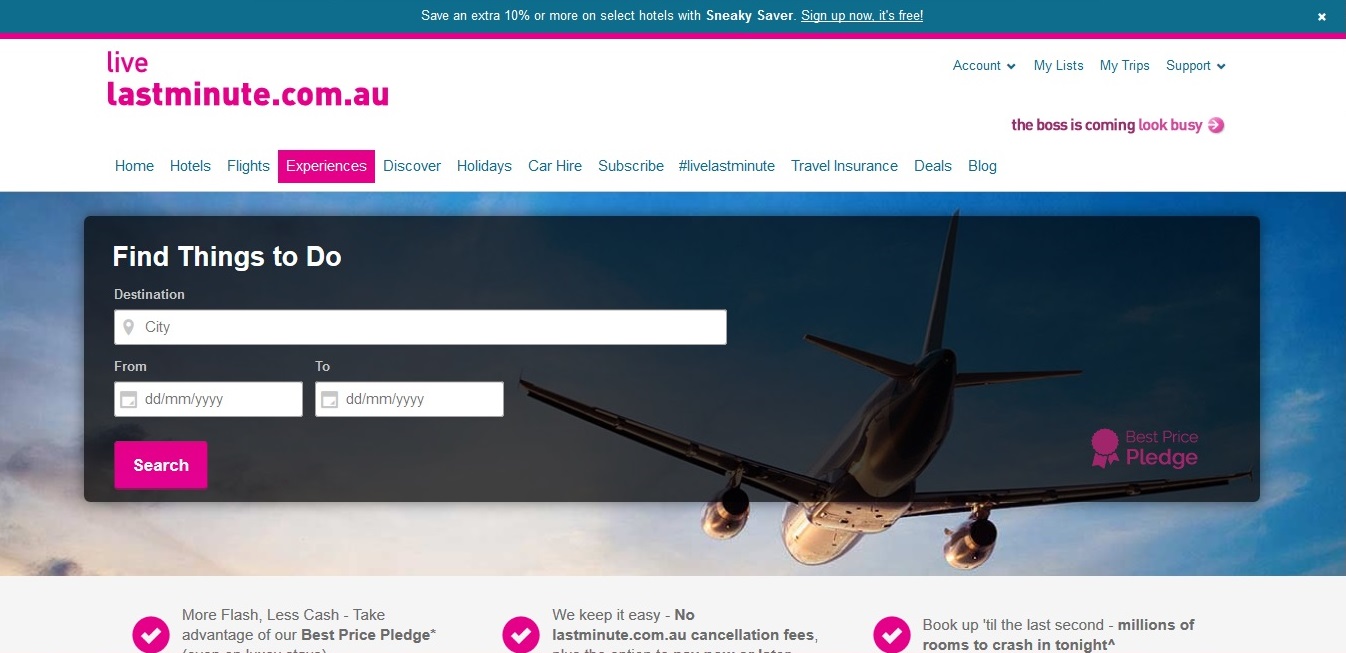 Discover: Is there something that you really want to know about the destination you are travelling to? This is the section where you can find what you are looking for. Use a Lastminute code to save.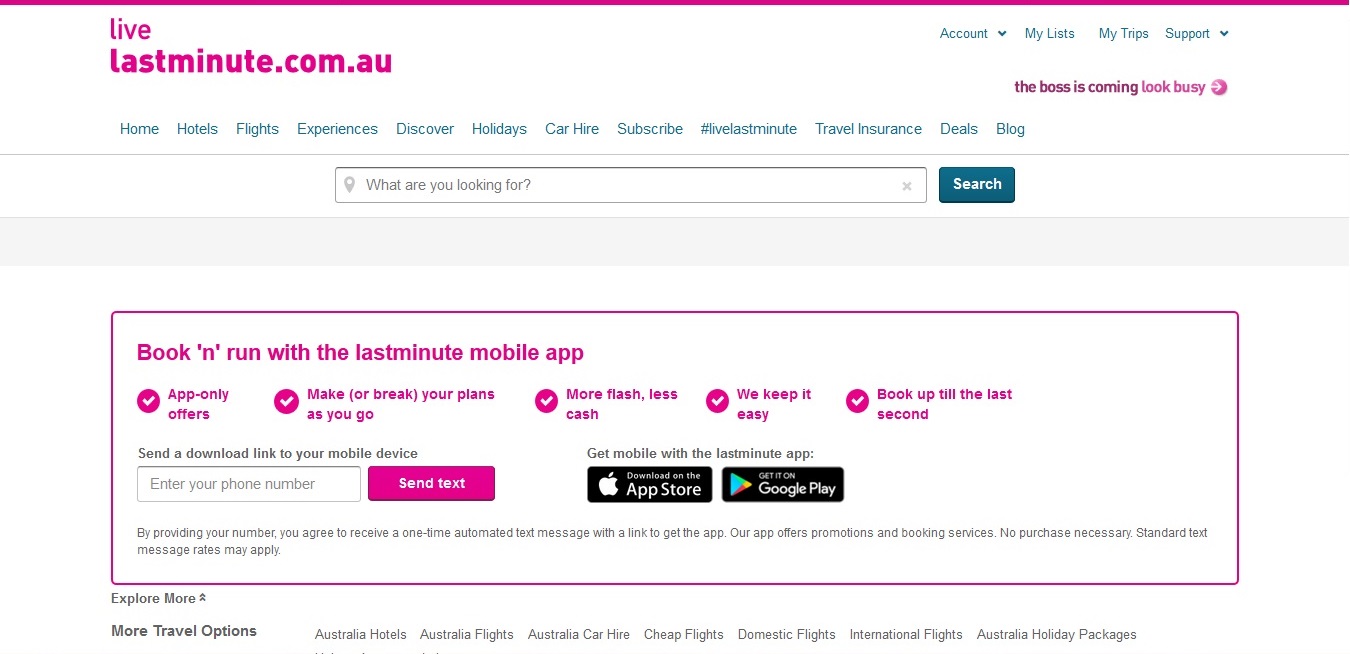 Holidays: You can find all their holiday packages here. You only need to enter a few basic details to get the holiday packages. Use a Lastminute voucher for more savings.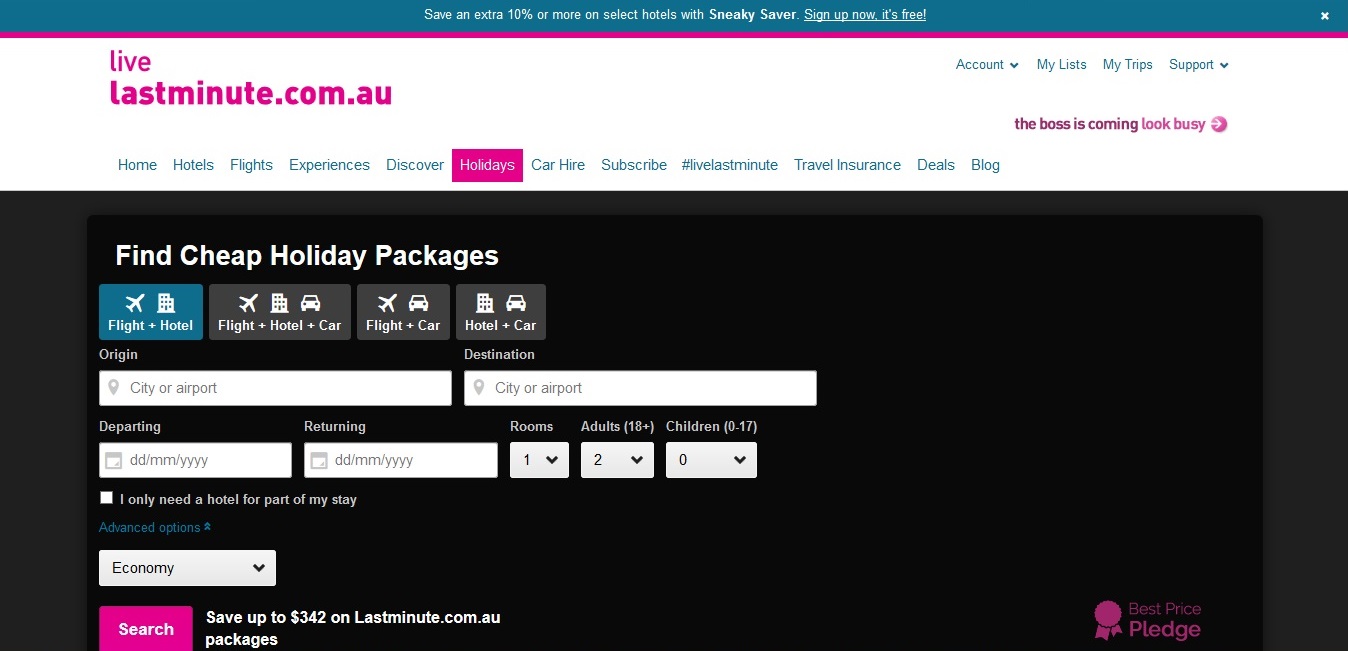 Car Hire: You can book your car from the desired pick up location to a drop off location. You can choose the car type and more.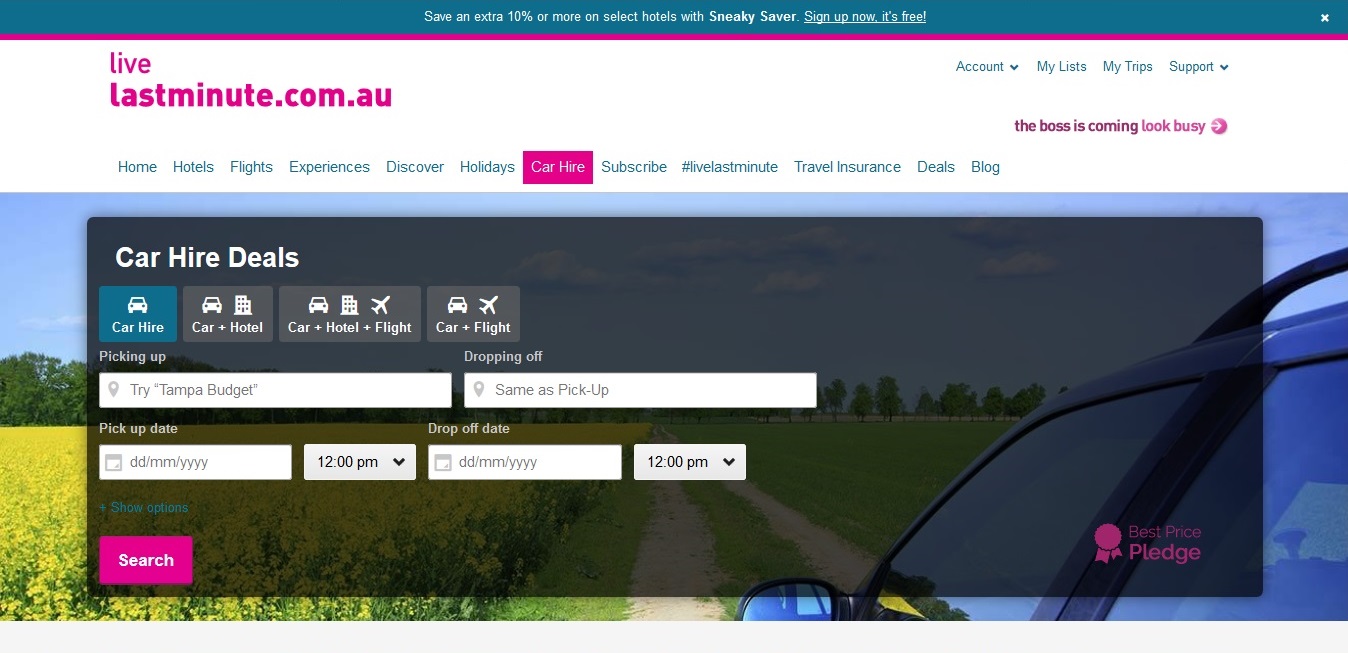 Subscribe: You can subscribe to Lastminute for getting a Last minute coupon code and more on Lastminute holidays, flights and hotels.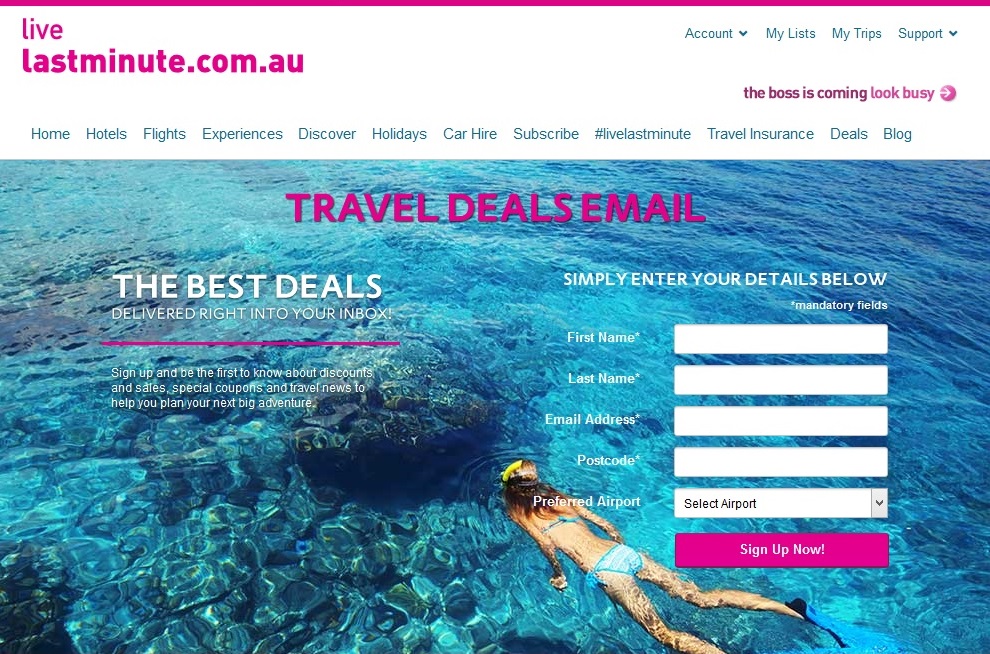 #livelastminute: Want to find out about Lastminute promo deals for upcoming weeks? This section helps you get the best deal on last-minute travel planning.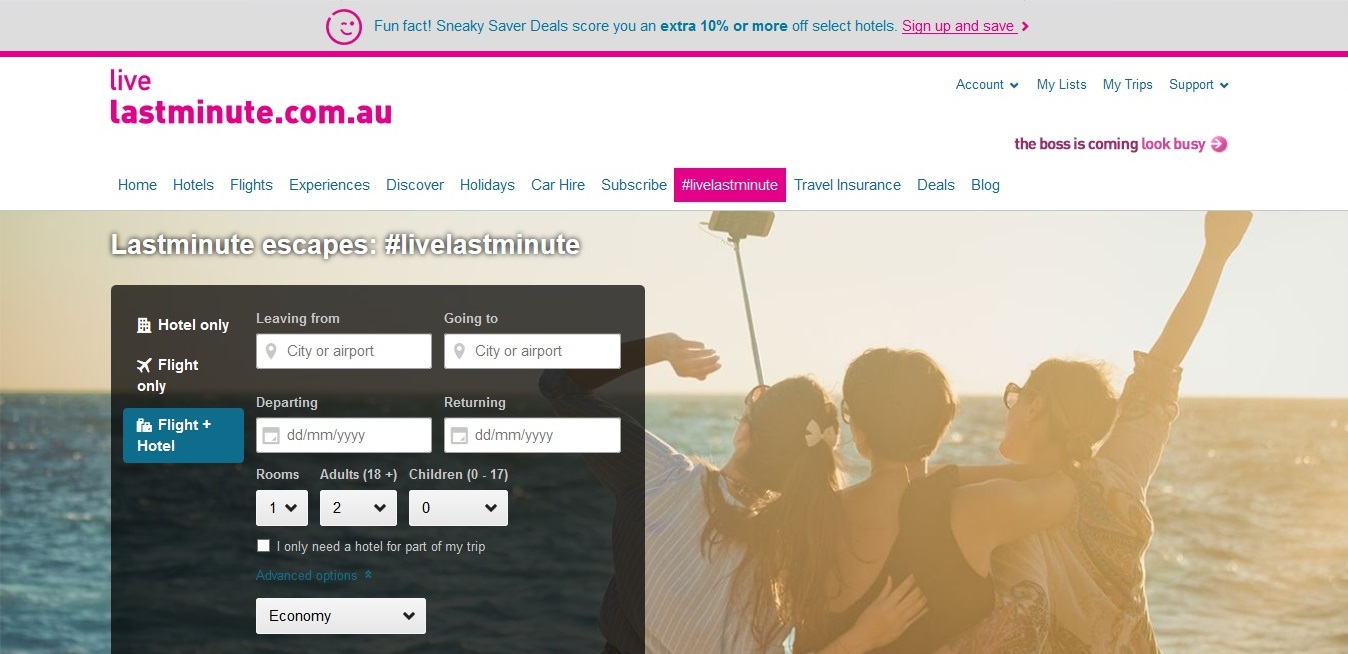 Travel Insurance: You can find out why travel insurance is necessary and what different policies are available for travel insurance.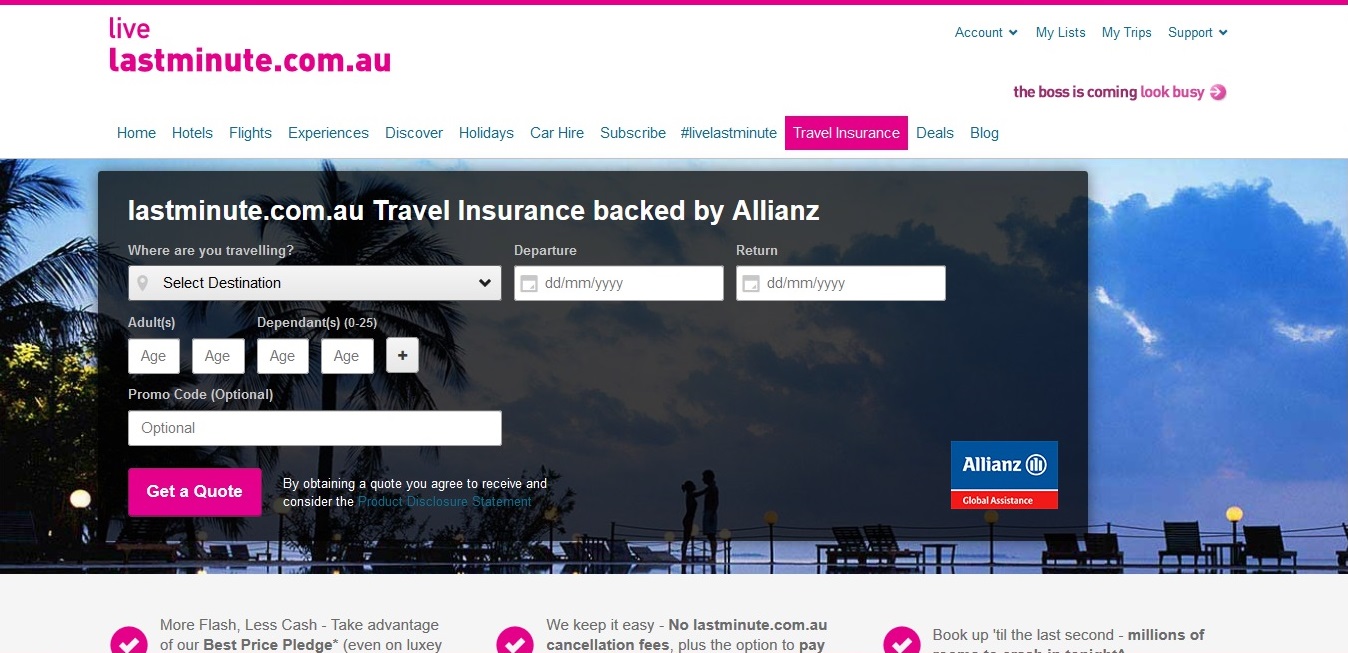 Deals: Lastminute deals section consists of the latest deals that are available for you to use. These deals are for flights, hotels and both combined together.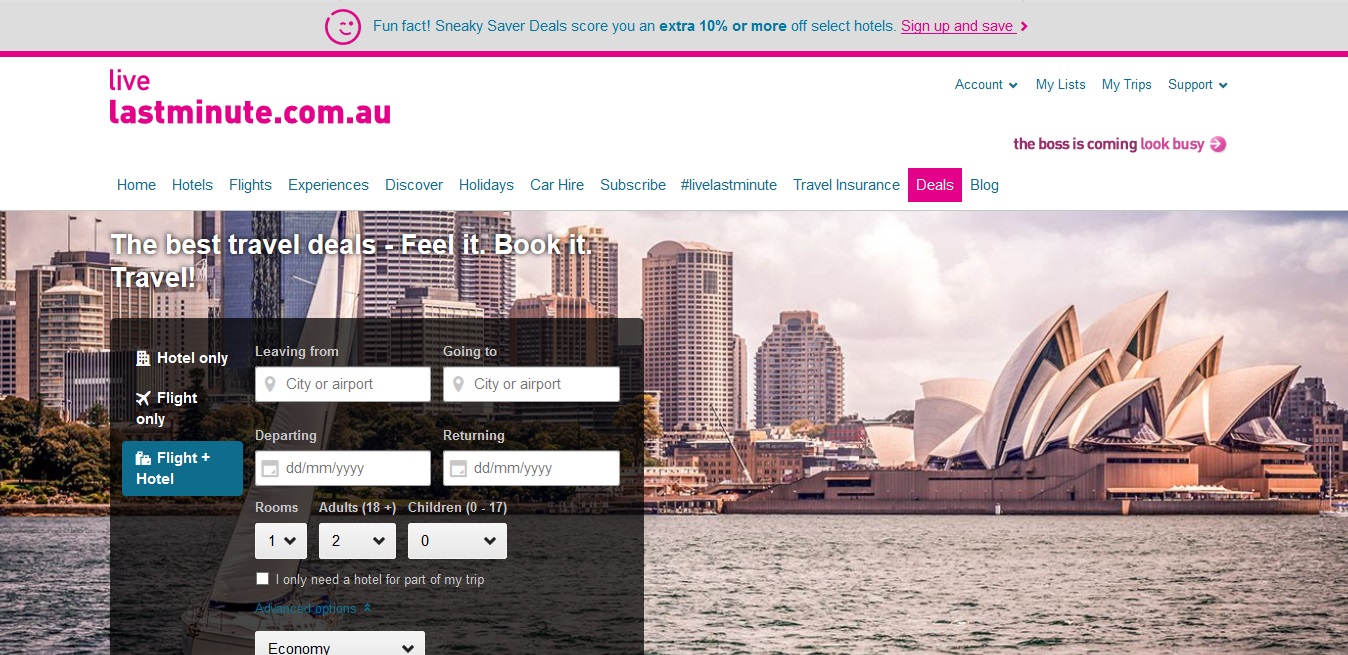 Lastminute offers you with a plethora of Lastminute deals that you simply cannot resist. Always remember to use Lastminute voucher codes to save on your travel.
How to Shop at Lastminute.com.au
Shopping at Lastminute is simple. It does not matter whether you know where you wish to travel or when. You can easily plan your travel location, dates and budget accordingly with the help of the easy-to-navigate website. You can make your bookings once you are sure about all the details. Remember to use Last minute voucher code and Last minute promo code to save on your bookings.
Payment Options at Lastminute.com.au
You can pay at Lastminute using MasterCard, Diners Club International card, American Express or Visa. Remember to use Lastminute com discount codes to save more on your travel plans.
Lastminute.com.au Deals and Promo Codes
You will find amazing Lastminute deals on the Lastminute website. There is a separate section for the best deals that you can find on hotels, flights and holiday packages. Deals and Lastminute com promo code can be found on various websites. The #livelastminute section helps you take a look at the deals of the week. The Sneaky Saver Deals option at the header of the page lets you save 10% or more on many hotels. All you need to do is sign up.
How to Redeem Coupons at Lastminute.com.au
You can search for Lastminute coupon codes on the Internet to find codes that help you save on your bookings. There are coupon codes available on ShopBack for Lastminute. You can take a look at these as well before booking your flight, hotels or holiday package. You can enter the Last minute discount code before you check out after you have booked using Lastminute website.
How to Shop on Lastminute.com.au using ShopBack
You can get 8.00% Lastminute cashback when you shop on Lastminute.com.au using ShopBack. There are other offers such as Lastminute discount voucher codes that you can find on the website. Keep checking the Shopback website for such deals.
Cancellation Policy at Lastminute.com.au
Lastminute does not charge you for cancellation. However, the flight or hotel that you booked might charge you for canceling your booking. There are lots of conditions involved in this as the cancellation depends on when you canceled. You can check the Support section for more details on cancellation policies by Lastminute.
Lastminute.com.au Customer Service Details
Lastminute provides you with a Support section which can be found on the right-hand side of the homepage. This allows you to get all the help you need about all the various help topics. You can find the answers based on the category of your question. There are popular topics you can get the answers to. There is an option for you to send a request to an answer. You can call 1800781936 for customer support as well.
You can follow Last Minute on the following social media handles to get Lastminute hotel deals, Lastminute holiday packages, and Lastminute discount code:
Want more amazing deals at ShopBack like the Lastminute offers? Then remember to explore Wot If and Booking.com to save more on your next booking.