Book the Perfect Hotel with Hotels.com
Planning a trip with your family or friends? Then make sure you visit Hotel.com (Australia) to choose from some of the best hotels around the world within your budget.
Make use of a Hotels.com discount code at the time of your booking and avail attractive discounts.
Established in the year 1991 by Robert Diener and David Litman, Hotels.com started as the Hotel Reservation Network. It was acquired by the USA Networks Inc in 2001 which also had acquired controlling interest on Expedia. The name changed to Hotels.com in 2002 and in the same year, 1-800-2-Hotels was launched as an offline branch. In the next two year, as many as 29 international sites were added as a measure to expand Hotels.com. Hotels.com (Australia) was launched during this period. In 2003, USA Networks Inc was renamed InterActiveCorp and in 2005, it separated its travel business which was to be headed by Expedia. Hotels.com is now an operating company under Expedia.Inc.
Services provided by Hotels.com
Hotels.com (Australia) is one of the leading providers of hotel accommodation around the world. You can choose from amongst independent properties or hotel chains worldwide. It s your one-stop destination for checking hotel pricing, hotel amenities and availability. You can also find hotel accommodation options here during sold-out periods. Hotels.com offers hotel accommodation that you can book from the comforts of your home. You can either book online or call Hotels.com and make your booking. You can also add your property on Hotels.com

How to make a booking on Hotels.com?
Finding hotels on Hotels.com is easy! The website has a user-friendly interface and all you need to do is enter a few details related to your destination and travel dates.
Also, keep your Hotels.com discount code handy as you will need it at the time of checkout.
1. Visit the Hotels.com website and you will see a dialogue box in which you will need to enter your destination, check-in and check-out dates, and the number of rooms you are planning to book. Click on 'Search after entering the details.
2. Now, you will be redirected to a new page where you will get a list with all the names of the hotels available in your destination on your dates.
Scroll down to find all the available options.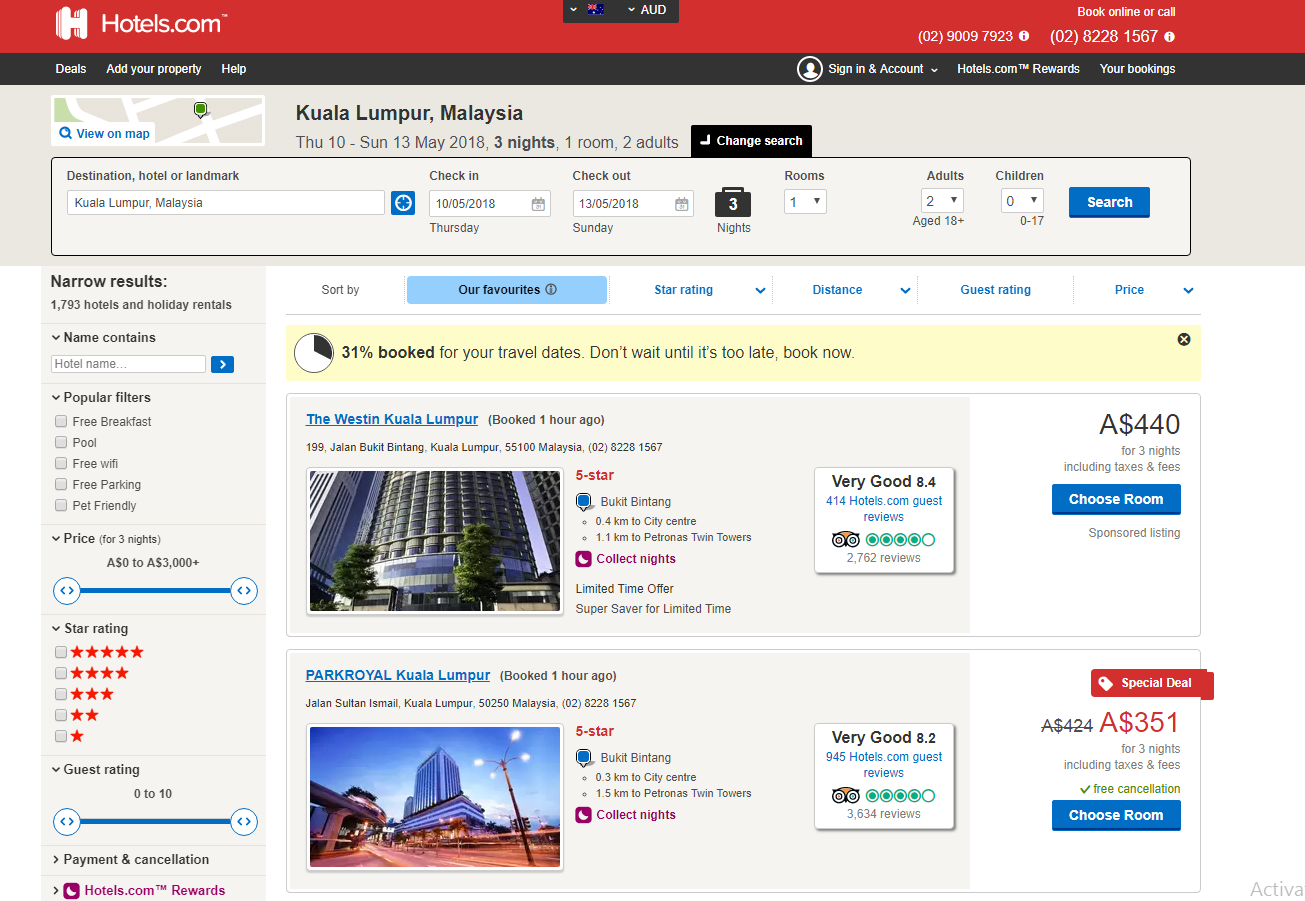 3. The filter fields are available on the left hand side. Here, you can choose according to your specific requirements and also get to choose a hotel within your budget. Use the filters to make your search easy.
4. Once, you find a hotel of your choice, click on 'Choose Room and the booking page will open in a new tab. Here, you will also get all the information related to the hotel you chose. You will also get too see the images of the hotel and the rooms. Scroll down to find the types of rooms available on the given dates. Make a choice and click on 'Book .
If you happen to not like something about the hotel, close that tab and continue with your search from the previous list.
5. Now, you will have to enter the details of the people living in the room. You can also choose to sign in to Hotels.com. If you have any special requests, you can mention that here.
6. Now, you have to enter a few of your personal details and that includes your email address and mobile phone number.
7. The final step to confirm your booking is to make the payment. Scroll down to find the payment option. On the right hand side of the page, you will get a summary of your bill. Here, you will get the option to enter your Hotels.com coupon code. Enter the Hotels.com promo code and you will get to see the revised pricing.
Now, enter your card details.
8. Scroll down and click on 'Buy Now and you will get the confirmation emailed to you with all the relevant details.
Hotels.com accepts the following payment options:
Credit Cards and Debit Cards:

You can make payments with your Mastercard or Visa debit or credit cards on Hotels.com. It also accepts Amex credit cards.

Diners Club Cards:

You can also make payments with your international Diners Club card.

PayPal:

You can shop cardless and make pay your payment via your PayPal account.
Hotels.com Discount and Coupon Code
One of the best parts of looking for hotels here is that you can avail great Hotels.com offers all year around. Check out the 'Deals section on the homepage for Hotels.com special offers.Click on it and and then enter your destination along with the other details. You will get the names of all the hotels on which there is Hotels.com discount. You can also look for your Hotels.com promo code and Hotels.com coupon code on coupon websites. Another option is to join Hotels.com Rewards to get Hotels.com sale offers.
How to Redeem Hotels.com Discount Vouchers
Before looking for hotels on Hotels.com, find a Hotels.com promo coupon. Redeeming a Hotels.com voucher code is easy. On the booking page, you will get the option 'Apply coupon . Enter your Hotelsc.com code and make great savings!
Did you know ShopBack offers up to 5% Hotels.com cashback every time you make a purchase on Hotels.com?
Step 1:

Visit the ShopBack website and search for Hotels.com on the search bar. Click on the displayed result.

Step 2:

On the new page, click on 'Activate Cashback that you see on the top left corner.

Step 3:

Check out the main section of the same page for Hotels.com codes.

Step 4:

Click on 'Get Deal and you will get redirected to the Hotels.com website.

Step 5:

Make your bookings to earn cashback. Don t forget to enter your Hotels.com promo code at the time of checkout. Also, remember to use only Hotels.com voucher codes approved by Shopback.
Please note that cashback is only available when you book through the website.
Hotels.com is an aggregator website. The cancellation policy varies from one hotel to another. Please read the cancellation policy of the respective hotel you are booking carefully before going ahead.
Click on
'Support & FAQs
on the footer to find answers to some of the most common traveller queries.
Follow Hotels.com on social media for Hotels.com promotion offers.