How many times have you wished to cook good & delicious food without worrying about getting the right groceries? Guess what! Your wishes have just become reality.
One of the best Meal-Kit companies around the world, HelloFresh boasts fresh ingredients and mouth-watering recipes that you can cook at your home and at your own convenience. They follow a simple procedure to get you some of the best dishes that you have been craving for and they do that while saving you from all the hassle of shopping for healthy food.
HelloFresh started out in November 2011 with founders Dominik Richter, Thomas Griesel, and Jessica Nilsson. They are one of the pioneers in the meal-kit industry.
From a meager 10 customers at the beginning to 1.3 million subscribers in 2017, HelloFresh has definitely come a long way. After the completion of its IPO in November 2017 at a value of €1.7 billion, it has become one of the largest companies in the industry with roots in Germany and the branches spreading to Australia, Canada, USA and Western Europe.
Products or services are the foundation pillars to any organization s success, around the world. Right from the start, this company delivered spectacular products that put the customer first.
HelloFresh sells meal kits for customers. The meal kit consists of ingredients and a recipe that you can use to cook and eat delicious food. All you need to do is choose your plan, get the contents, cook them using the recipe.
Let us look at the plans and products that HelloFresh Australia has to offer.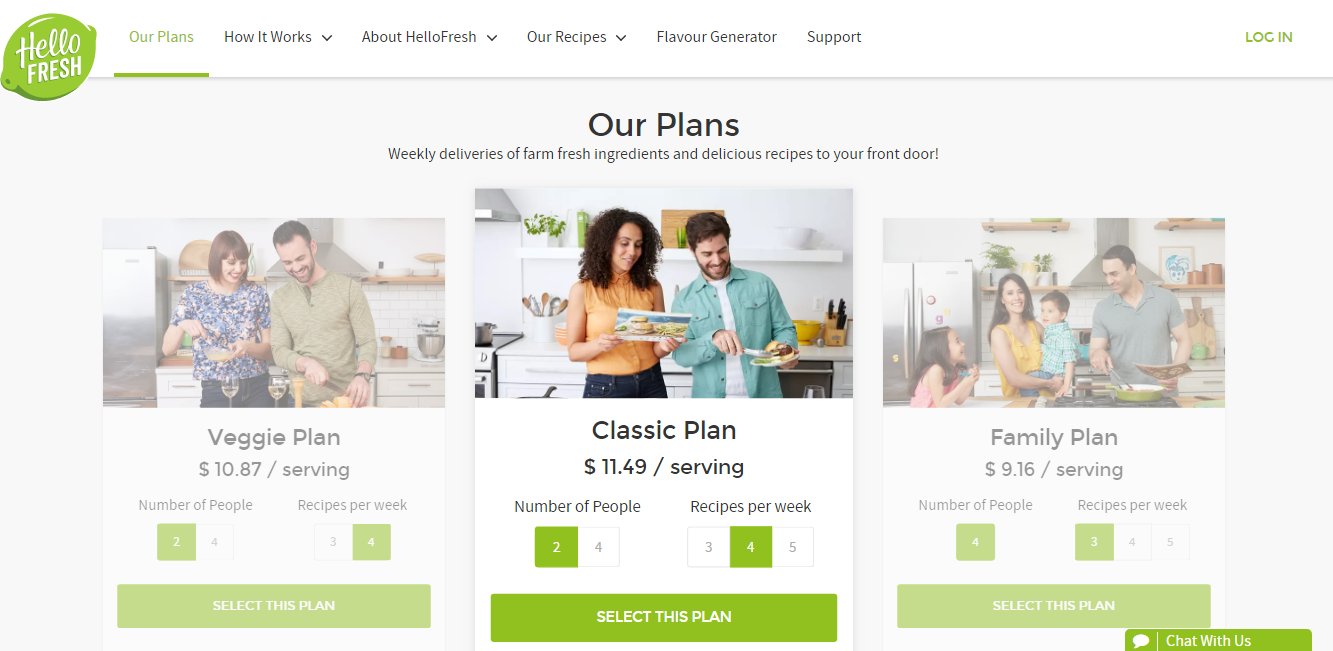 Filled with fresh vegetables, cheese, whole grains, and plant protein; the veggie plan provides balanced meal kits beautifully designed for those who don t eat meat.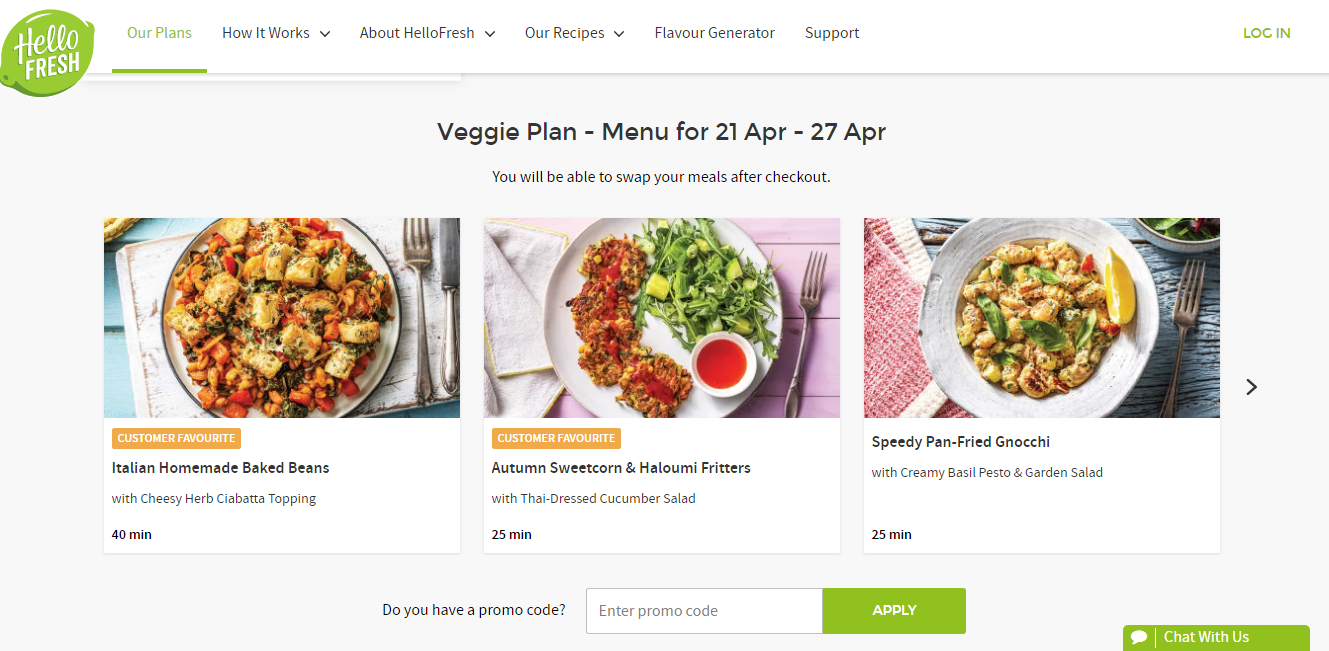 The classic plan contains fresh meat & fish, whole grains, and seasonal vegetables that are nutritious and healthy.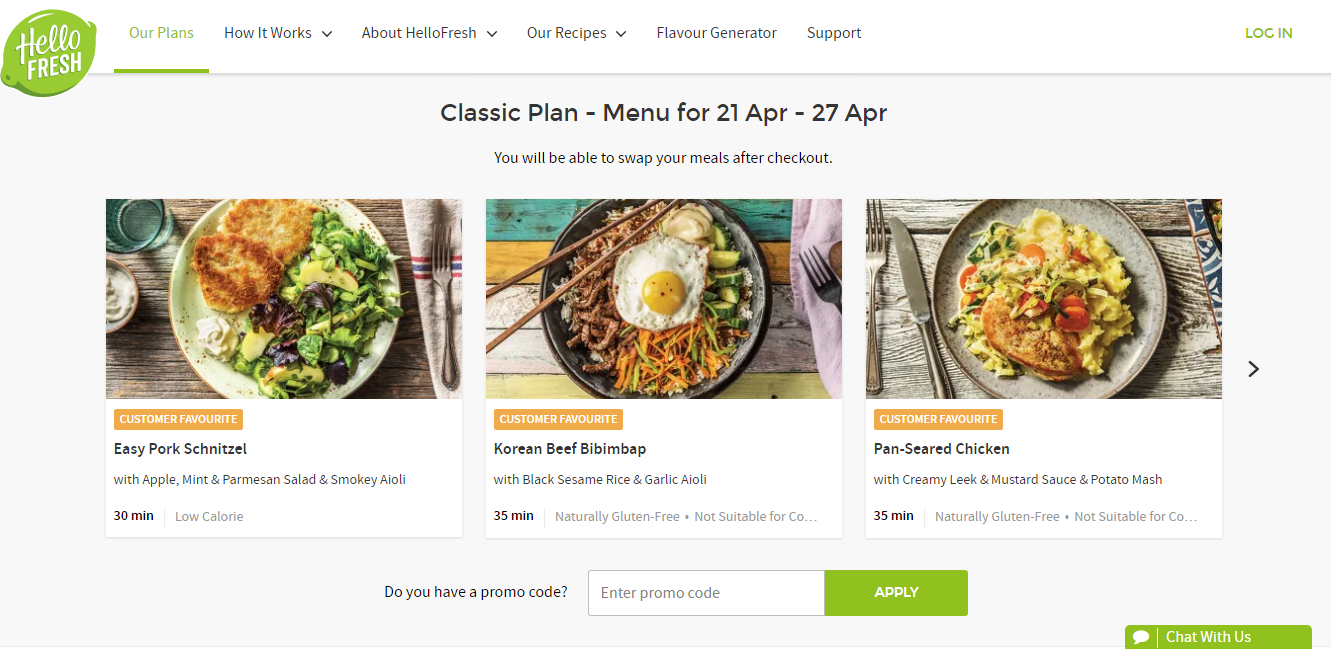 As the name suggests, this is to fill your family members stomachs with hot and tasty food. The menu is filled with dishes from the classic plan, however, with a twist in the taste and the way it is cooked. Your family is definitely going to enjoy this plan.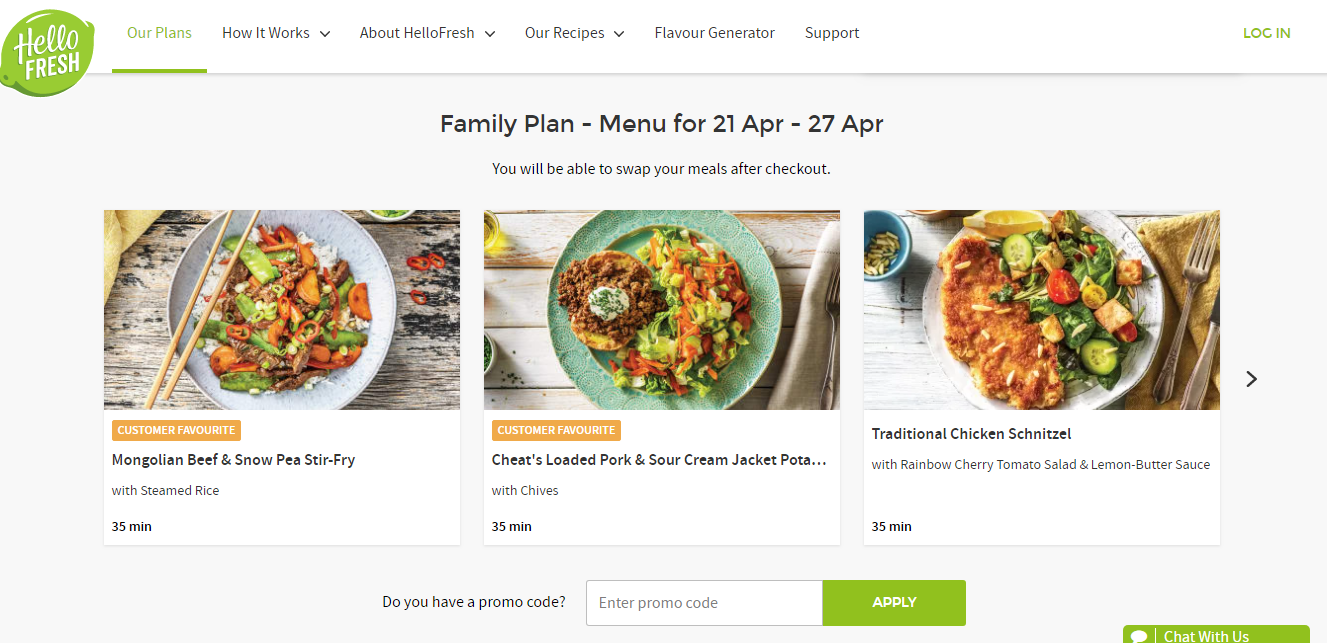 Looking for a new flavor? The flavor generator will help you. Just fill the blanks with your desire and your tastebuds will be satiated.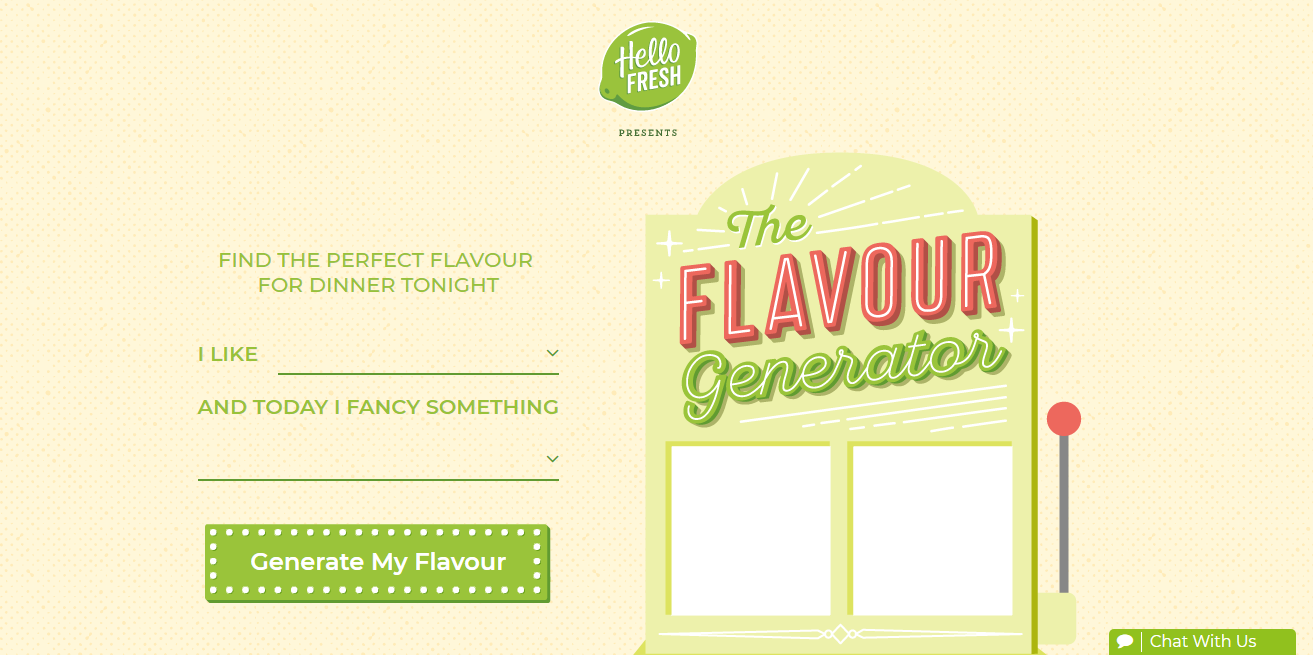 Below is the sample menu they have for one particular week:
| Veggie Plan | Classic Plan | Family Plan |
| --- | --- | --- |
| Italian Homemade Baked Beans | Easy Pork Schnitzel | Mongolian Beef & Snow Pea Stir-Fry |
| Autumn Sweetcorn & Haloumi Fritters | Korean Beef Bibimbap | Cheat s Loaded Pork & Sour Cream Jacket |
| Speedy Pan-Fried Gnocchi | Pan-Seared Chicken | Traditional Chicken Schnitzel |
| Easy Indian Sweet Potato & Coconut Dahl | Chermoula Spiced Chicken & Warm Veggie Risoni | One Pan Herby Italian Chicken |
| | Loaded Bunless Beef & Salad Burger Bowl | Loaded Bunless Beef & Salad Burger Bowl |
| | Jamaican Jerk Salmon | |
| | Speedy Pan-Fried Gnocchi | |
| | Autumn Sweetcorn & Haloumi Fritters | |
How to Shop at HelloFresh Australia
Shopping at HelloFresh is easy.
Select the plan and you will be taken to the "Your details" section.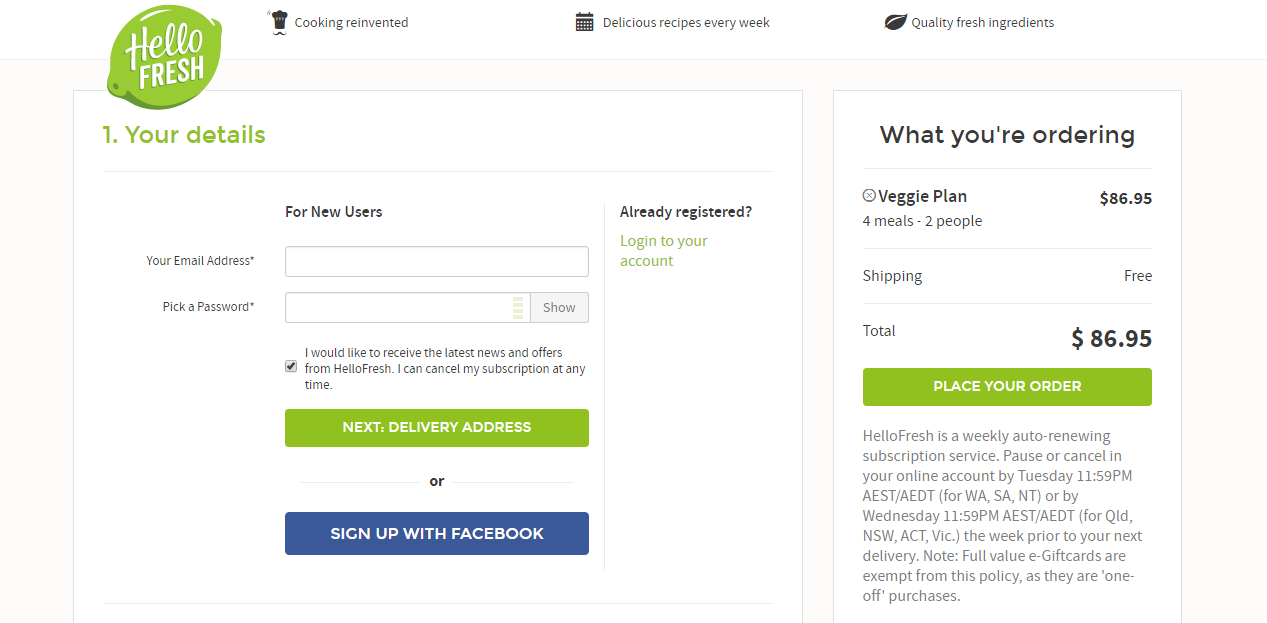 After you have signed up, enter your delivery details.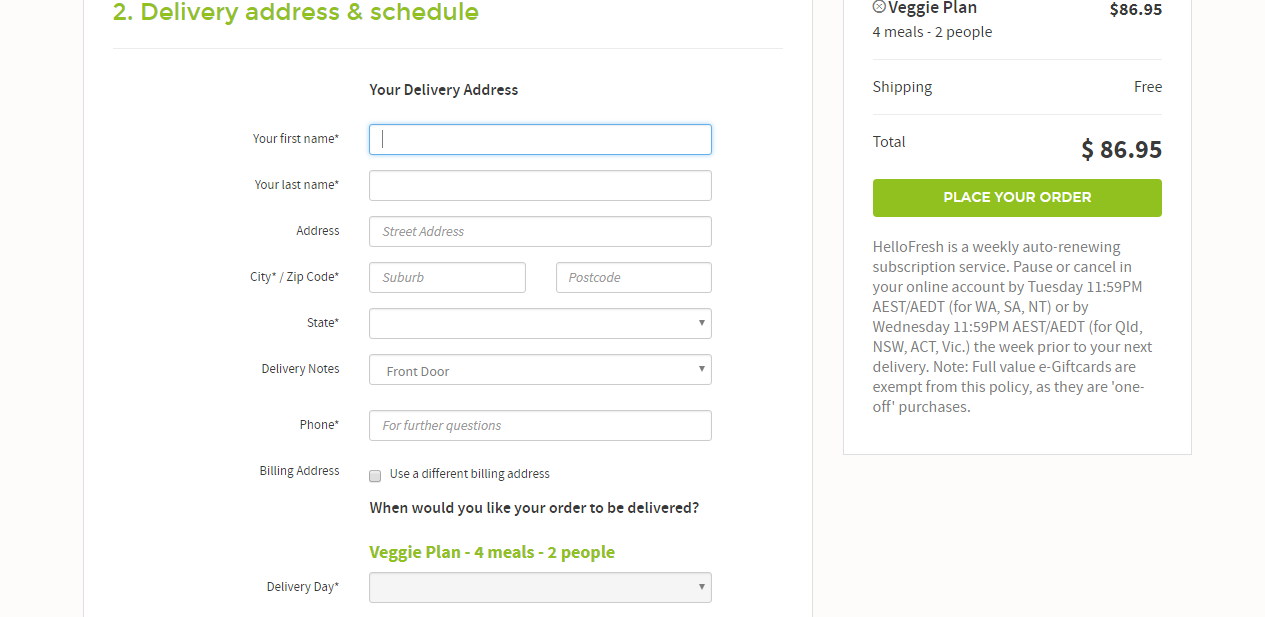 There are two payment options with HelloFresh. You can pay through your card (credit or debit card) or you can use PayPal.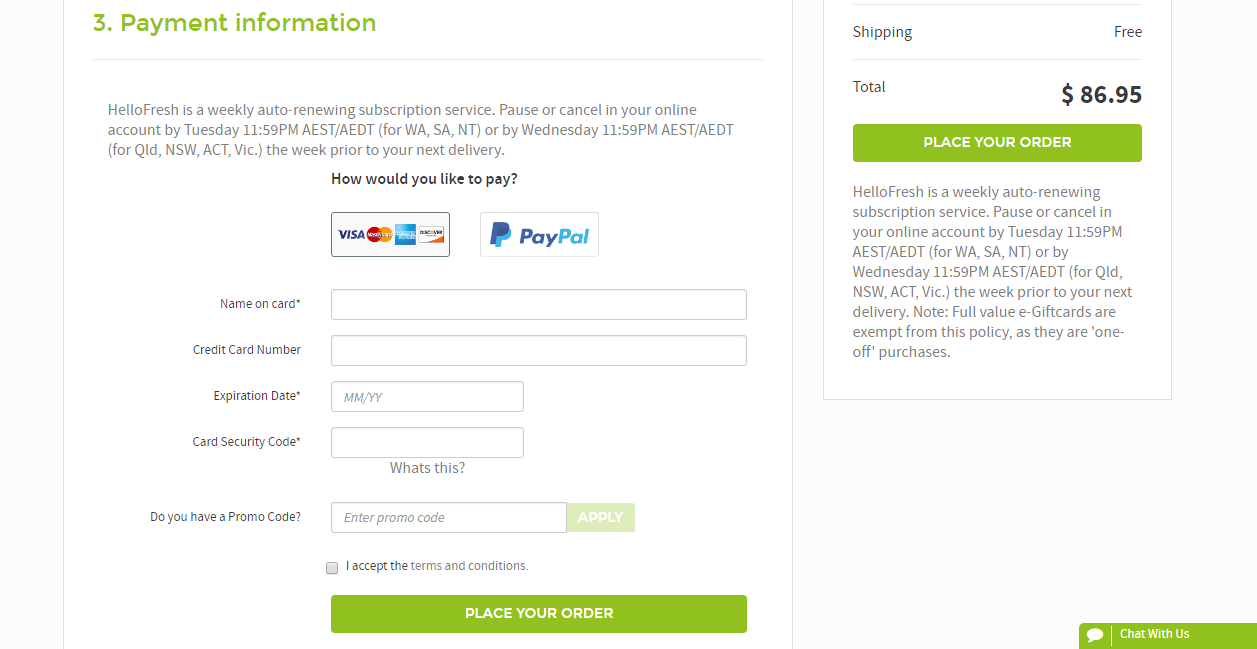 If you have obtained a HelloFresh promo code through any of the HelloFresh promos then you can enter it before you finally pay. This will let you get a Hello Fresh discount.
HelloFresh Discount Vouchers and Coupons
HelloFresh vouchers and HelloFresh voucher codes definitely help you save some money when you are shopping. One of the innovative ways of making that special person happy is through Gift Cards by HelloFresh.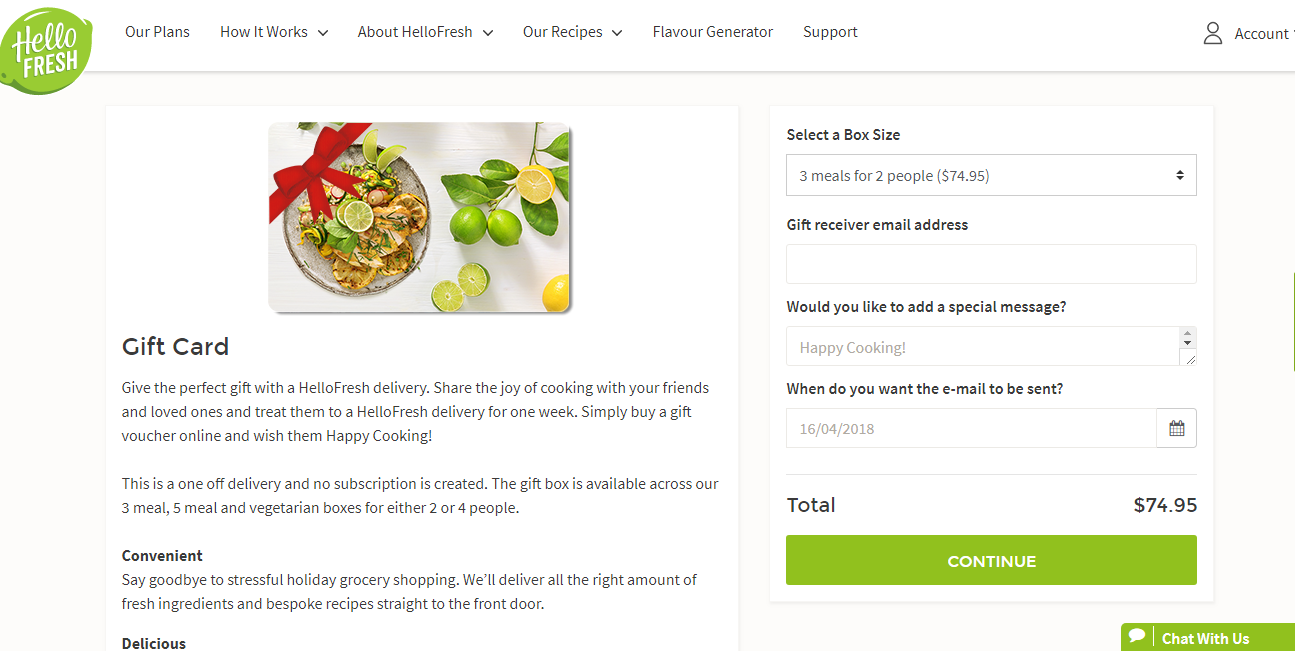 HelloFresh special offers are always available on their recipes. You can get a HelloFresh code or Hello Fresh Coupon code to score a discount on your weekly orders.
How to Shop on HelloFresh using ShopBack
Are you looking for a cash back on HelloFresh in Australia? Well, no worries. ShopBack is the best place to get some money back on the stuff you buy. And HelloFresh cashback is definitely part of the deal.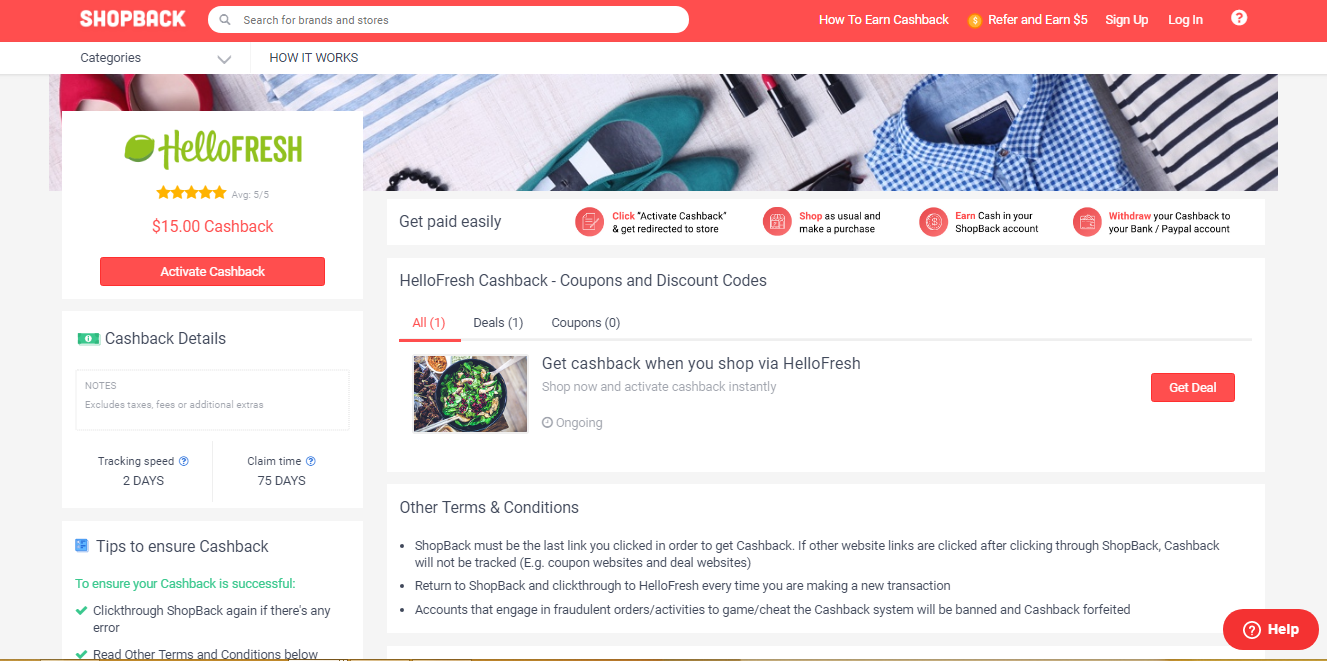 Currently, there is a HelloFresh offer through ShopBack where you can get a $15 cash back. You can also find amazing Hello Fresh deals, HelloFresh coupons, and HelloFresh discount codes on the HelloFresh page on ShopBack.

Like we mentioned before, there are many types of products and merchants that you can get cash back from, listed on ShopBack. Besides, it s a good idea to be on the lookout for a brand new HelloFresh promotion on this portal every once in a while.
HelloFresh has clear, step-by-step instructions on how to pause your subscription, cancel it, cancel your fruit box or juice box, change your first order, and reactivate your subscription.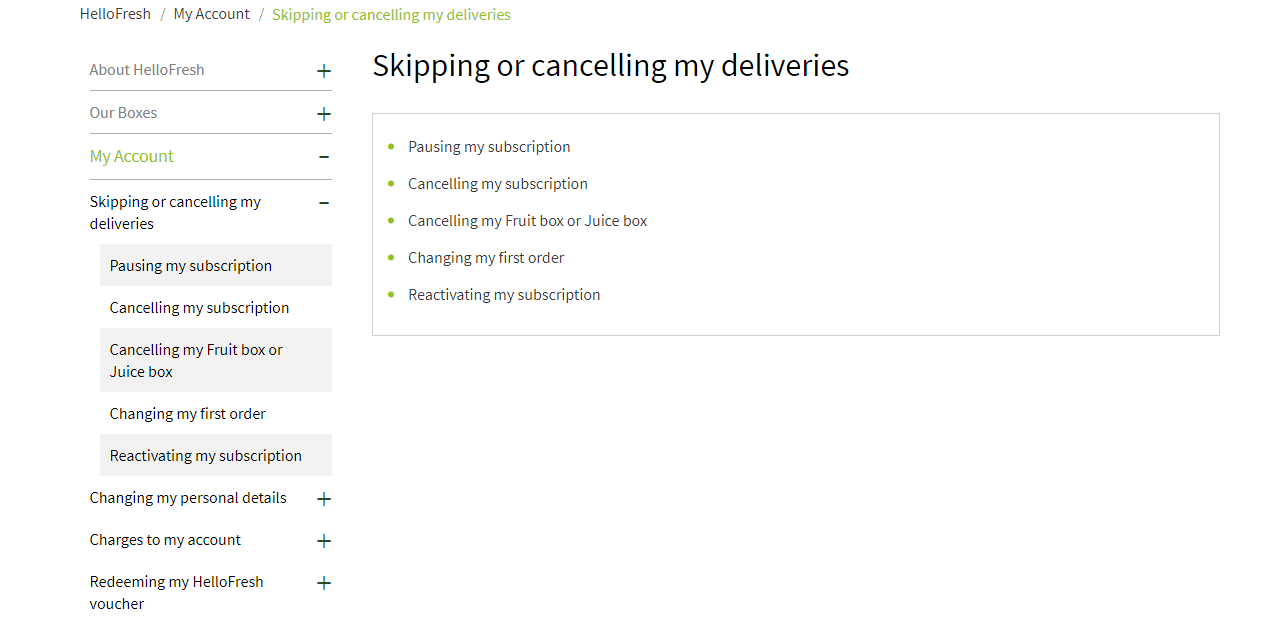 Do go through these well-crafted instructions. As you pay for your menu or plan on a weekly basis, there is no cancellation charge if you have to cancel your service or pause it for the next week.
The HelloFresh Help Center is very informative and it certainly addresses almost all the issues that a customer might face.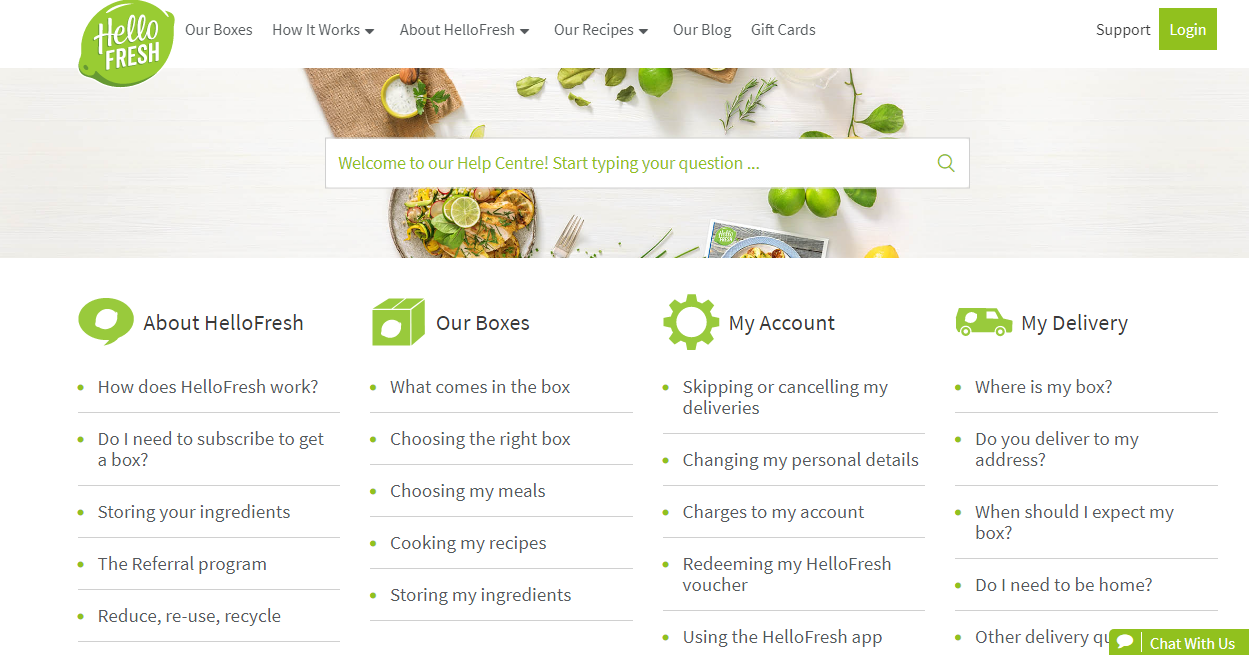 However, if you still continue to face problems, you can get help through email, call or chat. These options will definitely be helpful for Hello Fresh sales as many customers would have queries. This is also the time when a lot of HelloFresh voucher codes may be used and sometimes customers might face trouble in redeeming them.