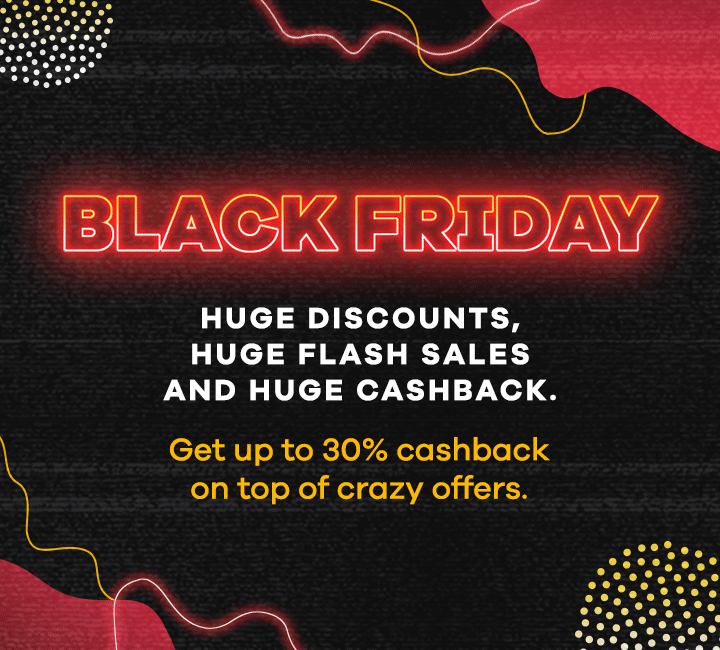 Shopaholics, Get Ready For Black Friday & Cyber Monday this Year!
Sales, discounts and jaw dropping prices! This is probably the best way to describe the two biggest shopping events on the planet, Black Friday and Cyber Monday. It's amazing to note that every year the revenue generated on these two days amount to billions of dollars. Last year alone, the astounding revenue generated on Black Friday was around US$50 billion, while Cyber Monday witnessed a new record of US$6.59 billion. Now that's a lot of shopping! This year they are bound to break the records as people all around the world eagerly await these holy days of shopping! We're sure this year's Black Friday sales and Cyber Monday sales are going to be remembered by Aussies around the world like never before for the sweet prices and neat bargains!
While most are going crazy about these upcoming shopping mayhems, some may not be aware of the history behind these unique events. So what is Black Friday? and what is Cyber Monday?
Black Friday Sale
This event was kicked off way back in the year 1952, on the day after Thanksgiving, in Philadelphia (USA). That specific day also happened to be a Friday. Citizens from all around the state flooded the stores to be prepared for the Navy Vs Army football game happening on Saturday, the next day. This trend continued.
The event became so huge that police officers had to forget their holidays and work extra long hours to control the traffic and the mayhem around the stores. Retailers started offering unbelievable discounts to sell whatever they could during that day. It was a win-win situation. However, it wasn't until the1980s that this shopping event took over the entire United States. It became so popular that it became a new tradition and swept across many parts of the world by the mid-2000s. Today, Black Friday sales are a common event in many countries around the world, including Australia. Black Friday offers are some of the most sought after offers these days. In 2019, Black Friday falls on November 23rd.
Cyber Monday Deals
So how is Cyber Monday related to Black Friday? Cyber Monday marks its first difference by taking place on the Monday following Black Friday. So, when is Cyber Monday this year? - Well, the online shopping event falls on November 26th. Yes, you heard it right. Cyber Monday is an exclusive online shopping fest.
The history of this event dates back to November, 2005. Ellen Davis (who coined the term) along with Scott Silverman released a press about 'Cyber Monday' on Shop.org. They marketed the press release with a title that flaunted the event as one of biggest online shopping days of the year. True to its saying, online retailers experienced a massive increase in their sales on that day. The trend continued and as we have mentioned earlier, revenue worth billions of dollars are generated every year. E-tailers went ahead and started offering sales on Black Friday as well. So combined with Black Friday, Cyber Monday sales have become an essential part of any online shopper's calendar too!
While some search for Cyber Monday promotions that will be available online, others search for the deals on Black Friday that are available both online and in stores. So how different are these days from other shopping events?
Anything you want. On sale. 'nuff said.
Most of the times, regular sales are limited to particular categories or product ranges. This is exactly where Black Friday deals and Cyber Monday sales are different. Not only are they not limited to any particular category but you could probably find a discount or offer on every other product within a category.
Electronics, clothing, gadgets, travel tickets, health and beauty products, sports products, food items, jewelry, hotel stays, and many more- you name the shopping category and we can tell you that there are great discounts available thanks to Black Friday sales and Cyber Monday offers. There isn't a single category that's left out. You can also find various Cyber Monday codes and Black Friday discount codes that will help you get the product that you have been longing for. You don't even have to get out of your home to avail these amazing deals. You can wing them all from the comfort of your couch!
Well, it is kind of a big deal.
Online shopping giants such as Ebay, Amazon, Booking.com, AliExpress, etc., are going to witness massive traffic purely because of the incredible Black Friday discounts and Cyber Monday discounts they are going to offer. Retails supermarkets such as Woolworths are going to witness an unbelievable number of customers too, and you can be sure to see some action on their online stores as well. Ebay and Amazon in Australia have already started releasing coupon codes and discount offers. You can find discounts ranging from 5% to 50% or even upto 90%. That's how crazy it's going to get.
Some of your favorite stores that will soon start releasing deals for discounts include Catch, Sephora, David Jones, The Good Guys, BNKR, SurfStitch, Microsoft, Myer, Nike, mydeal.com, Princess Polly and many more.
Though these are only some merchants that have released the deals currently, you'll witness that their competitors are going to join in shortly as well. Like we've mentioned before, no category is left behind. Black Friday deals and Cyber Monday offers will conquer all the shopping deals you've ever witnessed before. Don't be surprised when you see an offer from a giant that you never saw coming your way.
So how can you be prepared for the mayhem?
The best way to be prepared for this shopping mayhem is to make a note of all that you need. Make sure you know what exactly you are looking for, whether its a single 'must-have' or a bunch of stuff you want to pick up from the wish list. Not only should you be aware of what you want to buy, you should be clear about the model, the features, alternate choices, color choices and more. Get into the details so you know exactly how to navigate your shopping cart on D-Day. Why do we say that? When you know what you have to buy, you can start shopping the moment the green light goes on. The truth is that it's going to get really crowded both online and offline. It is very common to see your favorite product 'out of stock' just minutes after the sale is flagged off. So you better be ready or you are going to regret it.
Some merchants may keep these events going at least for 2 or 3 days. It will be wise to keep an eye on these vendors. This also marks the importance of keeping a watch on the various promotional offers that are going to get released shortly. You never know where you can find an amazing discount for what you have been longing for. Subscribe to a variety of email newsletters from these merchants and keep a track of who's offering what and when. Check which products from your wish list are available on which stores to avoid any confusion on sale day.
Look out for Black Friday Codes & Cyber Monday promo codes
One of the best ways to get better discounts on these days is by acquiring Black Friday coupons and voucher codes. You can get a Black Friday promo or Cyber Monday deal for free on reputed coupon and deal sites online. If you have a credit card then you can be absolutely certain that your banker is going to release special additional discounts for Black Friday or some Cyber Monday deals.
Currently, there are Black Friday and Cyber Monday coupons offered by eBay, SurfStitch, RY, BooHoo, Misguided, BNKR, Dell, PrettyLittleThing, HelloFresh, etc.
You can get a host of coupon codes, deals and cashback vouchers from sites such as ShopBack. ShopBack is known for the various ways it helps shopaholics nab discounts, vouchers, and many more. You can find retailers of all types offering special deals through ShopBack. In fact, ShopBack is famous for the cashback it guarantees when you shop! With ShopBack, your Cyber Monday cashback or Black Friday cashback is up to date and valid. You can also search for a Black Friday promo code or Cyber Monday discount codes as the days get closer.
Unless you're living in a cave, we want to go out and remind you that this is really a big deal! You shouldn't miss this golden opportunity to buy what you need and want. So are you ready for the best Cyber Monday deals and Black Friday sales Australia? Check it out with Amazon Australia as well!