Crocs, Functional Yet Fashionable
Crocs are one of the world s leading footwear brands. They believe that comfort is the key to happiness and they work tirelessly to come up with new comfort technologies and develop materials that are lighter, more flexible and softer.
Their shoes were once considered weird and now, their original designs and technology have lead to the sale of more than 300 million pairs across the world!
Crocs was founded in 2002 in Colorado by Scott Seamans, George Boedecker and Lyndon Hanson with a vision that everyone should be comfortable in their own shoes.
In 2004, Crocs acquired their signature foam clog technology from another company called Foam Creations and have been making their unique pair of shoes ever since.
Products Sold on CrocsAustralia.com.us (Australia)
Crocs (Australia) sells one of the most unique footwears with varying styles such as clogs, flip flops, sandals, sneakers, and many more. They are very comfortable and easy to wear.
Let s take a look at the product categories available on Cros Australia:
Women:
Crocs are soft, light-weight and comfortable and come in a variety of designs. You will never get a shoe bite when you wear a pair of Crocs! Yes, life just got easier. Slip into a pair every time you go to the beach or even just to buy groceries. Don t forget to use a Crocs Australia voucher, that you can find online, during checkout to avail a discount.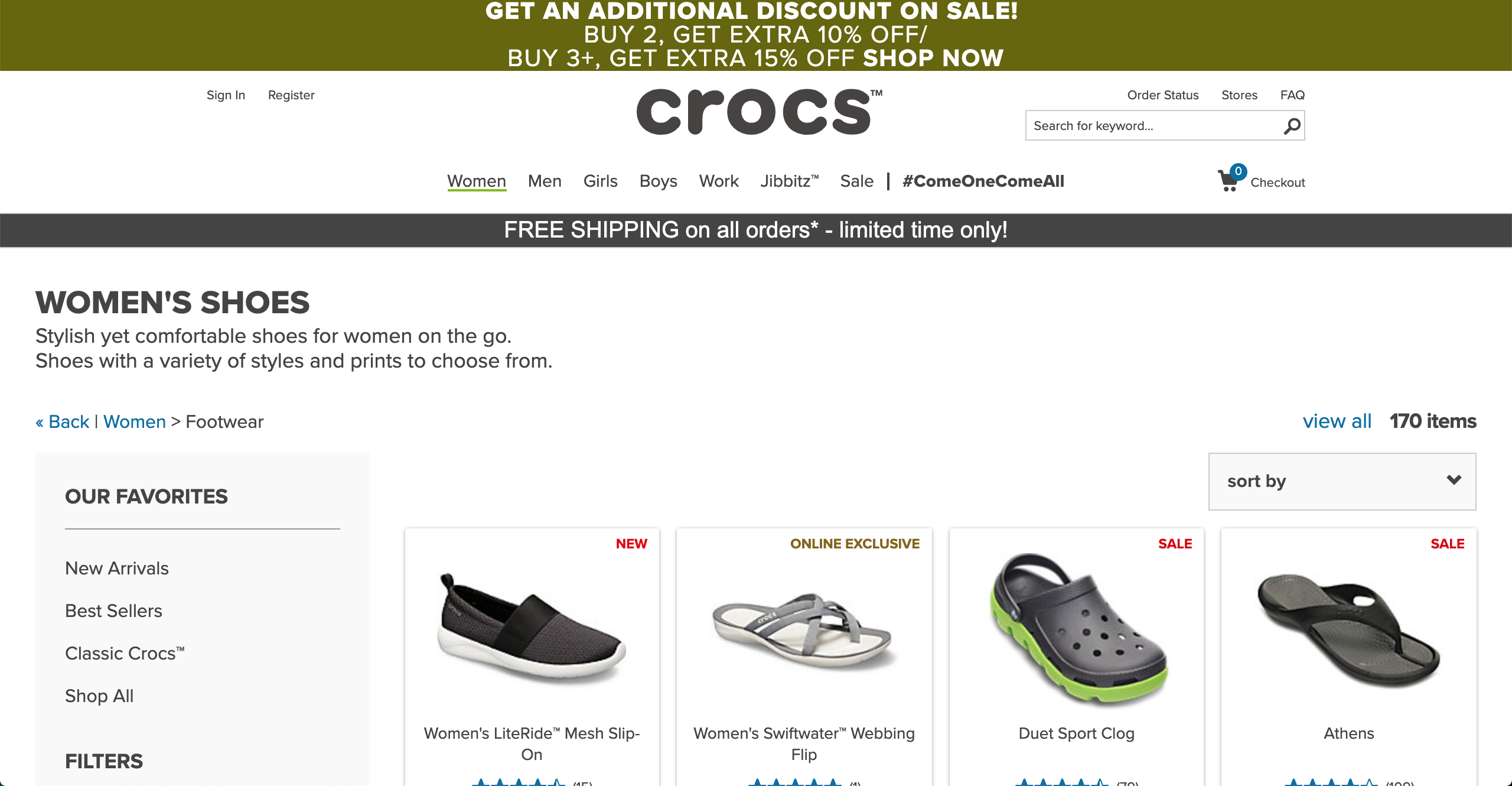 Men:
Let your feet breathe! With Crocs, you can be assured of no odour. You can shop for different styles or collections. Select among clogs, loafers, boots, sneakers, sandals or flip flops, all available in a variety of colours. It is perfect for any casual event or occasion. Be on the lookout for a Crocs Australia promotion on their website and social media!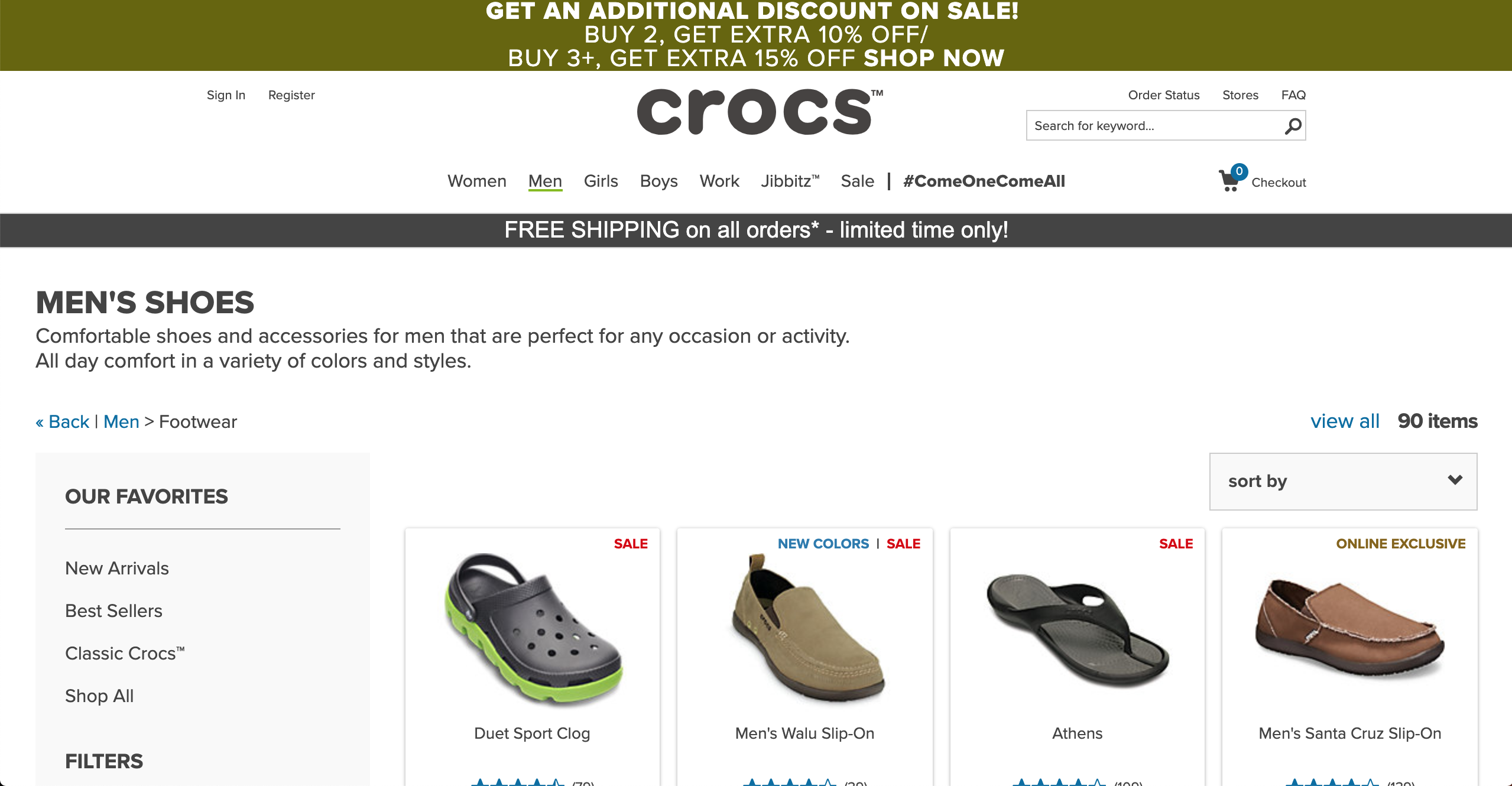 Girls:
Not only will a pair of Crocs match every casual outfit, but it is also uber comfortable and stylish. Browse through their Disney collection for some fun and exciting designs. Make sure to use a Crocs Australia discount code when you shop online to get your favourite Mini Mouse pair at a lower price!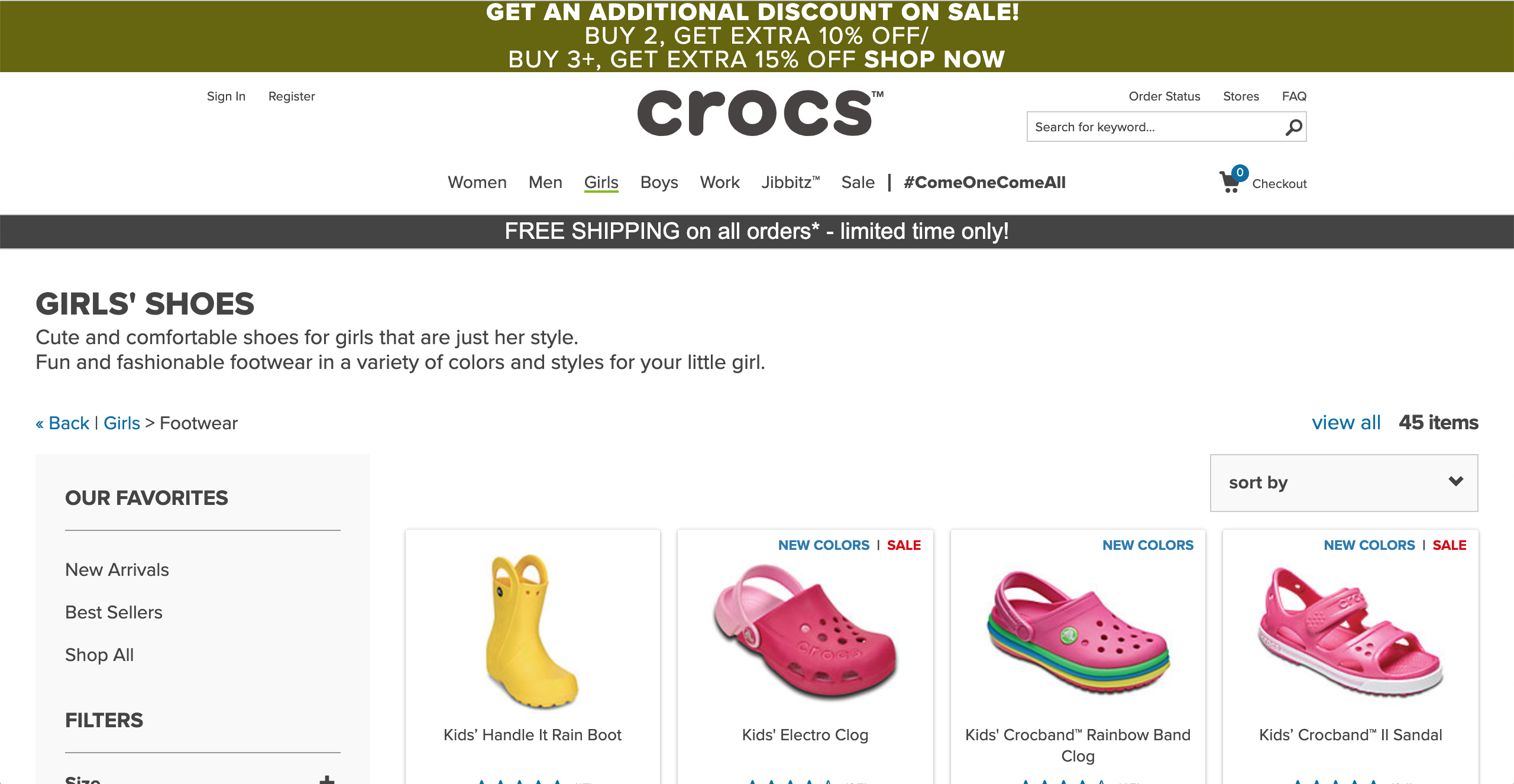 Boys:
Whether it is at school, a weekend away or just to run an errand, Crocs will keep your feet relaxed and at ease. You can shop by collection or by style. Find a Crocs Australia promo online to get your favourite Mickey Mouse theme pair of Crocs at a cheaper price!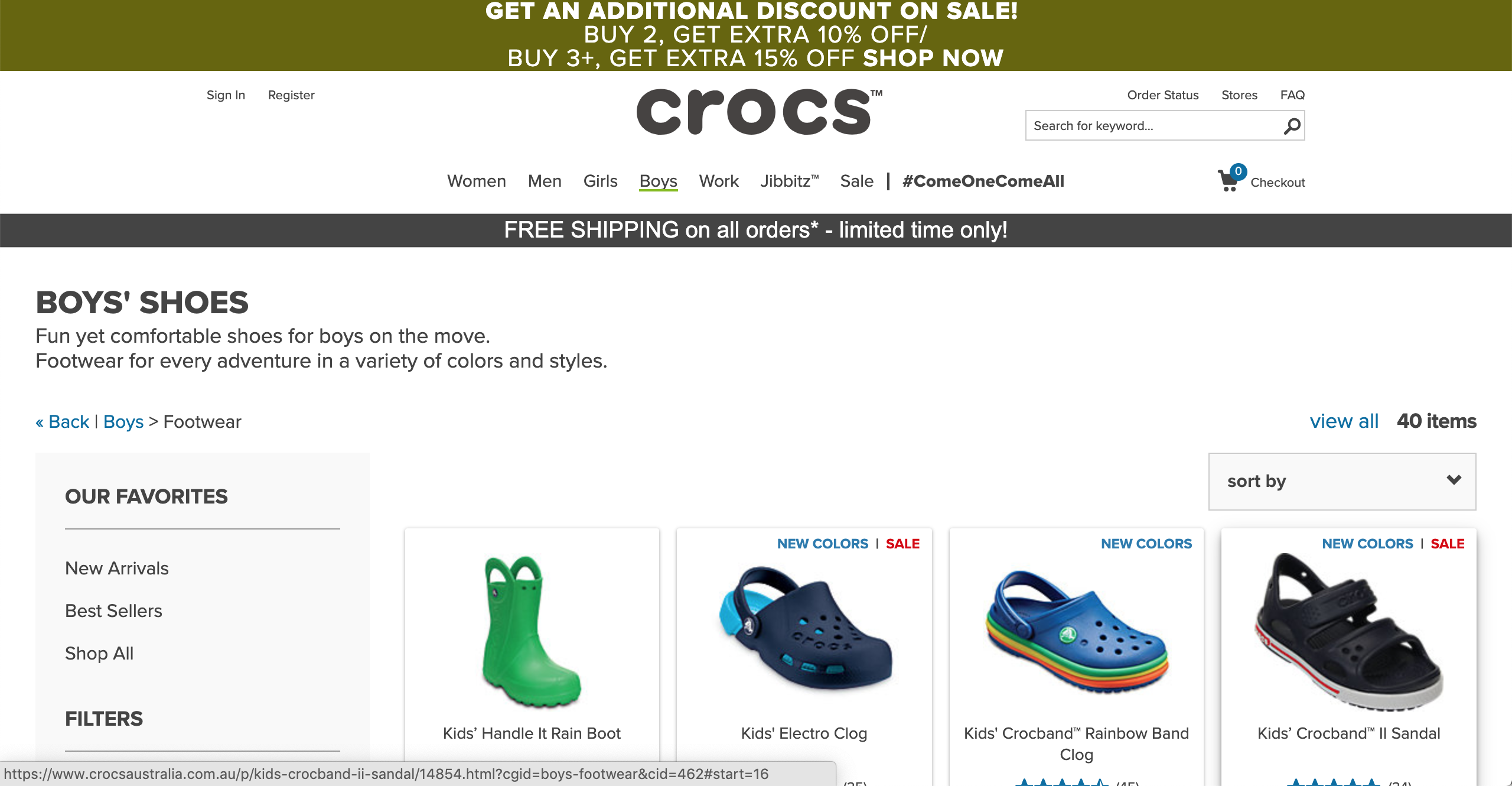 Work:
There is no age limit when it comes to wearing Crocs. It is for all and it can be worn anywhere! In other words, it is perfect. Its lightweight technology makes it easy to sit through your 9-5 job. Shop from their "Sale" section on the website and avail a massive Crocs Australia discount on your shoes.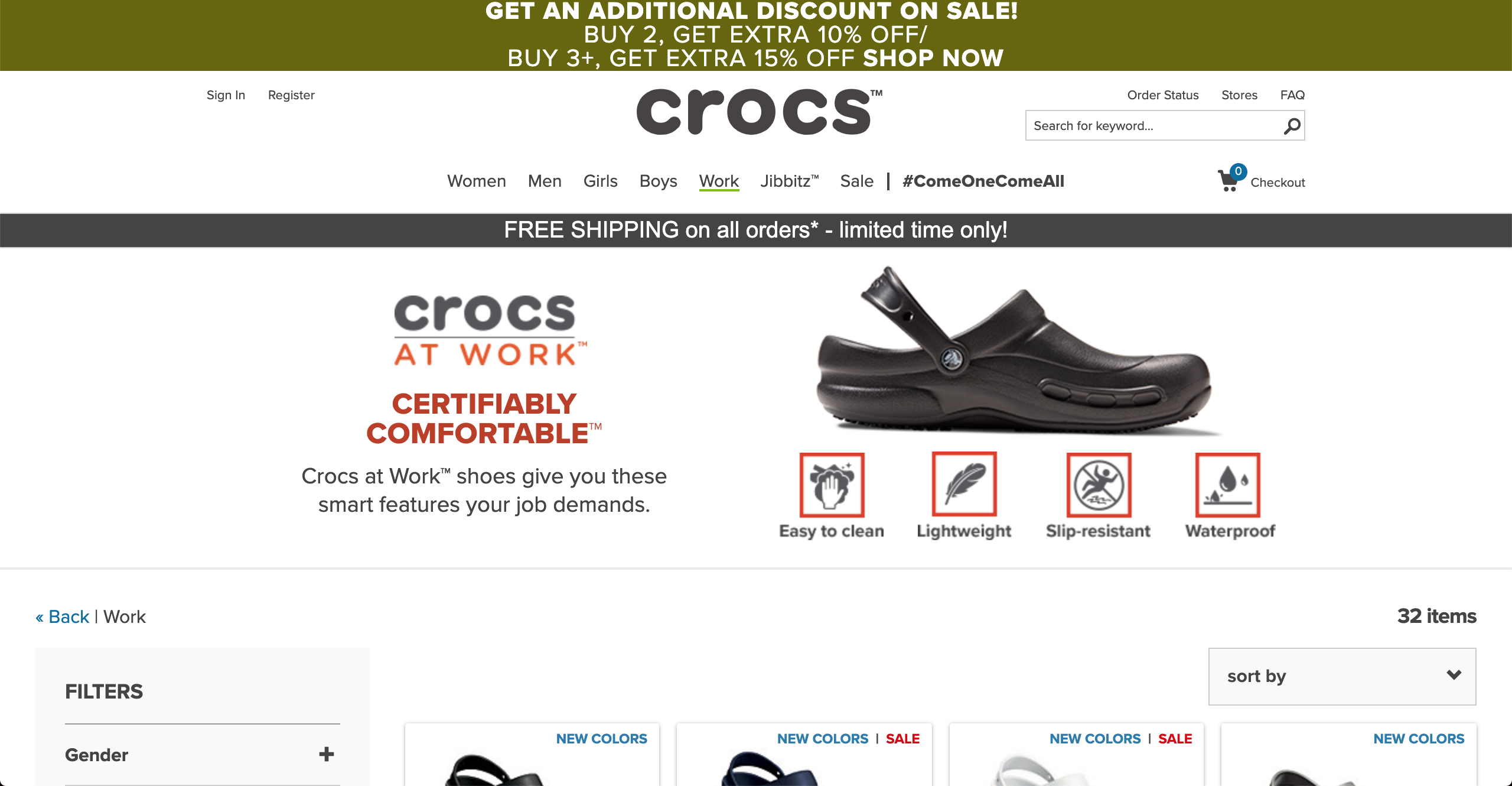 Jibbitz:
Accessorize your Crocs with different Jibbitz charms. You can put them on and take them off anytime.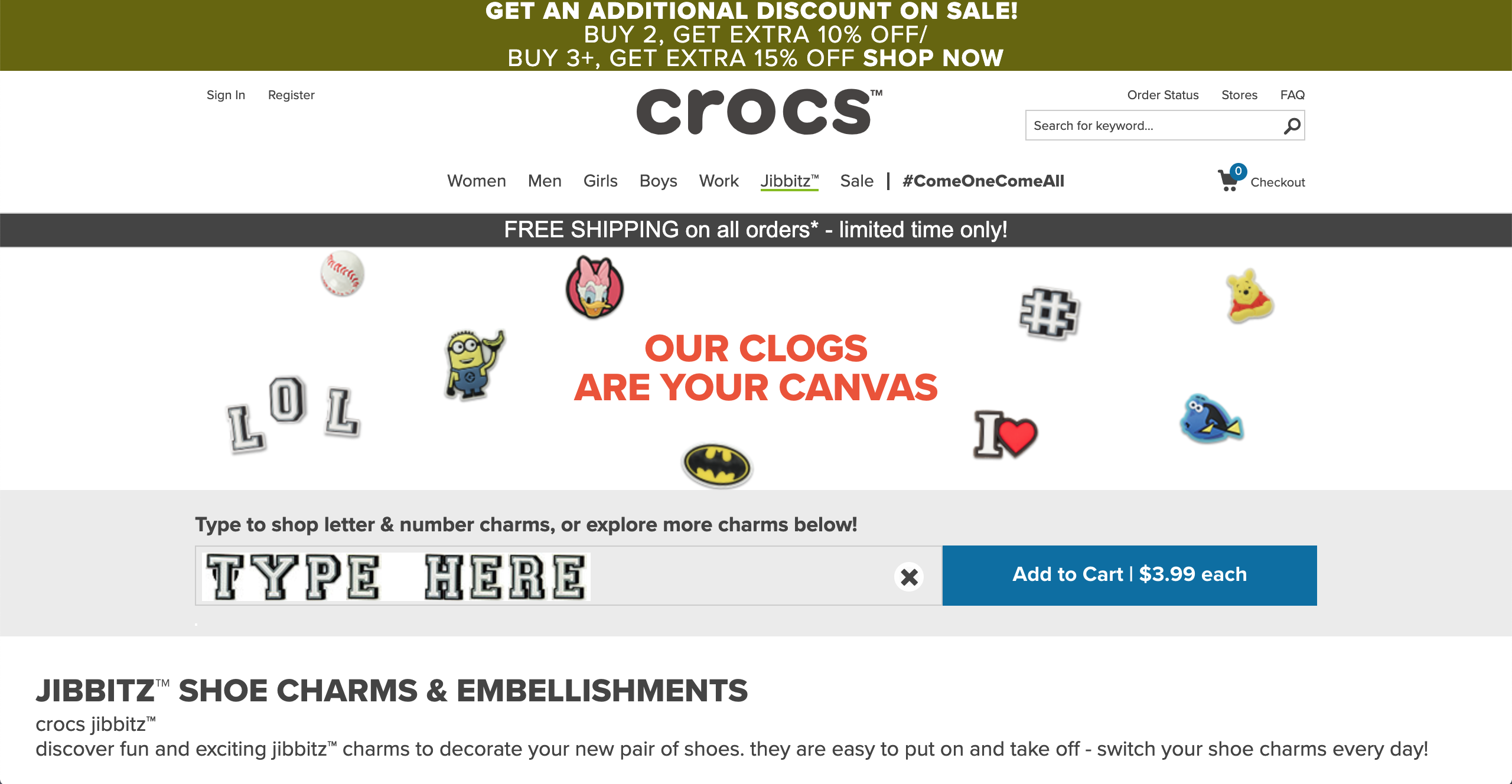 | Categories | Products |
| --- | --- |
| Women | Classic Crocs™, sabella, LiteRide™, Fuzz, Work, Clogs, Flip Flops, Sandals, Flats, Sneakers, Heels & Wedges, Boots |
| Men | Classic Crocs™, Swiftwater, LiteRide™, Fuzz, Work, Clogs, Loafers, Sneakers, Boots, Flip Flops, Sandals |
| Girls | Classic Crocs™, Isabella, Swiftwater, Characters, Disney, Fuzz, Clogs, Flip Flops & Sandals, Boots, Jibbitz™ Charms |
| Boys | Classic Crocs™, Swiftwater, Characters, Disney, Fuzz, Clogs, Flip Flops & Sandals, Boots, Jibbitz™ Charms |
| Work | - |
| Jibbitz | - |
Payment Options on Crocsaustralia.com.au (Australia)
Crocs (Australia) accepts Mastercard, Visa, and American Express credit and debit cards. You can also make payment via PayPal.
Crocs Australia Offer and Crocs Australia Sale
When you visit Crocs Australia s official website, you will find a 'Sale section under each category. This section will you show you all the styles that are available at discounted prices. The main homepage will show you the various offers that are available at the time.
If your order is above $50, it will be delivered for free!
Subscribe to their newsletter and receive a 20% off discount coupon as a welcome offer!
How to Redeem a Crocs Australia Promo Code on the Crocs Australia website?
The website gives you the option to enter a Crocs Australia discount code at the time of checkout. Enter the Crocs Australia code and get your products at a reduced price.
How to Shop on Crocsaustralia.com.au using ShopBack?
You will receive a Crocs Australia cashback of 5% on your order when you shop on Crocs Australia through ShopBack.
Here is what you need to do:
Step 1: Visit ShopBack.com.au and search for Crocs Australia on the search bar and click on the displayed result.
Step 2: Click on the 'Activate Cashback button you see on the top left corner of the page.
Step 3: Look for a Crocs Australia deal on various styles and more on the right side of the page. Click on 'Get Deal .
Step 4: You will be redirected to the Crocs (Australia) website. Shop on the website to avail your cashback offer.
Remember to only use a Crocs Australia coupon that is approved by ShopBack or it won t be valid.
Crocs Australia Shipping and Return Policy
Crocs levies no delivery charges on orders which are above A$50 otherwise they charge A$5.99 per order for shoes and A$2.99 for Jibbitz They take 2 - 4 business days for delivery.
If you are not satisfied with a product, you can return it within 90 days of the date of purchase. To initiate a return, click on 'Returns at the footer of the website. You will be required to fill in the order number and last name. Shipping charges are levied on orders for return.
Cros Australia Customer Service
Click on 'Customer Service at the footer of the website and you will see their contact information and FAQ section for quick assistance. You can email or call them. The team is available from 7 am to 12 am on Monday, and for 24 hours from Tuesday to Friday.
You can also visit the closest Crocs Australia Store. You can search for the nearest store in this section.
Subscribe to their newsletter to stay up to date with their new collections and styles. Follow them on social media and you might find a Crocs Australia discount code that can be used to receive a discount on your next order.