Buy Locally and Internationally Acclaimed Wines at Cellarmasters
Cellarmasters offers you the widest range of quality wines. These wines are not only excellent quality-wise but they also come at unbeatable prices. There are over 900 varieties of wines that you can select from and the count is only increasing with time. Over 300,000 Australians have already made Cellarmasters their favorite wine-buying destination.
There is no risk involved when you get your favorite wine from Cellarmasters. The reason is simple. You get 100% money back guarantee if you are dissatisfied for any reason. You can make wine reservations and save with the help of Cellarmasters specials and Cellarmasters code that let you save more!
Cellarmasters was founded in 1982. Initially, there were only four employees who took care of everything at Cellarmasters. Woolworths Limited acquired them in 2011 and became the parent organization. Cellarmasters head office is now located in Sully Hills.
Products Sold on Cellarmasters
You will find Australian and International wines sold at competitive prices at Cellarmasters. You can save more by using a Cellarmasters discount voucher. Following are the categories of wines that you will find at Cellarmasters:
Red wines:
There is an exquisite range of red wines that you will find here. You can select the red wines according to country, region, types and varieties.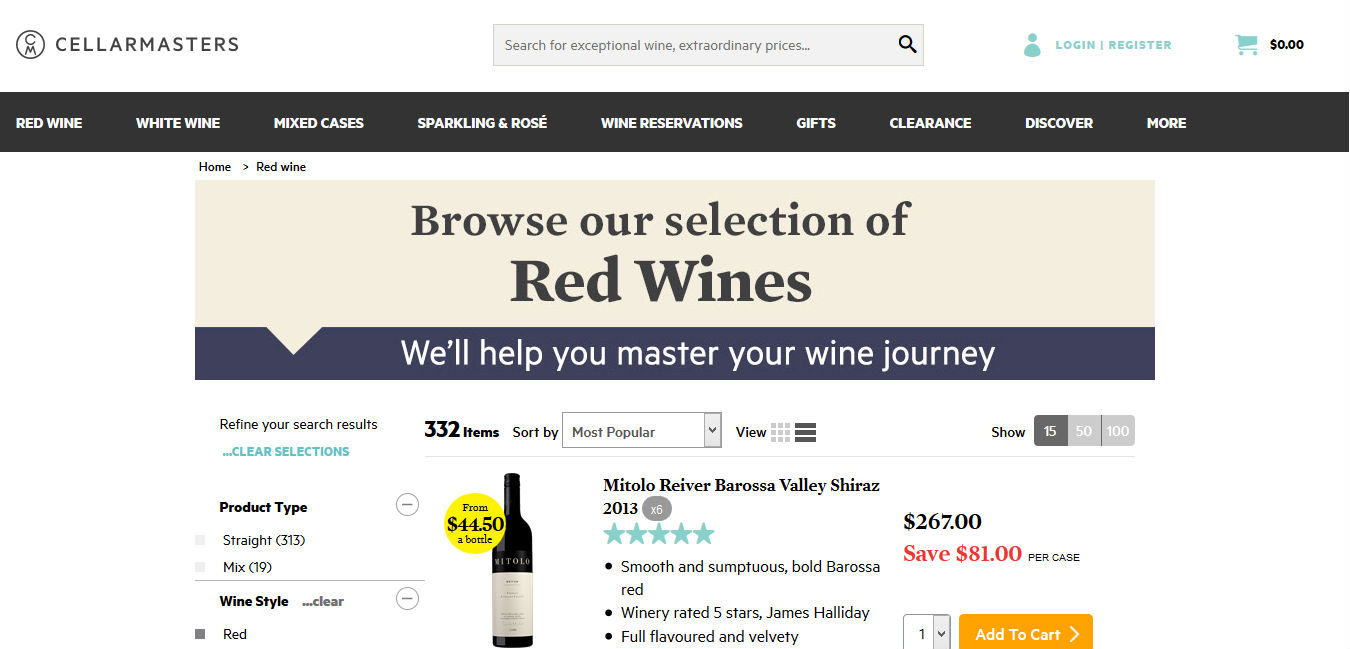 White wines:
There are several different authentic white wines that you will find in this section. There are plethora of varieties of white wines available.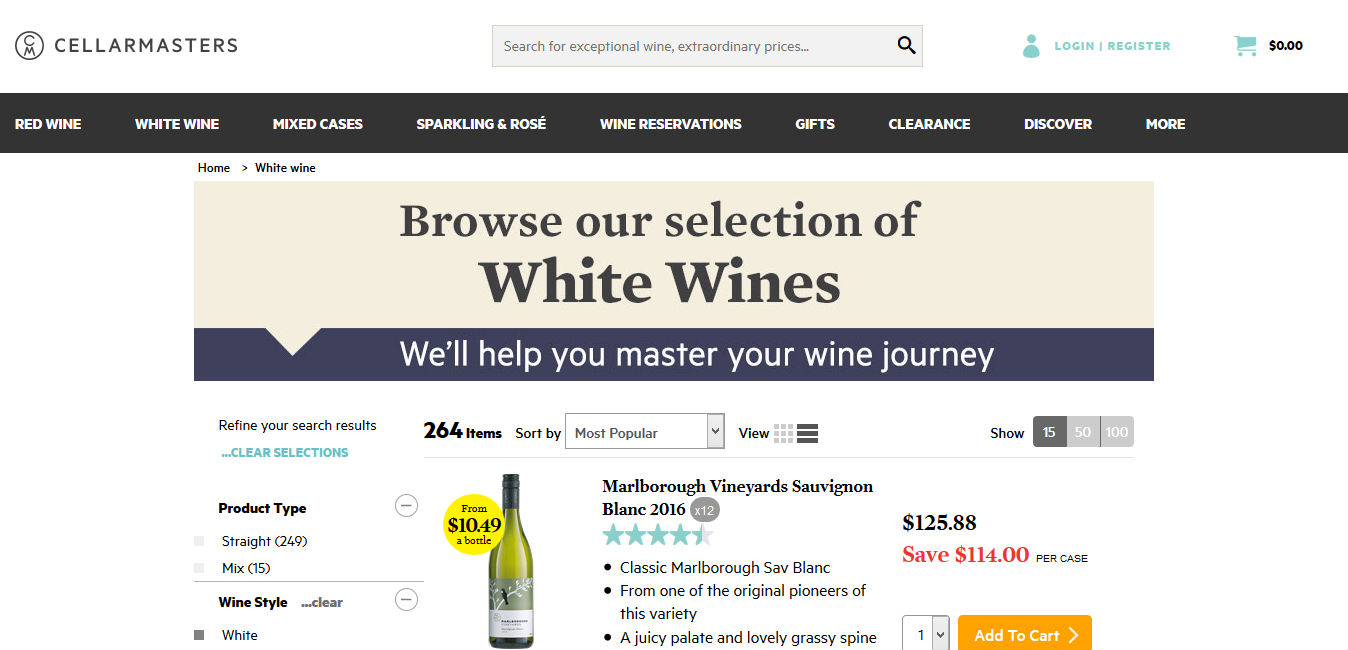 Mixed cases:
Do you want the best varieties? The mixed case section is for you as this has mixed cases of wines. You will wonder which ones to choose from the wide selection of wines.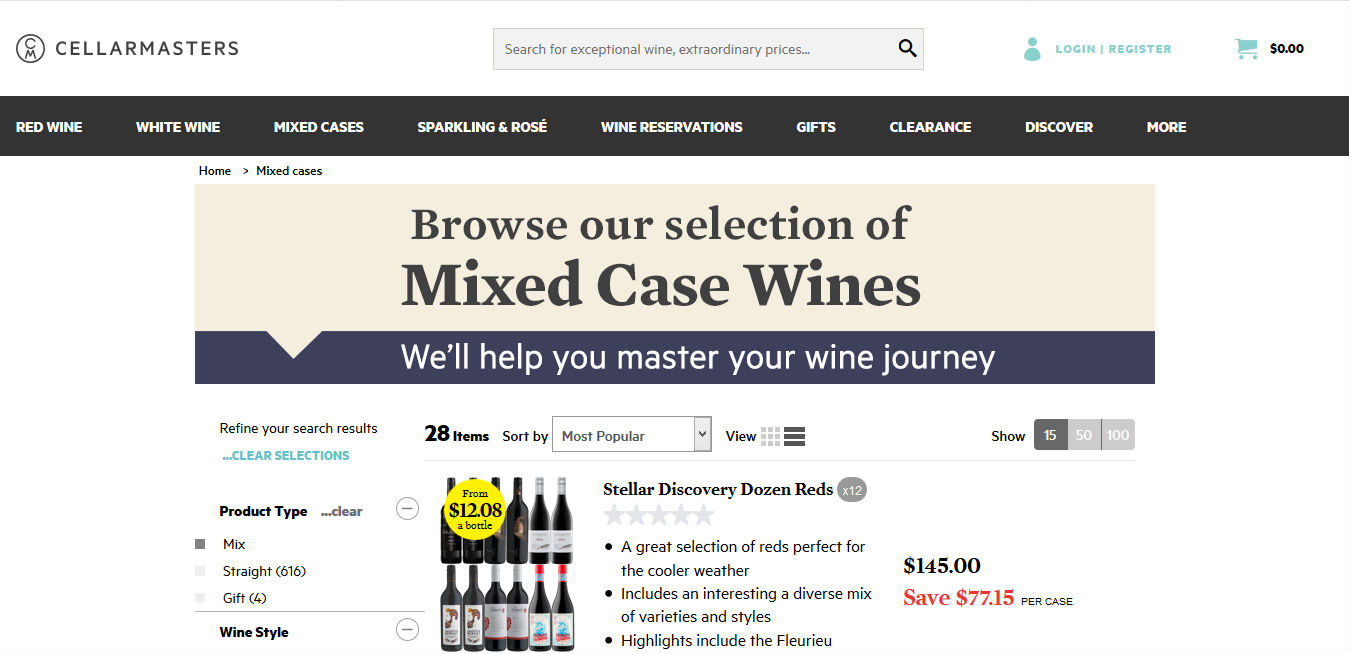 Sparkling and Rose:
You can get imported sparkling wines as well as rose wines that are perfect for every celebration.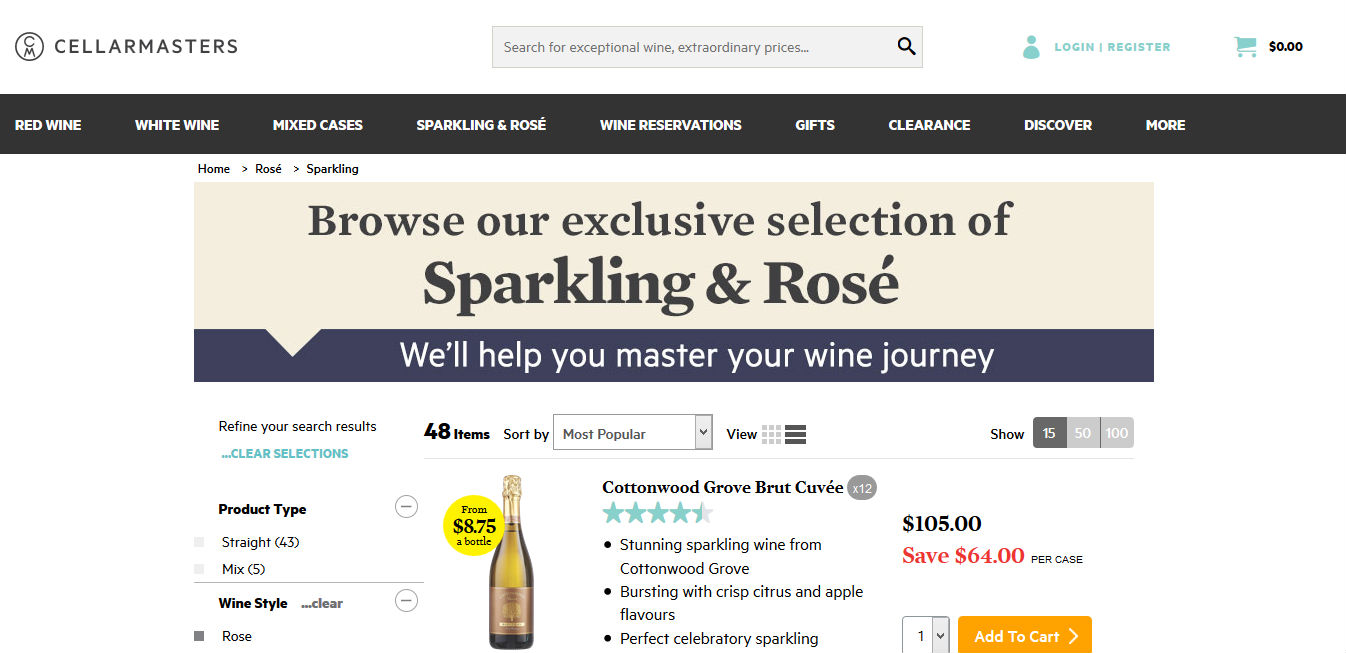 Internationally renowned wines at an affordable price point as long as you use a Cellarmasters voucher!
| Product Category | Product |
| --- | --- |
| Red Wine | All Red Wines, Alternative Red Wine, Red Wine Mixes, Organic Red Wine, Premium Red Wine, 6-Packs, Awarded Red Wine, All Wines, Red Blends, Grenache, Malbec, Cabernet Sauvignon, Pinot Noir, Cabernet Blends, Shiraz, Merlot, Shiraz Blends, Australian Wine, Spanish Wine, French Wine, Italian Wine, Chilean Wine, New Zealand Wine, Hunter Valley, Barossa Valley, Eden Valley, Coonawarra, Limestone Coast, South East Australia, Langhorne Creek, Margaret River, Bordeaux, South Australia, McLaren Vale |
| White Wine | All White Wines, Alternative White Wine, Awarded White Wine, Organic White Wine, Premium White Wine, White Wine Mixes, 6-Packs, All Wines, Traminer, Riesling, Semillon, Moscato, Pinot Gris/Grigio, Sauvignon Blanc, White Blends, Sem Sauv Blends, Verdelho, Chardonnay, Australian Wine, Chilean Wine, French Wine, New Zealand Wine, Adelaide Hills, Barossa Valley, Clare Valley, Eden Valley, Hunter Valley, Margaret River, Marlborough, McLaren Vale, South East Australia, Tasmania, Yarra Valley |
| Mixed Cases | All Mixed Case Wine, Red Wine Mixes, Sparkling Mixes, White Wine Mixes, 6-Packs, All Wines, Pinot Gris, Cabernet Sauvignon, Merloy, Chardonnay, Pinot Noir, Riesling, Sauvignon Blanc, Rose, Shiraz |
| Sparkling and Rose | All Sparkling Wine, Imported Sparkling, Awarded Sparkling, Sparkling Mixed Cases, 6-Packs, Premium Sparkling, All Wines, Champagne, Sparkling White Wine, Prosecco, Sparkling Red Wine, New Zealand Sparkling, Australian Sparkling, French Sparkling, Australian Rose, French Rose, All Rose Wines |
How to Shop at Cellarmasters
You can easily shop online at Cellarmasters. The website is beautifully designed to make it easy for you to navigate through the various options. You will be able to see all the different categories easily at the header. Cellarmasters allows you to get all the information you need regarding each wine by contacting the wine advisors on their team.
Once you select the wines you wish to purchase from Cellarmasters, you can enter the postcode to check the delivery charges and handling charges. You have the option of picking up from Beer Wine Spirits stores as well. You will receive a text message when the wines have arrived at the store so that you can go and pick your order up.
Don t forget to use a Cellarmasters discount code or a Cellarmasters voucher for more savings!
Payment Options at Cellarmasters
You can pay for the wines using the following payment options at Cellarmasters:
Woolsworth Wish Gift Card

American Express Credit Card
Cellarmasters Deals and Promo Codes
When you are on the Cellarmasters home page, you will find there are many offers for you to choose from. There is a clearance section on Cellarmasters.com.au where you can find offers on wines. You can look for Cellarmasters promo code and Cellarmasters voucher on the Internet. You can use these for saving some more money.
How to Redeem Cellarmasters Coupon Codes
There are special sales at Cellarmasters.com.au that help you save. After you have selected the wines and you checkout, you can enter the product code which can help you save over a hundred dollars.
How to Shop on Cellarmasters using ShopBack
ShopBack provides you an easy platform to save more with the help of Cashback. You can get up to 7.00% Cashback when you use ShopBack. This facility is not available through the app and is only valid while shopping on a browser.
Cellarmasters Return and Shipping Policy
Cellmasters provides you with easy policies by allowing you to simply contact their wine advisors. You can check out the terms page to find out everything you need to know.
Cellarmasters Customer Service
Call 1800500260 if you want to speak to Wine advisors at Cellarmasters. For queries that are related to wine reservations, you can contact [email protected]
When you have a question that is not-so-urgent, you can request a callback from their advisors. They will call you within 24 hours. Note that this facility is available between 9:00 am to 6:00 pm (AEST) on Mondays through Fridays and 9:30 am - 2:30 pm (AEST) on Saturdays.
You can follow Cellarmasters on the following social media handles to keep an eye out for a Cellarmasters discount or Cellarmasters voucher code!
ck out Get Wines Direct and Wine Market for deals and offers you won t be able to resist on ShopBack!