Get Connected with Catch Connect Now!
Are you tired of all the mobile service providers offering the same deals? Is the meager network coverage and dropped calls stressing you out? The search ends now with Catch Connect, Australia s newest mobile service provider, powered by Optus.
Optus is a well-established 4G network that has wider network coverage and better call handling. What s more? There are no lock-in contracts but you enjoy value for money packs and a reliable network.
Catch Connect offers mobile data plans including an incredibly low priced prepaid mobile and data services. Use a Catch Connect coupon to get amazing Catch Connect deals.
Catch Connect has been offering customers a variety of benefits such as Catch Connect offers and Catch Connect special deals since 2006. After being Australia s favorite superstore for a long time, it has now entered the telecommunication sector. This means competition is being blown out of the water and you as a customer get to enjoy competitive prices.
Currently, 4G Optus Plus network services cover 96.9% of the Australian population and 3G services cover 98.5% of Australians.
With International Extras packs, international calls to 32 countries are possible. This includes Austria, Bangladesh, Chile, mainland China, Canada, Croatia, France, Greece, Germany, Hong Kong, Hungary, Ireland, Indonesia, India, Italy, Japan, Malaysia, Netherlands, New Zealand, Philippines, Pakistan, Poland, South Africa, Singapore, South Korea, Taiwan, Turkey, Thailand, United Kingdom, USA and Vietnam. Pop in a Catch Connect coupon to slash prices.
Products offered by Catch Connect
Catch Connect has a plan for everyone. Custom mobile plans and data plans are available for customers, and there are Catch Connect cashback offers to enjoy. So, what are you waiting for? Take the plunge and discover attractive deals that are custom-made to satisfy every requirement.
Apart from the mobile plans and the data plans, Catch connect has extras packs as well. Keep an eye out for Catch Connect discount codes, to avail amazing Catch Connect discounts on the website.
Mobile Plans
: Choose from several 30-day plans, 90-day plans, 365-day plans. Use a Catch Connect coupon or a Catch Connect code and save more.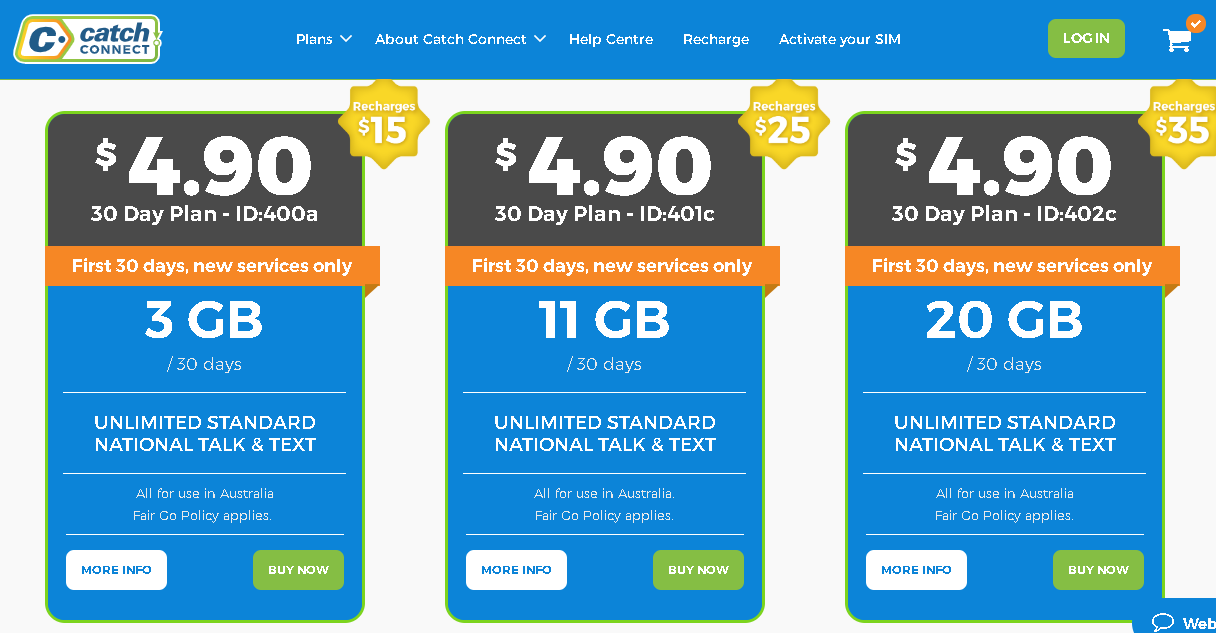 Data Plans
: Data plans are available for different bandwidths like 30 Day Data - 10GB, 30 Day Data - 30GB, 30 Day Data - 60GB, 30 Day Data - 100GB, 30 Day Data - 150GB. Get a Catch Connect promotion, a Catch Connect offer or enjoy a Catch Connect sale by checking out the site regularly.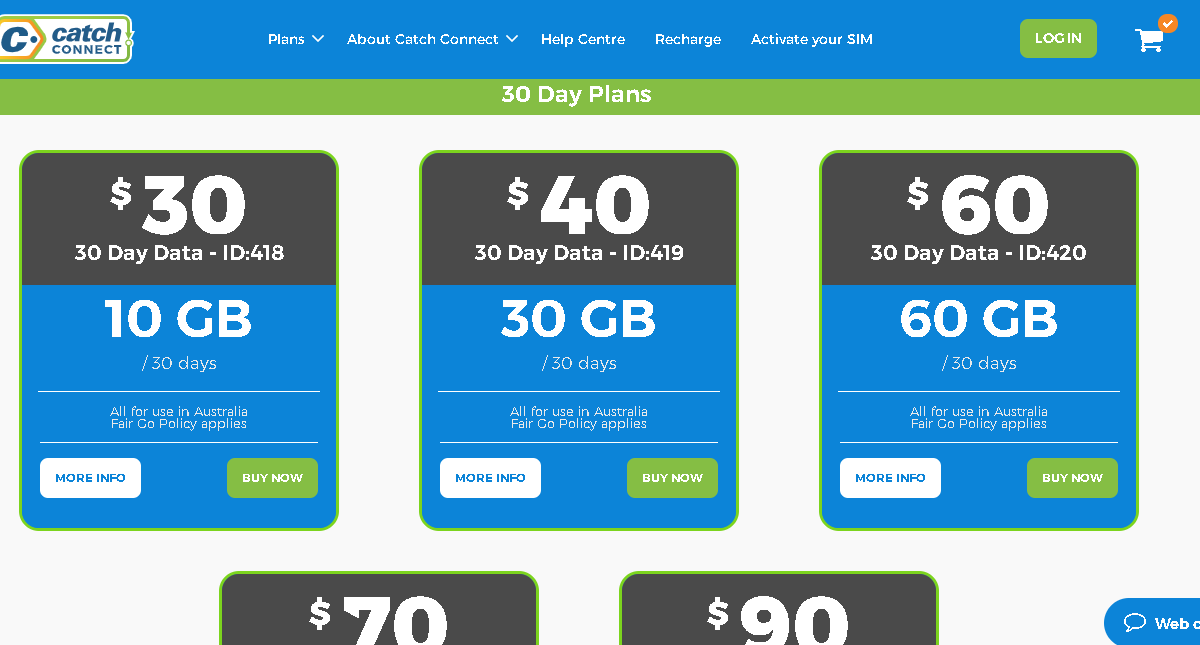 Extras Pack
: Data Extras, International Extras, Catch Extras. Explore dozens of Catch Connect discount vouchers, Catch Connect discount coupons, Catch Connect promo codes and Catch connect coupon codes today!
| Product Category | Products |
| --- | --- |
| Mobile Plans | 3 GB/30 days, 11 GB/30 days, 20 GB/30 days, 40 GB/30 days, 8 GB/90 days, 35 GB/90 days, 54 GB/90 days, 102 GB/90 days, 42 GB/365 days, 80 GB/365 days, 205 GB/365 days, 375 GB/365 days, |
| Data Plans | 10 GB/30 days, 30 GB/30 days, 60 GB/30 days, 100 GB/30 days, 150 GB/30 days |
| Extras Pack | $10/1GB or $15/2GB data, 100 International Mins / $5 or 300 International Mins / $10, $5, $10, $20, $50 extras |
| | |
How to Shop on Catch Connect using Shopback?
Grab a Catch Connect cashback offer up to $5.00 when you use shopback. Read through the Shopback terms and conditions before proceeding.
Step 1: Visit Shopback.com.au and search for Catch connect on the search bar and click on the suggested search result.
Step 2: Click on the 'Activate Cashback button on the left top portion of the page.
Step 3: Look for deals in SIMs and mobile plans by clicking on 'deals on the right side of the page. Click on the 'Get Deal button.
Step 4: You will be redirected to the Catchconnect.com.au website. Shop on the online Catch Connect store to get a Catch Connect cashback offer.
Remember to use a Catch Connect promo code approved by ShopBack.
Catch Connect Customer Service
The website is quite user-friendly and it s very easy to contact the customer service by dialing a toll-free number or by clicking the floating button. Read on to find out how to get in touch!
Click on the 'Web Chat button at the footer of the website, or call 1300 222 825 on weekdays between 9 AM to 8 PM (AEST) and weekends or NSW Public Holidays between 10 AM to 6 PM (AEST), except Christmas Day and New Years Day.
Check out updated mobile plans, data plans and extras packs on their social media pages that are mentioned below.
avail cashback even when you shop from Vodafone or Telstra and several other stores via ShopBack!