Bonds - A great place to buy some of the best brands of underwear in the country. Bonds clothing offers the opportunity for anyone to grab their favorite undergarments at considerable prices. They cover people of all ages including babies and kids. You can get beautiful pieces of clothing at Bonds online. You can also search and satiate your wardrobe desires at any Bonds outlet nearby. You can find the nearest Bonds store through the store finder on the website.
No company becomes successful without going through ups and downs. However, Bonds has survived all of its storms since 1915 and stood still. With over two to three generations of customers served, Bonds has come a long way from the time George Allan Bond started it in the early 20th century. As part of Pacific Brands now, Bonds continues to make many customers happy. It looks like they are just getting started and there are no signs of stopping at all.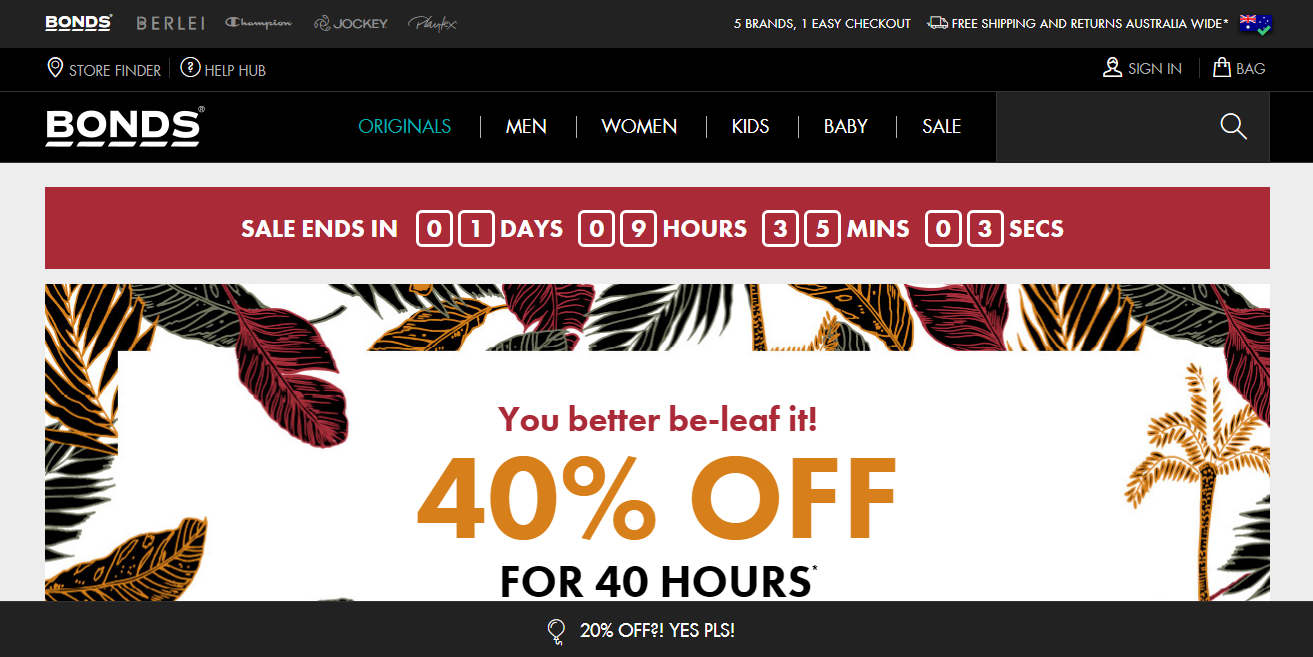 Men:
From trunks to tees, Men can find a very interesting mix of products. Pullovers, shorts, tanks and many more can be found in the men s section. Socks play a major role in men s everyday life. The Bonds socks section addresses this role by portraying a huge variety of socks for different occasions.
Women:
Any company which sells women s clothing knows that they should have a vast range. Bonds has definitely lived up to this expectation. From underwear to casual clothing, women can shop for all their needs here. Bonds factory outlet also has an eclectic mixture of different styles for women.
Kids:
The Bonds kids section looks extravagant as it showcases a diverse stock of clothing for your growing children. They have a range of options from adolescents to tweens clothing. Bonds swimwear for kids and babies is also part of these collections.
Baby:
A number of people are buy baby clothing at Bonds. Why is that happening? Because a Bonds baby sale is on every so often and you can get discounts of up to 50%. The Bonds baby section is simply amazing. Bonds baby clothes offer you the chance to experiment with your baby s clothing to make them look better. Also, among many things you want for your child, you would definitely want their first time swimming experience to be life-changing. This learning process for your child will leave him/her more comfortable when you use Bonds baby swimwear, which is one of the best in the market. Now that your baby is kitted up with all the Bonds clothes, you can consider entering him/her into the Bonds baby competition for a chance to model for Bonds.
Originals:
Originals are the section where you can find a rich gathering of Bonds underwear. You can also find offers that are competitive and help you get your favorite underwear. Check them out to find the originals of men and women s clothing.
| Men | Women | Kids | Baby |
| --- | --- | --- | --- |
| Clothing | Underwear | Girls Clothing (1-7) | Zippys |
| Collections | Bras | Girls Underwear | Newborn |
| Underwear | Socks & Tights | Boys Clothing (1-7) | Clothing |
| Tops | Swimwear | Boys Underwear | Underwear |
| Socks & Accessories | Maternity | Tween Clothing (8-14) | Collections |
| Shop Offers | Sleep | Sleepwear | Socks & Accessories |
| Sleep | Clothing | Swimwear | Sleepwear |
| | Collections | Socks & Accessories | Shop Offers |
| | Offers | Collections | |
| | | Shop Offers | |
Shopping at Bonds is easy. First, select your desired product.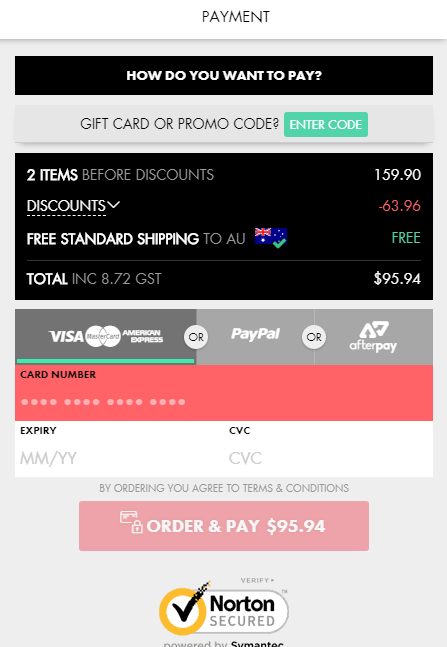 Bonds Promotions and Discounts
Bonds codes for discounts are very useful at this point. They will help you save money on your purchase.
Bonds shop offers are interesting. Discounts on Bonds can be found in three different ways.
Sale
- A Bonds sale is almost always running and you can get all your favorite clothing either online or at the outlet. A Bonds online sale is an everyday event that no one should miss. The offers change each day on different subcategories.
Gift Card
- The other way to save some money is by getting a gift card. A Bonds gift card gives you points that can be redeemed on orders.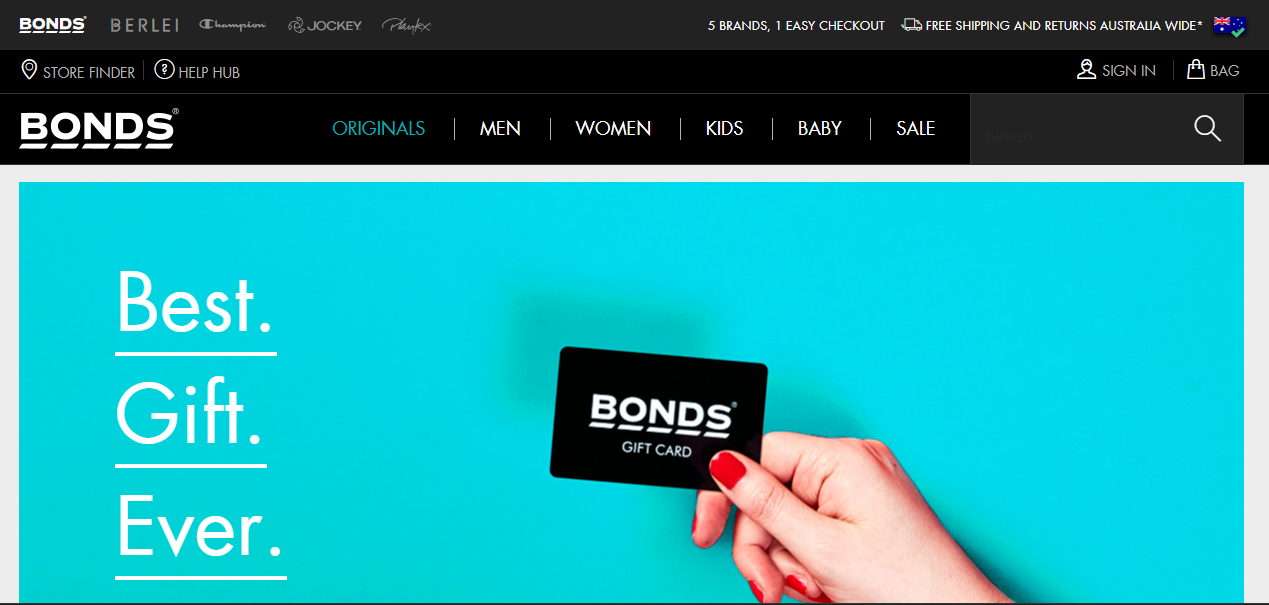 Sign up offer
- 20% off! That is the amount of money you will get in return when you sign up with Bonds.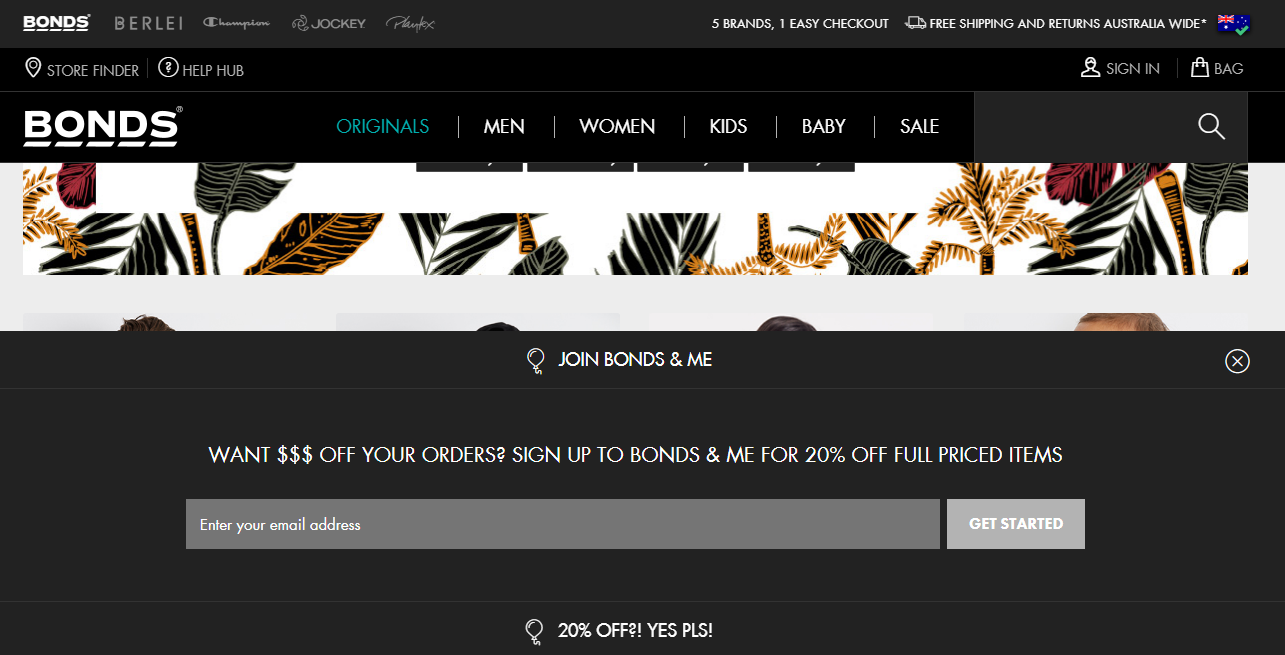 Keep an eye on upcoming Bonds promo and get a Bonds promo code to avail discounts.
How to Shop on Bonds using ShopBack
Back helps you significantly when you are shopping on Bonds. It s a great site where many merchants like ASOS and Bonds offer great discounts. As for Bonds, you can get a 5.60% cashback when you shop with them via ShopBack.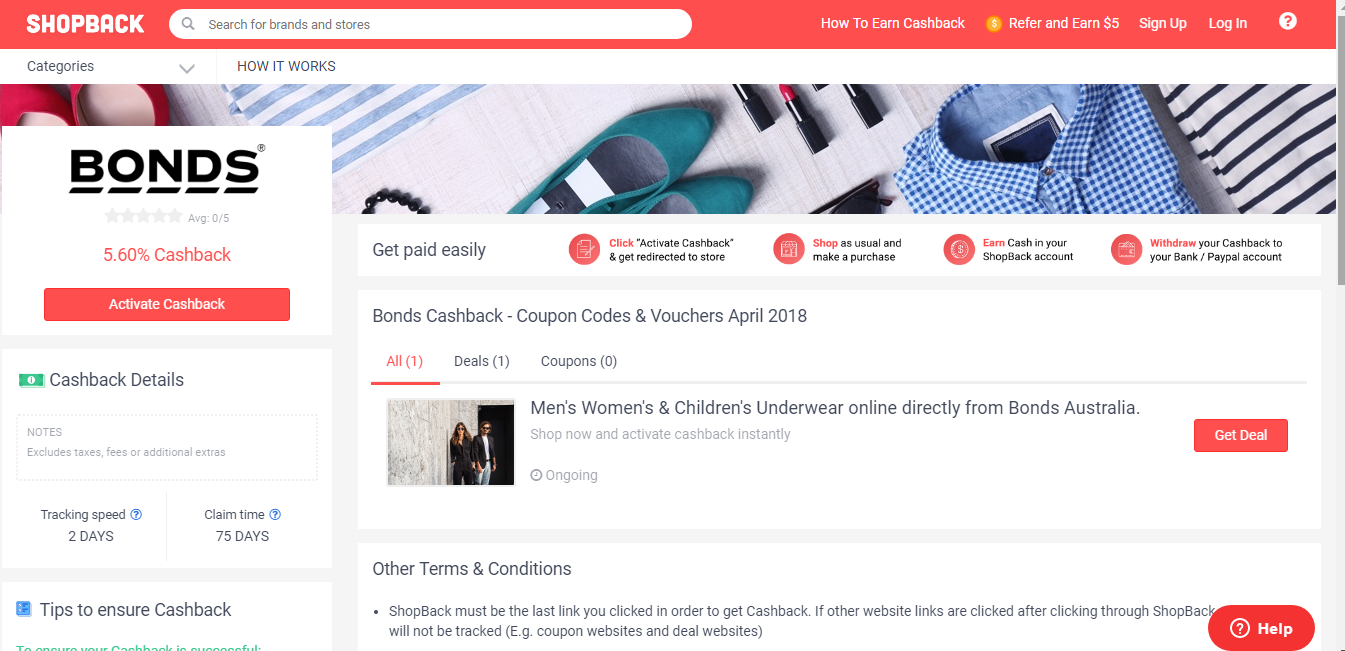 In addition, there are Bonds coupon codes, Bonds discount codes, Bonds discount coupons, and Bonds voucher code available via ShopBack as well. Do check back for these deals.
Bonds Return & Shipping
Customers will be happy when products are shipped on time. The other important aspect in the e-commerce industry is that companies often get return orders due to various reasons. The way Bonds handles this issue is really good.
First of all, they have made shipping across Australia free of charge. So not a single dollar is wasted on shipping. Now, that s fantastic.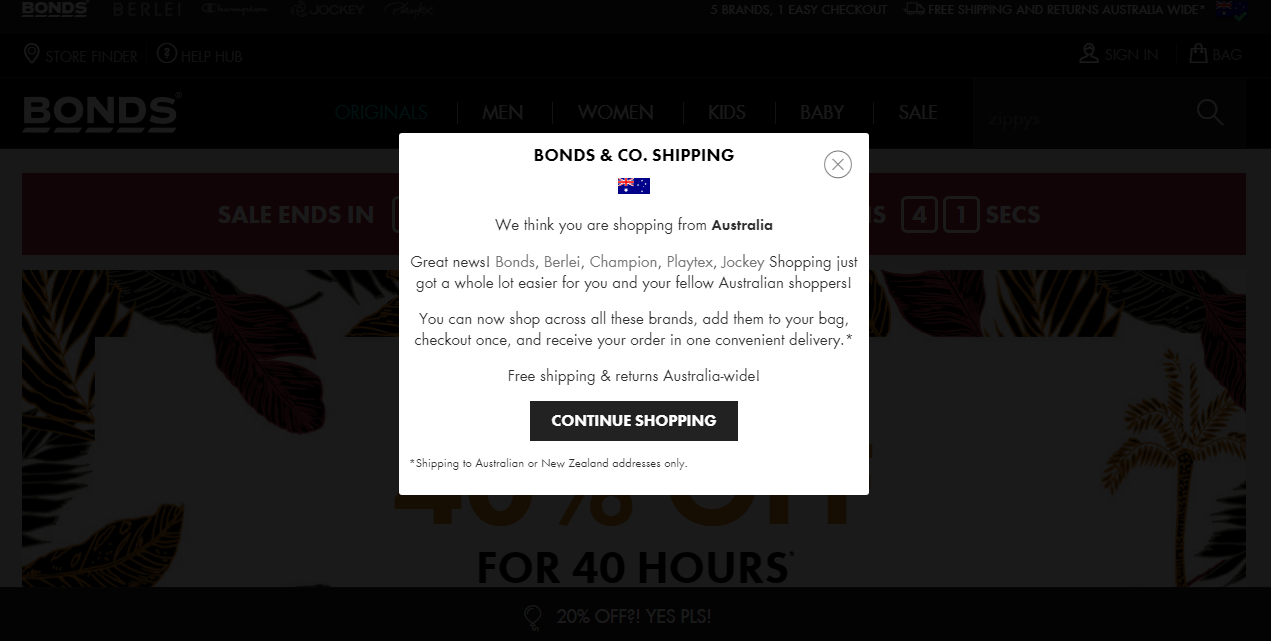 The shipping can take up to 7 business days.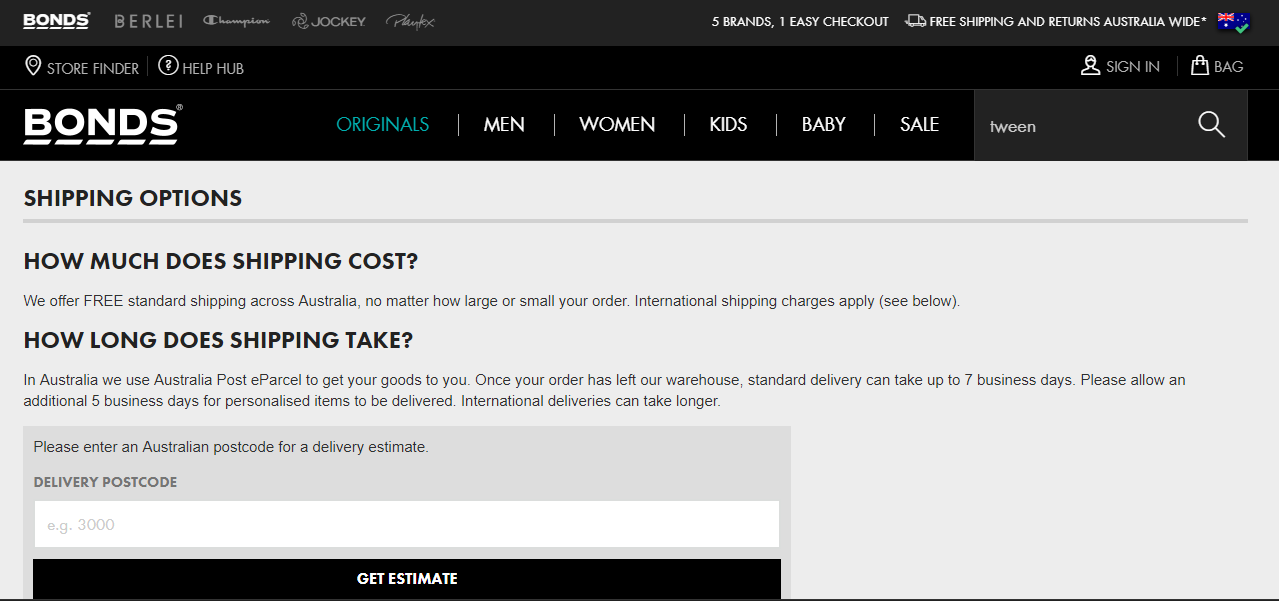 Returns are also addressed in the right way. Up to 30 days from the day of receipt, you can return the product if it s within Australia.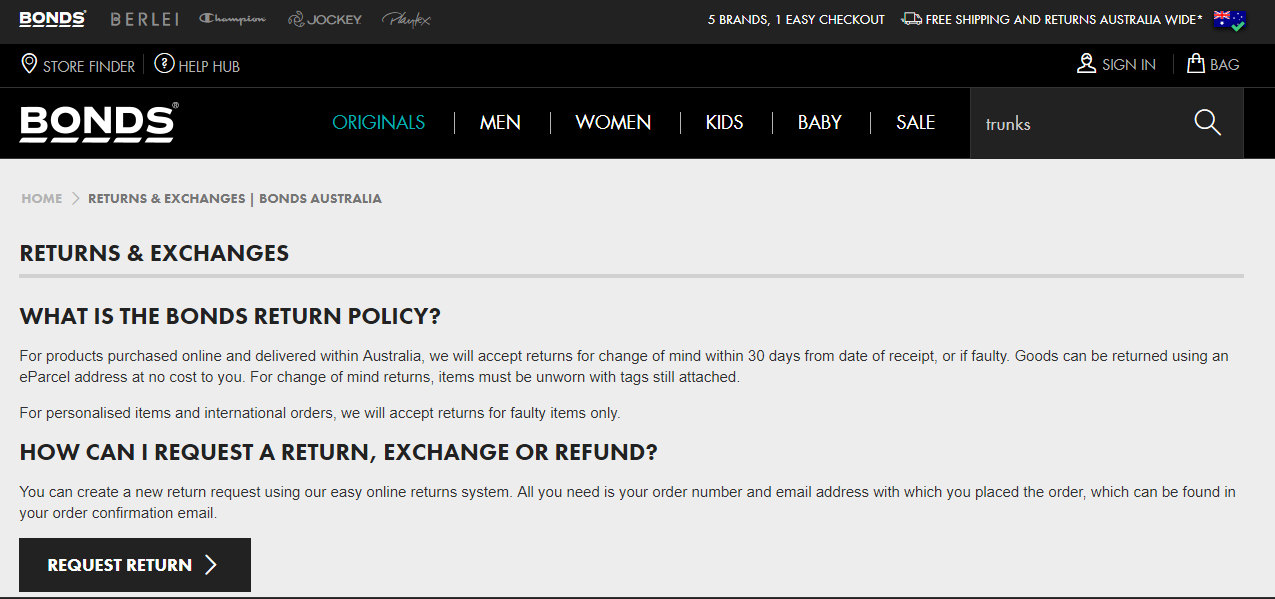 To manage such tedious timelines, a company should have a brilliant customer service team and Bonds certainly does have one. You can contact them through email or you can call them on at 1800 806 906.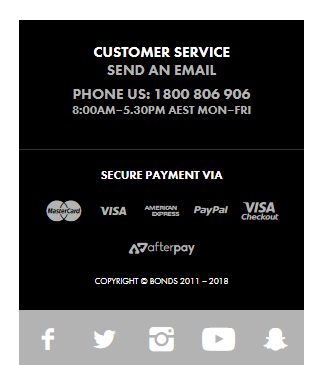 They also have a Help Hub which helps. It covers all the FAQs and the How-tos that most customers have.