Explore the outdoors with BCF
The acronym for Boating, Camping and Fishing, BCF, is a brand that requires little introduction. With over 100 BCF stores around the country, it is a go-to brand for people who enjoy boating, camping, and fishing. Whether you re a regular explorer of the country or an occasional one, BCF has got the stuff you need for your exploration. A BCF sale is a regularly event and you should definitely buy when a sale is running.
BCF had amazing success from the get-go as they were truly one of a kind. They started out as a small shop that sold fishing and boating accessories. They have a record of impressing customers with their competitive pricing, offers, and equipment from various brands. By combining all of their strengths, BCF has made a mark in history by winning the hearts of campers and explorers across Australia.
Products Sold at BCF Australia
Now that we have understood the establishment and history of BCF, it is important to know the products they sell. Good products will eventually result in a thriving and growing business. All the products from the best companies in the industry end up with BCF due to the exposure and national reach that they possess.
Equipment and tools for boating, camping, fishing, watersports, 4WD & caravan, clothing, and footwear are available at BCF. They also have tips to make you an expert at what you like. A section called "Be A BCFing Expert" will help you with the same.
The boating section has Boat Fit-out, Boats & Motors, Maintenance, Safety equipment, Electronics, and Trailer. The BCF camping section will cover your needs for bedding, tents & swags, gazebos and shade, cooking, camp furniture, fridges, etc. Fishing rods, reels, line, net, and much more are available if you are going on a fishing trip.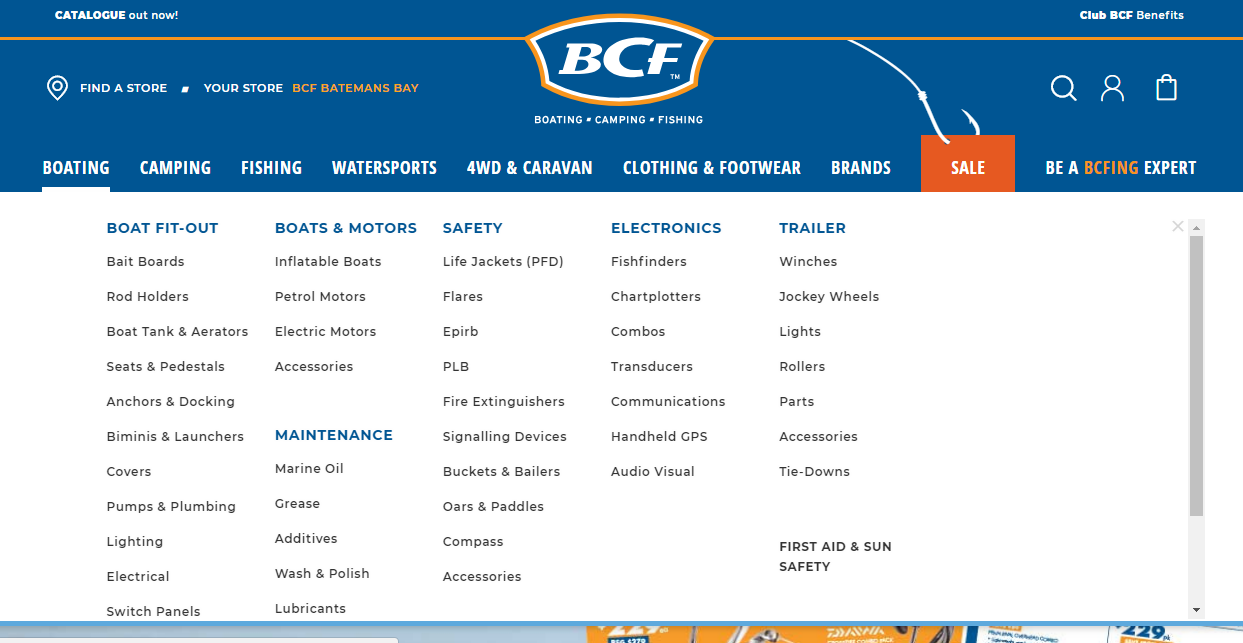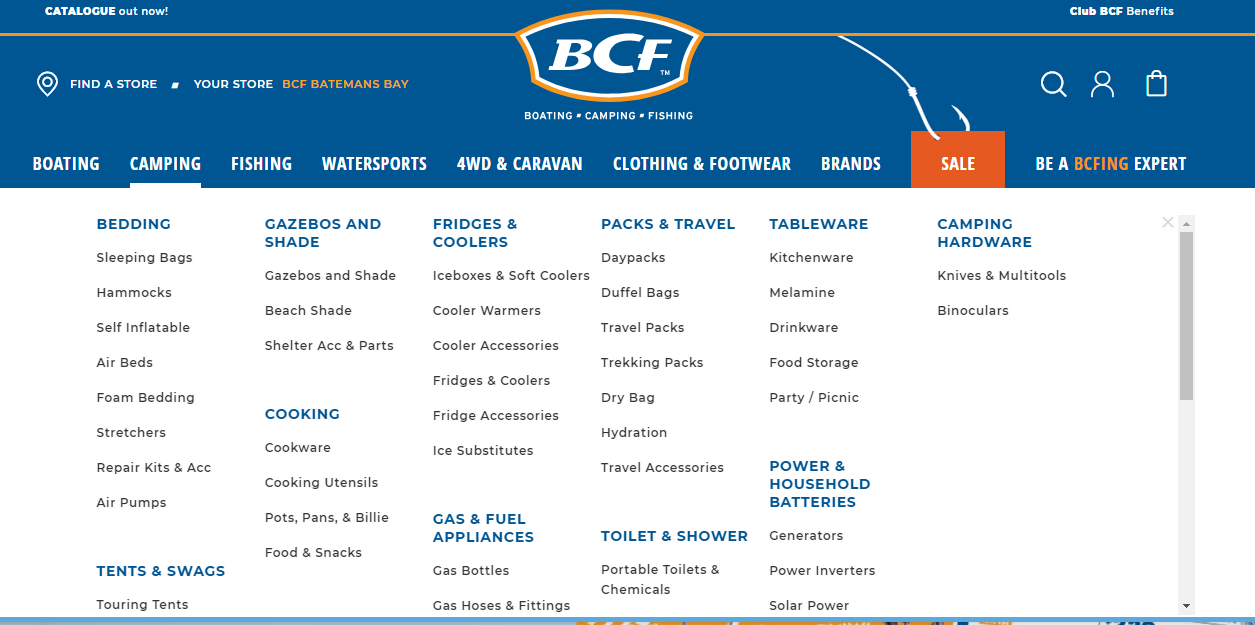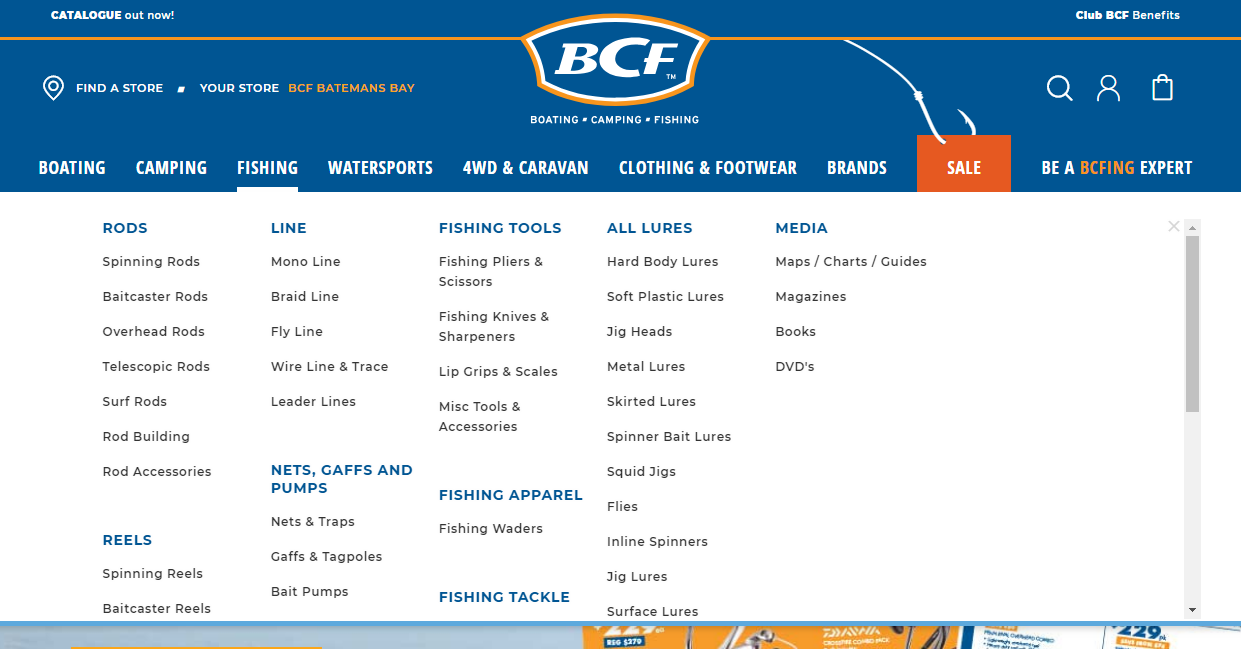 Are you a water sports enthusiast? Well, BCF has got all that you need. 4WD and Caravan along with clothing are also available.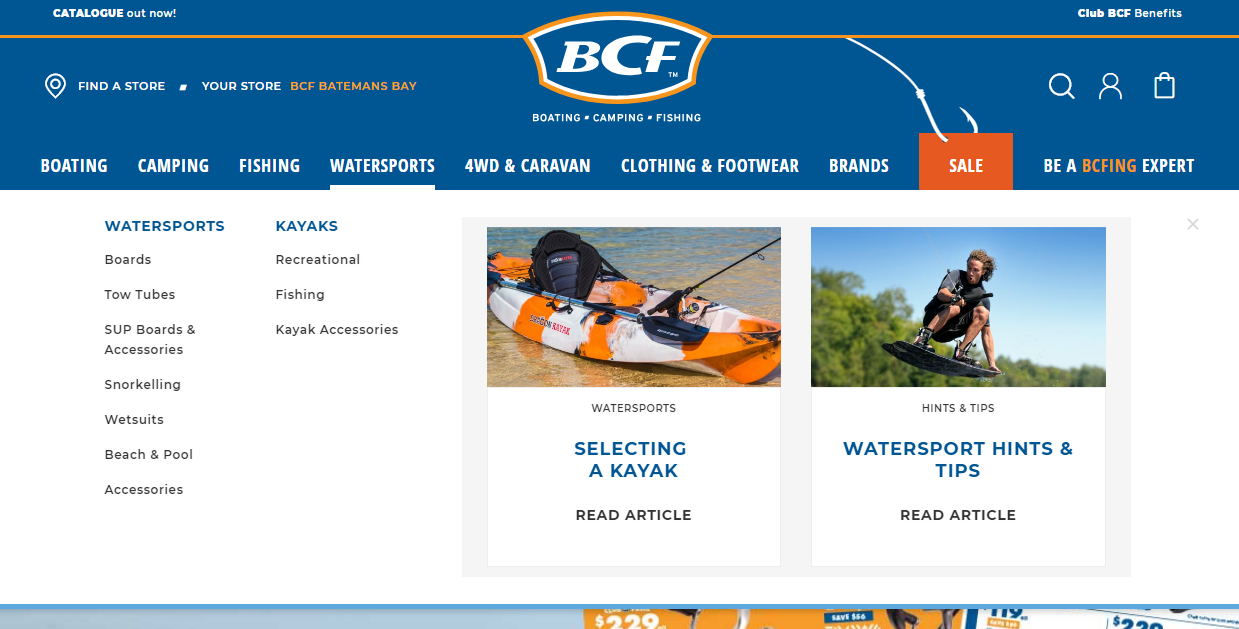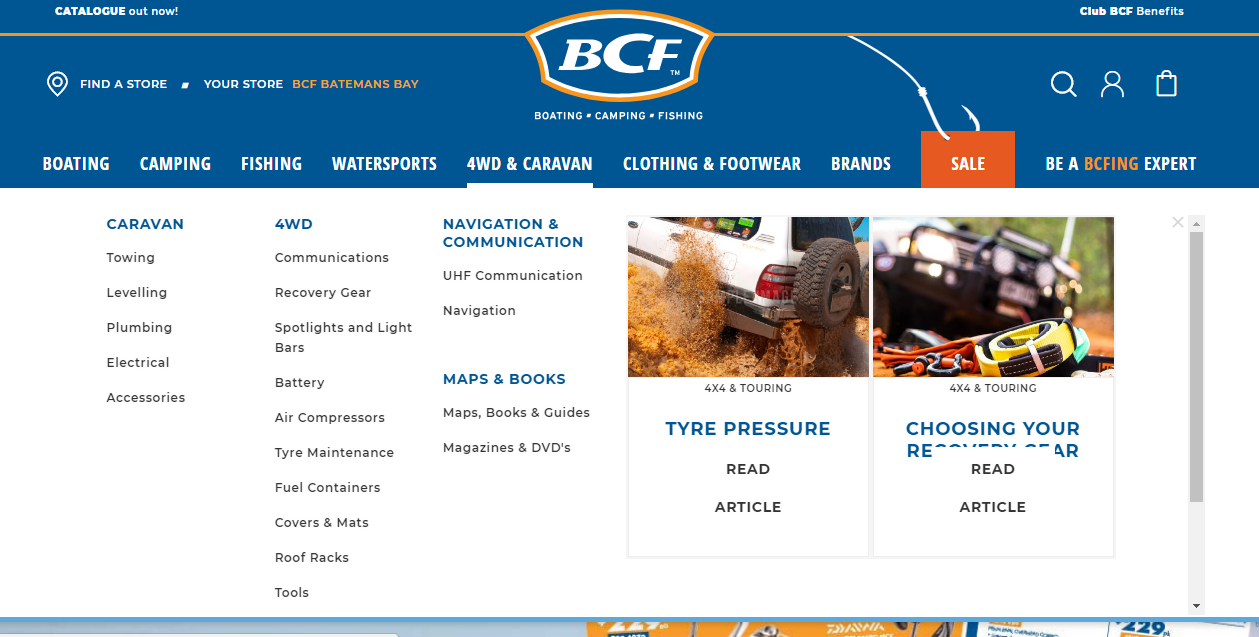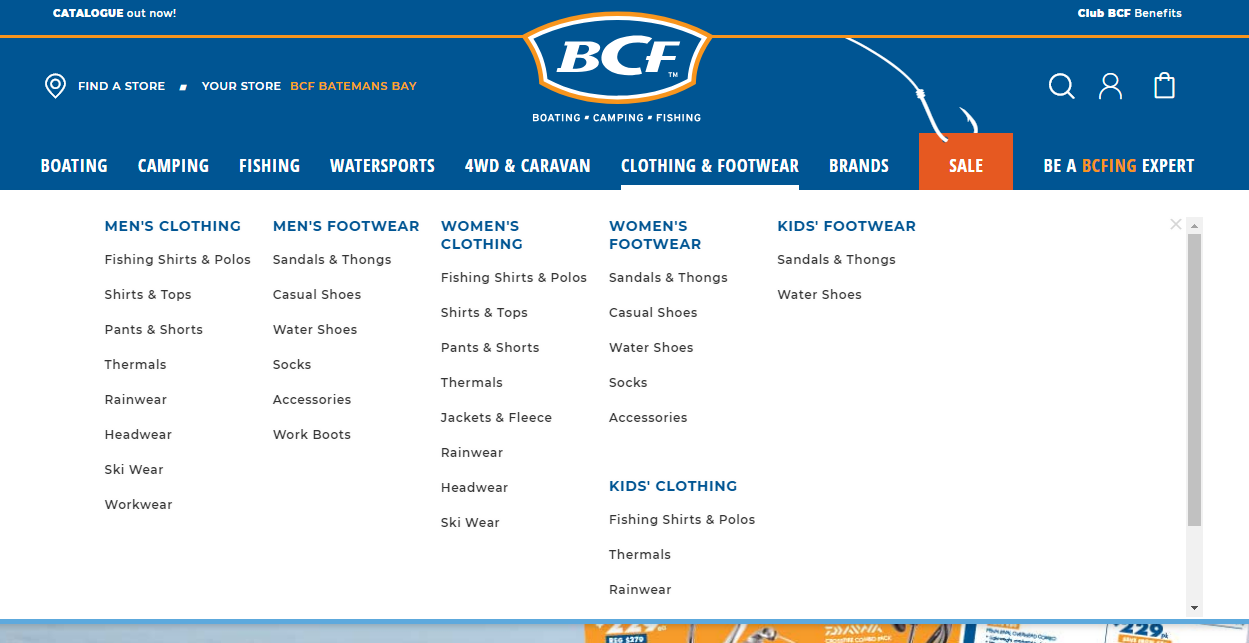 You can any of these wonderful gear at your closest BCF store or at the BCF online store.
| Product | Product Type |
| --- | --- |
| BOATING | Seats & Pedestals Sailing Anchors & Docking Electric Motors Inflatable Boats Petrol Motors Additives Wash & Polish Grease Marine Oil Epirb BCF Life Jackets (PFD) Flares PLB Fishfinders Chartplotters Combos Transducers Jockey Wheels Rollers Winches Lights |
| CAMPING | Self Inflatable, Air Beds, BCF Sleeping Bags, Hammocks, Hiking Tents Touring Tents, Dome Tents, Swags & Cots, Insect Protection, Water Filter & Additives, First Aid & Sun Safety, Beach Shade BCF Gazebos and Shade Shelter Acc & Parts, Cooking Utensils, Pots, Pans, & Billie, Cookware, Food & Snacks, Beach / Event Chairs, BCF Camping Chairs, Camp Stools, Camp Lounges, Cooler Accessories, Cooler Warmers, BCF Fridges & Coolers, Iceboxes & Soft Coolers, Portable Stoves and BCF BBQ, Gas Hoses & Fittings, Gas Bottles, Lantern Glasses & Mantles, Daypacks, Trekking Packs, Duffel Bags, Travel Packs ,Water Heaters & Pumps, Portable Toilets & Chemicals, Showers, Plastic Storage, Water Storage, Food Storage, Kitchenware, Drinkware, Melamine, Power Inverters, Generators, Solar Power, Household Batteries, Headlamps, Torches, Lanterns, Spot & Worklights, Knives & Multitools, Binoculars |
| FISHING | Overhead Rods, Telescopic Rods, Spinning Rods, Baitcaster Rods, REELS Baitcaster Reels Overhead Reels Spinning Reels Hand Reels COMBOS Spinning Combos Overhead Combos Surf Combos Baitcaster Combos LINE Mono Line Braid Line Wire Line & Trace Fly Line NETS, GAFFS AND PUMPS Gaffs & Tagpoles Nets, Gaffs & Pump Accessories Nets & Traps Bait Pumps FISHING STORAGE Bags & Wallets Tackle Boxes Rod Storage FISHING TOOLS Misc Tools & Accessories Fishing Pliers & Scissors Lip Grips & Scales Fishing Knives & Sharpeners FISHING TACKLE Swivels & Snaps Sinkers & Moulds Hooks Rigs ALL LURES Jig Heads Hard Body Lures Soft Plastic Lures Metal Lures SPEAR FISHING GEAR Fins MEDIA Spear Guns Mask and Snorkel |
| WATERSPORTS | SUP Boards & Accessories, Boards, Tow Tubes, Recreational, Fishing |
| 4WD & CARAVAN | Towing, Levelling, Plumbing, Navigation, MAPS & BOOKS, UHF Communication |
| CLOTHING & FOOTWEAR | Pants & Shorts, Fishing Shirts & Polos, Shirts & Tops, Water Shoes, Casual Shoes, Sandals & Thongs, Thermals Fishing Shirts & Polos, Rainwear |
| | |
Buying stuff online is easy and BCF has made sure your online buying experience is made simple and efficient.
You can use your credit card, AfterPay, PayPal, and BCF gift cards to pay for your products. You also have a click to collect option where you can buy the product online and get the product at any of the nearby stores. You can always use a BCF promo code or BCF coupon code to get a discount while paying.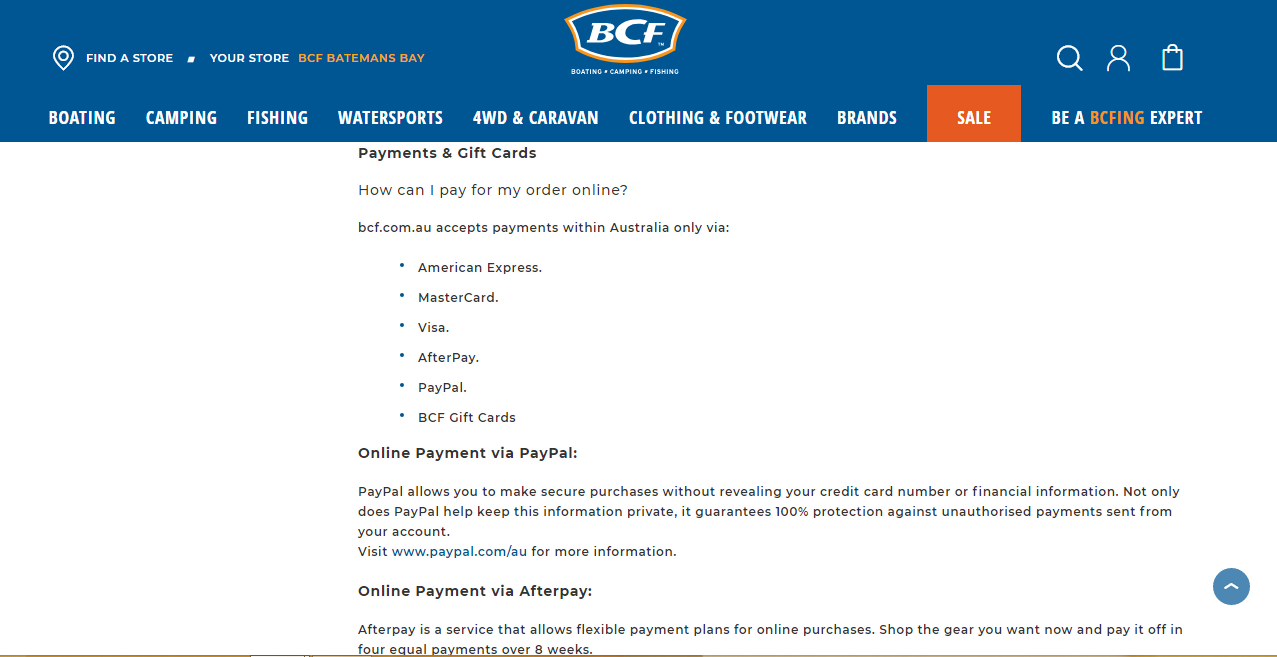 With the BCF catalogue out and available, you can check the latest BCF sale. It has got products available at unbelievable discounts. Lucky shoppers often get to see a BCF discount which is similar to the BCF boxing day sale (where discounts touched the sky, bringing cheer to several fishos).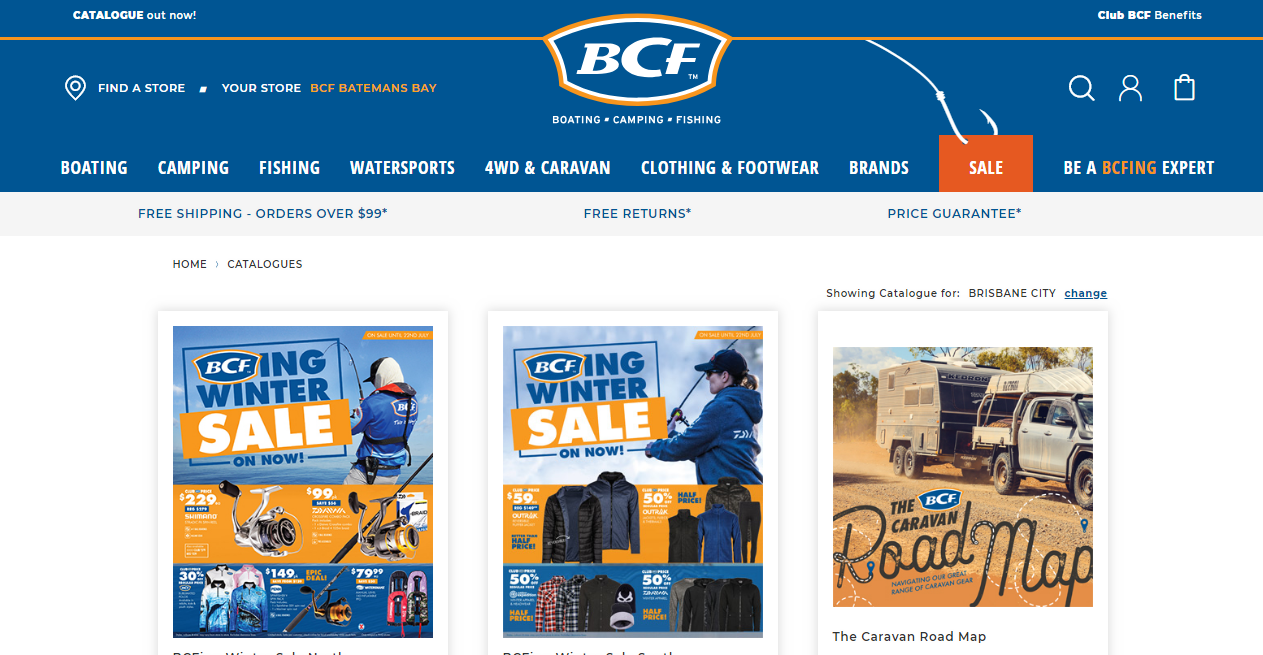 The catalogue has also got the latest BCF promotions such as The Caravan Road Map. You should not miss out on these BCF deals.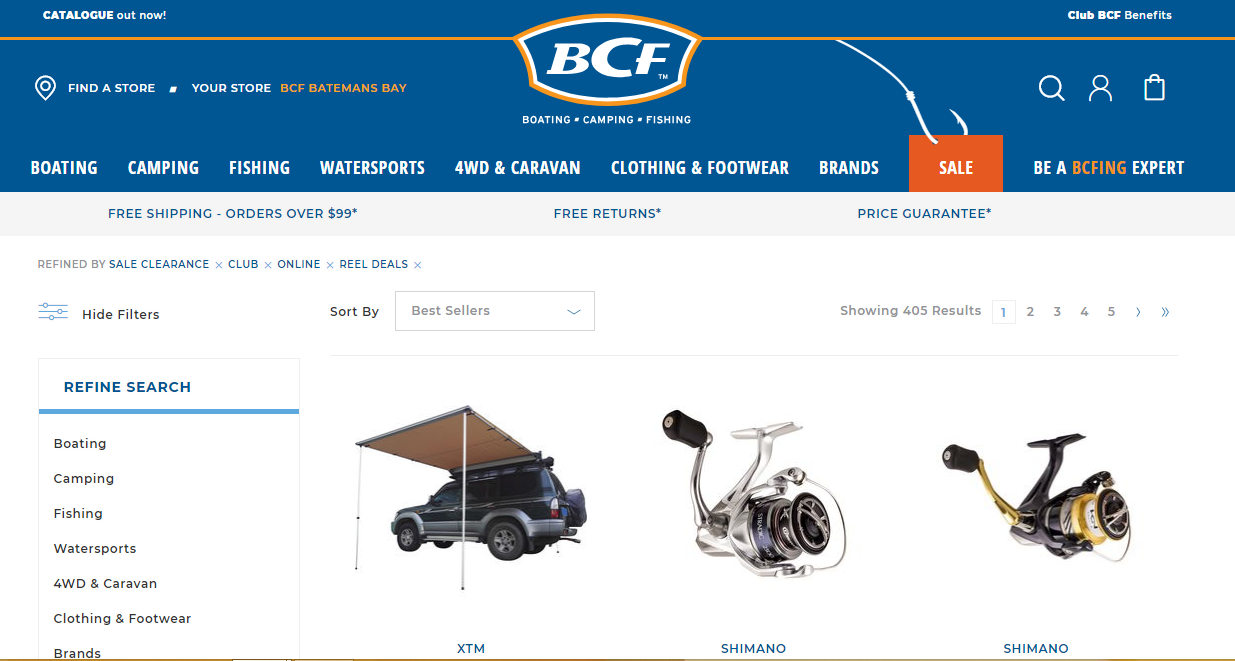 It is also very important to check out BCF special offers in the sale section of the home page.
How to shop at BCF through Shopback
Are you looking for a BCF voucher or BCF coupon? Shopback is the place you need to get a BCF discount voucher or BCF discount coupon.
For BCF, you can avail a cashback of up to 3.5% while you use Shopback. There is also a display of many special offers and deals. Make sure to sign up with Shopback to get the whole picture.
Any orders over $99 have free shipping. You can track and trace your shipments. International shipping is also available but there will be additional shipping charges.
The return policy is strict due to the nature of the products sold. It would be wise to check out their policy on returns and refunds.
The customer support team will help you with any BCF code, BCF discount code or BCF voucher code. During a sale, people often face trouble with BCF voucher codes. You can reach them at 1300 880 764 or send them an email.