Car rental companies are a big saviour of people who do not own a car. Travelling in public transport is a lot of hassle especially when you are going for a vacation or you have a flight to catch. Hire a car from Avis car rental and make your life easier. Avis car hire is very popular in the country as Avis Australia offers all kinds of cars for hire. From trucks and vans to SUVS and sedans, they have it all. Book a car from the comfort of your home and travel to your preferred destination without any hassle with Avis AU. Be on the lookout for Avis promo codes as well. An Avis code promo code 2018 will let you avail great discounts.
Services provided by Avis
Looking for a car to hire? Use an Avis coupon code to get attractive discounts. And what better? You can choose your vehicle as well. Avis owns a huge fleet of vehicles that it provides for rent. They also offer airport transfer services. You can choose depending on your location or depending on the vehicle you are looking for. You can choose your vehicle location-wise depending on whether you are in Perth or Sydney. You can also make a choice depending on the vehicle, irrespective of your location.Avis has a special signature series for people who have dreamed of driving a Mercedes or BMW. Use your Avis code 2018 to get discounts on these luxury cars. There is also the Avis Preferred service for people looking for priority service. Avis offers commercial vehicles on rent as well, for people planning to travel in a group. Avis truck hire and Avis van hire are ideal for you if you are looking looking for logistic options to transport your stuff. Take a look at the product categories and subcategories, to get a better idea of what Avis offers:
| Categories | Services |
| --- | --- |
| Car & Services | Car guide, Commercial vehicles, Avis Signature Series, Business Reward Programs, Rewards Partners Products and Services |
| Locations | All Australia Locations, Top Airport Car Rental Locations, All Global Locations |
| | |

You cannot make the payment unless your ride is complete as it depends on a number of factors. It depends on the whether you have opted for 'unlimited kilometres or 'fixed kilometres per day/week/month . Also, the estimated charges shown at the time of booking does not include fuel charges. 'Time is another factor that is calculated when it comes to the final bill. You will be charged extra if you are not able to return the vehicle on time. What you get to see on the website at the time of booking is the base rental fee for the vehicle you have chosen and that usually stays fixed. You will be required to make a part prepayment at the time of the start of your journey. These are the methods of payments accepted by Avis:
Cash/ Traveller s Cheque:
You can pay with cash or a traveller s cheque after the completion of your ride. Money order or a personal cheque will not be accepted.
Debit or Credit Cards:
You can use your MasterCard or Visa debit/credit card to make your payments as well. Avis also accepts American Express or Diners Club credit card.
Avis will put a hold of $400 on your card which is over the rental fees. The unused amount will be returned to you.
Do not forget to use your Avis coupon code 2018 to avail discount on the rental price.
Avis Discount Codes and Deals
There is a 'Deals section at the header of the home page. Click on it to get the latest 'Avis special offers . You will also find Avis discount coupons on ShopBack.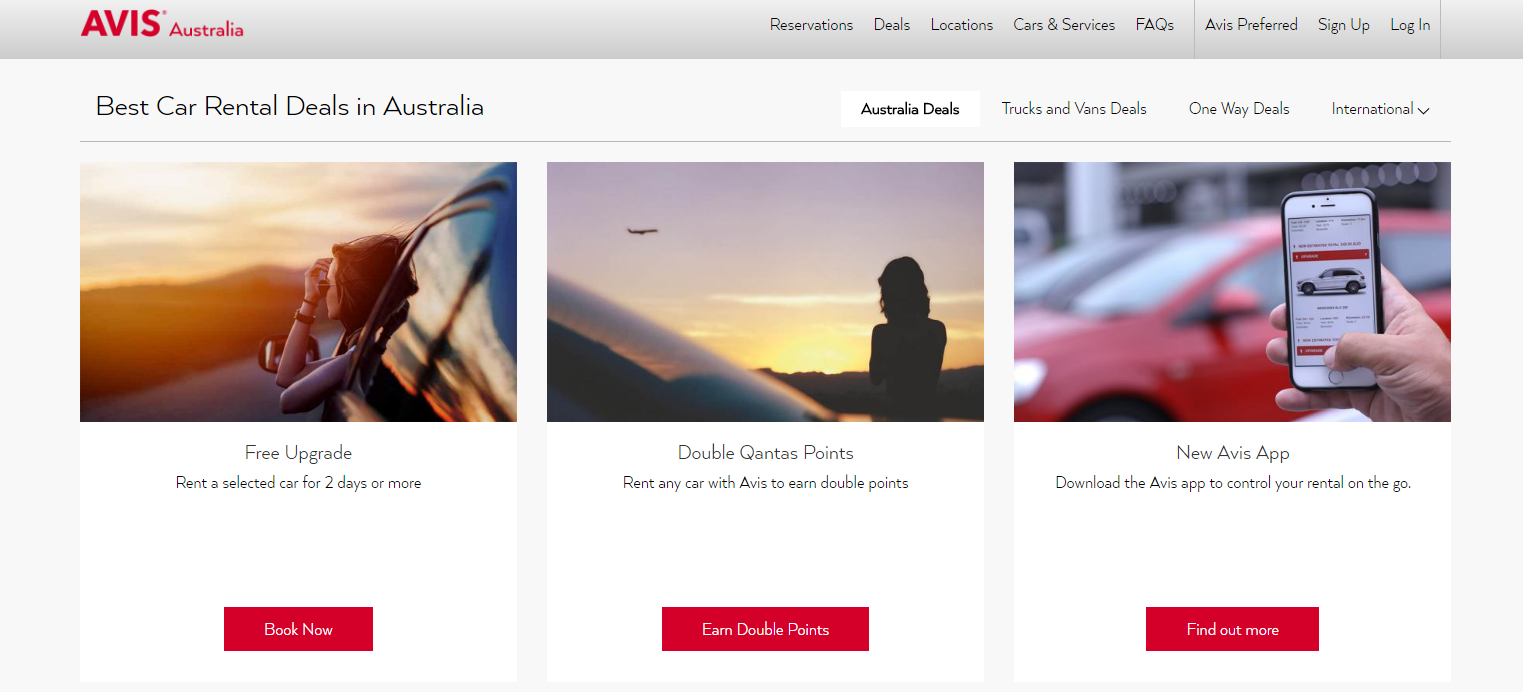 How to Redeem Avis Voucher Codes?
Redeeming an Avis discount code is easy. All you need to do is enter your Avis promo code at the time of your booking.
On the booking dialogue box, you will get the option to enter Avis codes. Enter the code to enjoy an attractive Avis discount.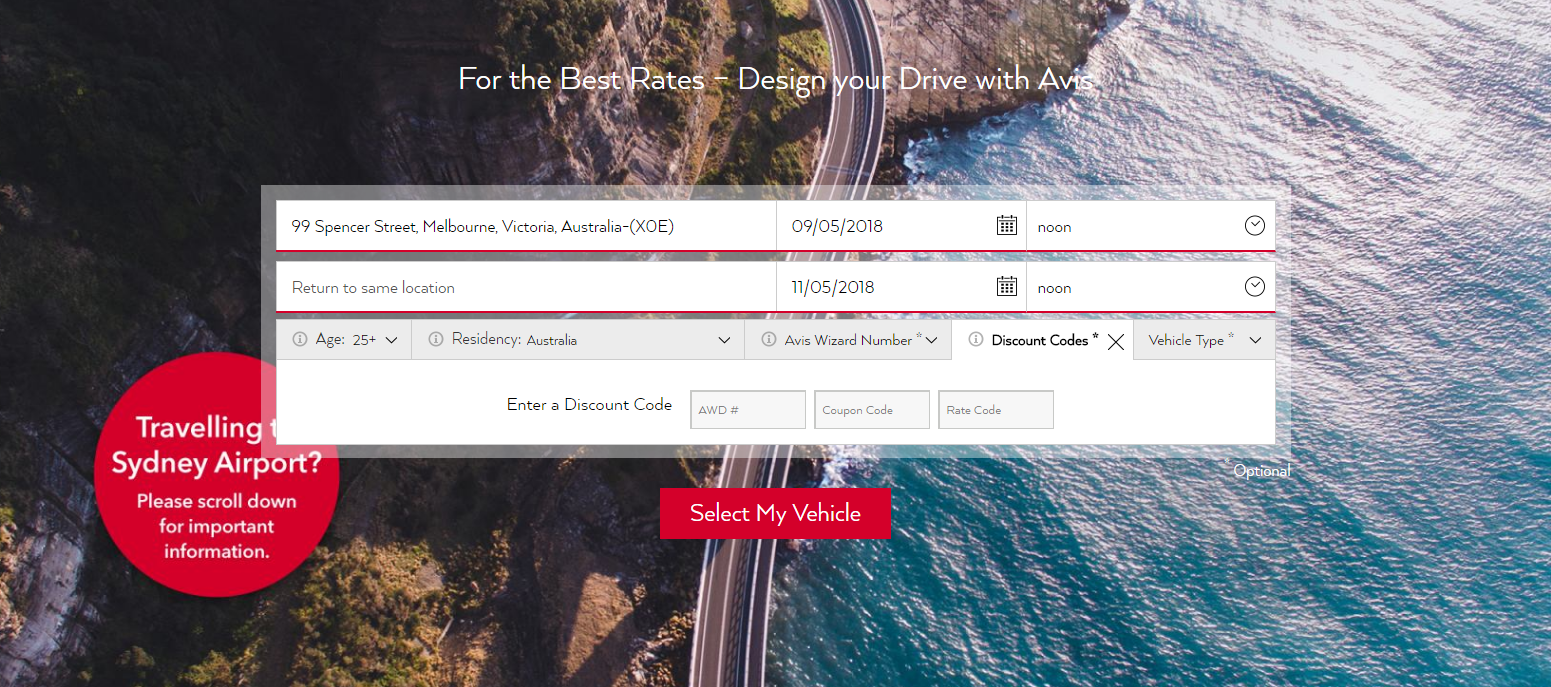 How to Shop at Avis using ShopBack?
You can look for Avis discount coupons 2018 on ShopBack. ShopBack also offers up to 4.90% Avis cashback when you make a booking on Avis using ShopBack. Here is what you need to do to be eligible for the cashback:
Step 1:
Visit the ShopBack website and type 'Avis on the search bar and click on the displayed result.
Step 2:
Now click on the 'Activate Cashback on the top left-hand corner of the new page.
Step 3:
You can check for Avis coupons 2018 on the right-hand side of the page. Click on 'Get Deal .
Step 4:
You will now get redirected to the Avis website. Opt for an Avis rental to earn cashback.
Please ensure that you use an Avis voucher that is approved by ShopBack to earn cashback. Also, this cashback is not available when you book via the Avis mobile app.
You can easily cancel or modify your bookings online. You can call the Avis customer care 02 9353 9000 for more details.
For any queries or assistance you can always call on the number mentioned above. You can also email Avis and send your feedback. Click on 'Avis Support at the footer of the website for more details.
Follow Avis on social media for Avis sales and Avis offers:
ook for car rentals on Expedia and Lastminute.com and earn cashback with ShopBack.