ASOS Discount Voucher & Codes
ASOS promo codes let you avail great discounts. Also, their sales are on quite often throughout the year and you can avail up to 50% discount on its various products.
ASOS student discount is another thing that you can be on the lookout for, if you are a student .It can get you a discount of 10% all round the year. Check the footer for the same.
How to Redeem an ASOS Promo Coupon?
ASOS offers are hard to resist and that is one of the best thing about shopping on this website. Shop during Christmas and New Year and use promo codes to get attractive discounts and buy shoes and clothing at the lowest prices.
You can also use voucher codes every time you shop here and get discounts. Here is how you can redeem coupon:
Step 1: Go to your 'shopping cart after selecting all the products you want to buy.
Step 2: Click on 'checkout and give your details for delivery.
Step 3: You will get the option to enter your code for discount on the checkout page in order to get the revised price.
Step 4: Make the payment and confirm your order.
How to Shop on ASOS using Shopback?
ShopBack offers up to 3.50% ASOS cashback which is available only when you are shopping on the website.
Here is how you can avail it:
Step 1: Visit the ShopBack Australia website and type 'ASOS on the search bar. Click on the displayed result.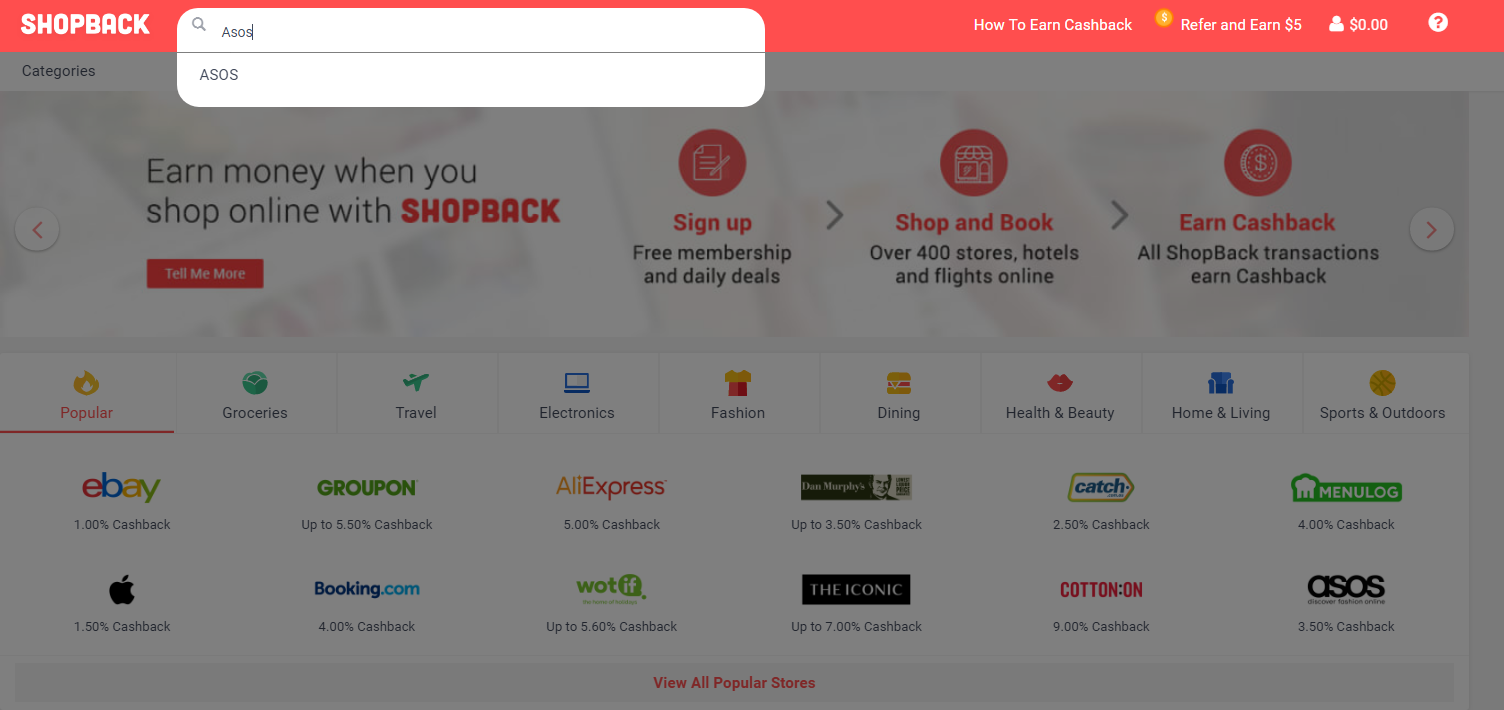 Step 2: Click the 'Activate Cashback button on the top left corner.
Step 3: Check the same page for exciting ASOS deals and coupons.
Step 4: Click on the 'Get Deal button next to each deal. You will now be redirected to the ASOS online store.
Step 5: Make purchases on the website to earn cashback.
Please ensure you use an ASOS promo coupon that is approved by ShopBack to be eligible for cashback.
deals and offers on clothes and accessories, you can also shop on Catch.com.au or the Iconic.
ASOS Australia: Redefining Fashion
ASOS Australia is your one-stop fashion destination where you can shop for clothes, accessories, and beauty products. It sells products of over 8,000 brands along with their in-house brands. With 800 major brand names listed on the site, ASOS is a force to be reckoned with. Not only is it everyone s wardrobe staple in UK, it has since expanded to bigger territories around the world including our home Australia. From charming prints to rainbow leather, ASOS has got the latest styles around the world to the T. Stocked with the best from Adidas, Monki, Pull&Bear, New Look and more, there s nothing you won t find here. Plus, look for an ASOS promo code to get attractive discounts on your purchase.
Asos.com was launched by Quentin Griffiths and Nick Robertson on June 2000 as a British online fashion and beauty store. ASOS stands for 'As Seen On Screen .
In 2010, ASOS launched its stores in the US, France, and Germany. ASOS Australia followed soon after in 2011.
In 2012, ASOS opened its first international office and that was in Sydne
Whether you are looking for party wear or you just want to upgrade your formal wardrobe, ASOS is one of the most fashionable places to begin your search from. You can look for clothes, accessories, makeup products, and shoes here.
Here are the product categories on the ASOS website. Each sub-category is further divided into specific shopping sections. You can look for specific products here or shop based on brands, occasions, new arrivals etc. depending on the subcategory.
ASOS Women: Shop for the latest clothes and accessories from the comfort of your home. Shop for your BFF s wedding or for the next trip you are planning with your friends using an ASOS promo code and get great discounts.

ASOS Men: ASOS also offers fashionable clothes and accessories for men. ASOS offers clothes, shoes, accessories, sportswear, skincare and gift items.
The search box on top makes it easy to look for specific products. You can type 'ASOS dresses on the search box and look for dresses from the brand.
If you are not looking for something specific, you can browse through the categories and subcategories. Here s how:
Click on 'Women or 'Men on the top and you will be redirected to a new page.

Now, bring your cursor to one of the subcategories placed on the header. You will now be able to see the specific shopping sections. Choose one and click on it. Now, you will be redirected to a page on which you can make the purchase.

The filter fields are available on the top. Filter and scroll down to see all the available options.

Make a selection. A new page with all the product details will open. Select 'size if relevant and click on 'Add to Bag .

If you want to continue shopping, then browse through the other product subcategories. Else click on the 'Shopping Cart button on the top right corner of the webpage.

On the next page, click on 'Checkout .

Now, you will have to register on ASOS, if you are not registered already. You can use your Facebook, Google, or Twitter login credentials to register on ASOS.

Enter your delivery address. However, before that you will have the option to enter an ASOS discount code. Enter your code to get a discount. Scroll down and enter your delivery address and mobile number. Click on 'Place Order .

Now, you will have to review the shipping options. You can avail standard or express shipping. Select any one.

Scroll down to view the payment options. Make the payment to get the order confirmation in your mailbox.
ASOS offers multiple payment options:
Shipping & Return Policy
ASOS offers two kinds of deliveries:
Premier customers can avail free standard and express delivery by paying $39.00 per year.
Returns can be made through ParcelPoint, Australia Post, or Couriers Please. While the first two are free, in the case of Couriers Please, local courier rates will apply.
You can initiate returns easily by clicking on 'Delivery & Returns on the footer. You will also find an FAQ section here with answers to some of the most common queries customers have.
You can also follow ASOS on social media if you re on the hunt for more hot offers: