Adidas, Supplying Professional Athletes Since 1949.
Adidas is one of the big fish in the manufacturing and designing industry of sports shoes, accessories, and clothing. Founded in 1949 by Adolf Dassler in Germany, Adidas has its headquarters there. At present, Adidas is the second largest manufacturing sports company in the world, while in Europe it holds the top position.
In the beginning, Adolf Dassler and his brother started a company together in 1924 called Dassler Brothers Shoe Factory. However, in 1949, the two brothers parted ways and each separately created their own company. Adolf Dassler created Adidas while his brother, Rudolf Dassler, created Puma.
Adidas has a range of world-class sports apparel, accessories, and shoes for you to choose from. Since 1949, the manufacturing company has been going strong and continues to manufacture stellar products and are endorsed by some of the greatest athletes of our time. Be it apparel or sports shoes, Adidas never ceases to amaze due to the innovations which are one of the major reason behind its popularity.
Men:
Looking for a fantastic pair of skateboarding shoes? Or are you more into basketball? Whatever your passion, follow it with Adidas and choose clothes and shoes that make a difference.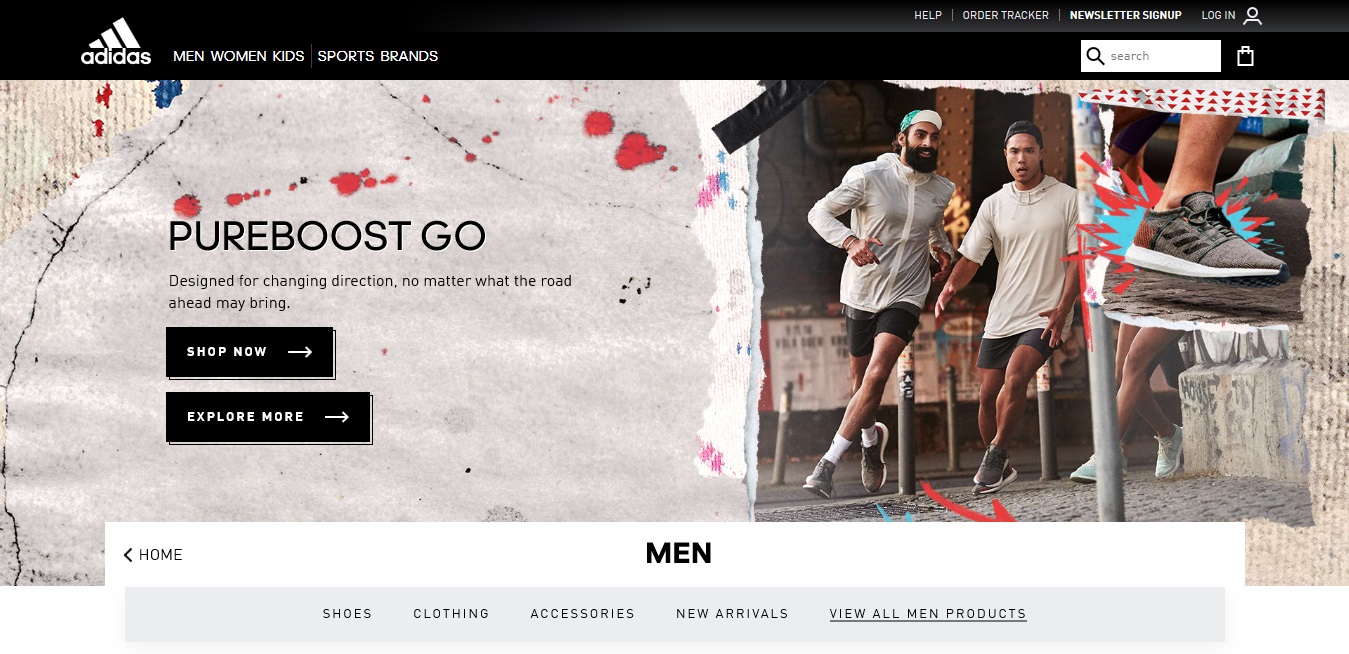 Women:
Adidas has a wonderful and dazzling collection of sports shoes, accessories and apparel for women. Find your perfect choice at Adidas.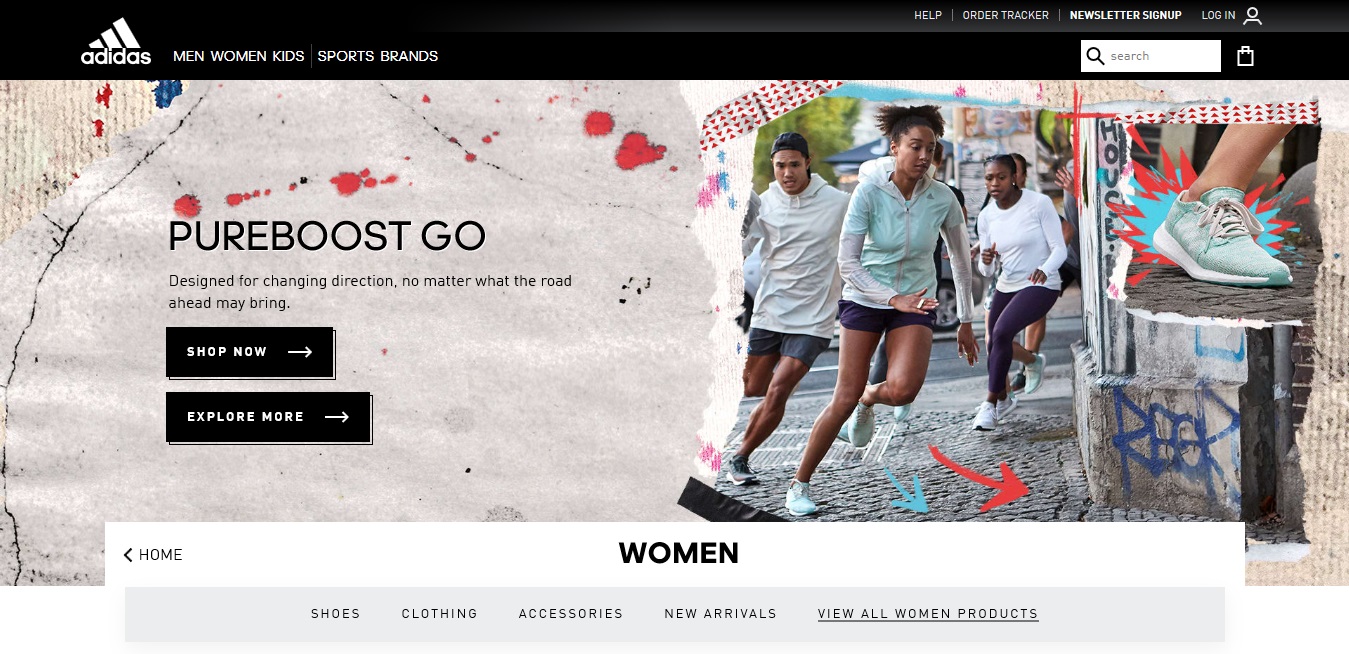 Kids:
Adidas comes with a huge kids collection as well. Shop from Adidas according to your little one s age and find the perfect pair of shoes, clothes, and accessories.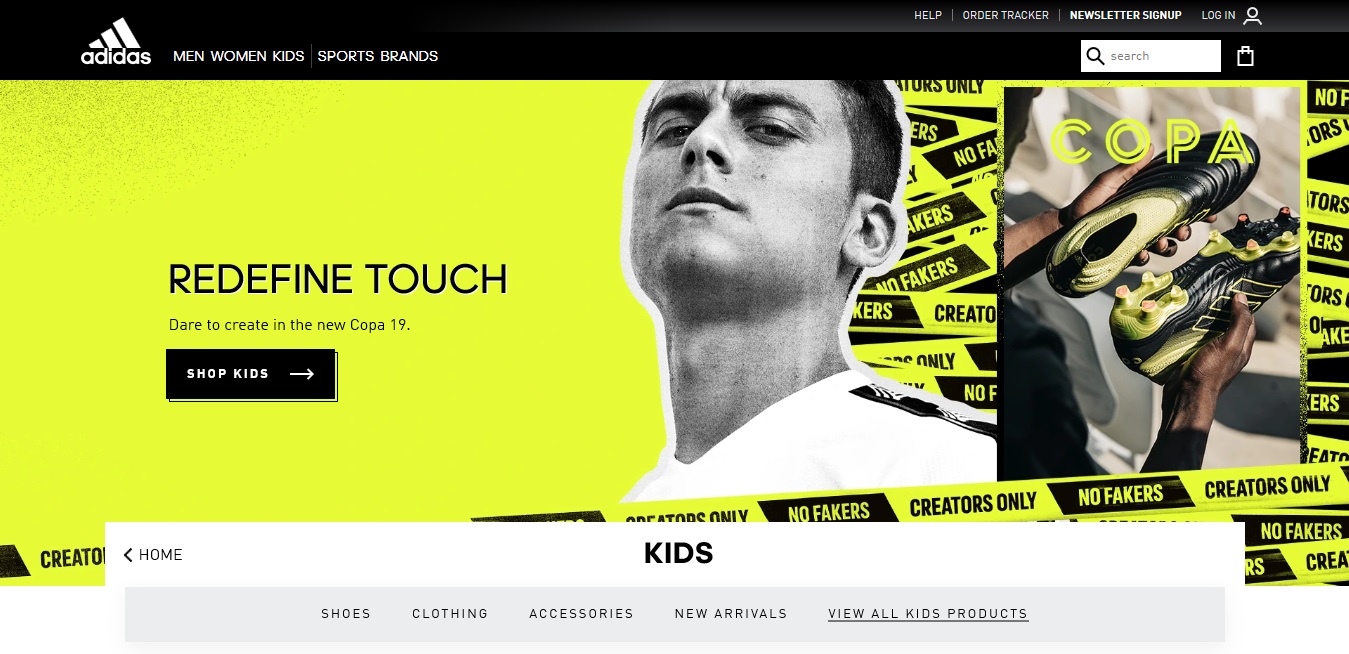 Sports:
Find all you need to engage in sports your way. There is a wide range of clothing, shoes, and accessories available for different sports.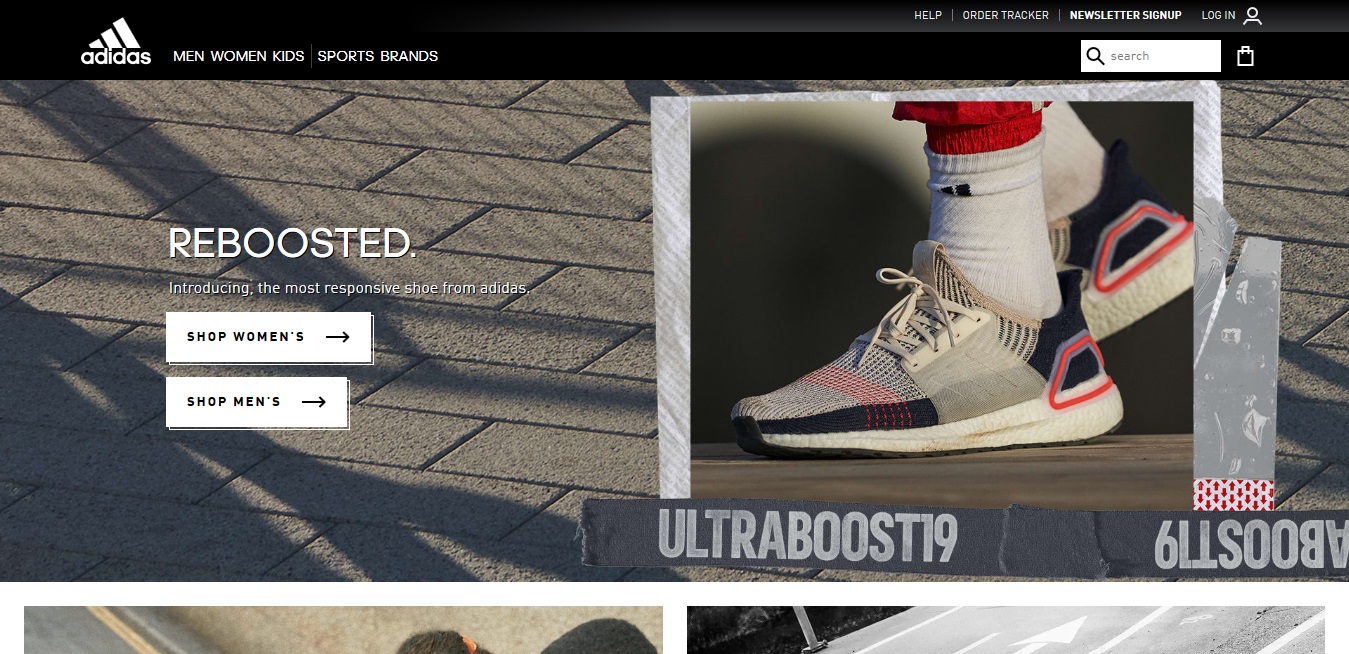 | Categories | Products |
| --- | --- |
| Men | Originals, Tennis, Football, Basketball, Running, Slides, Training Shorts, Football Jerseys, Jackets, Pants, Shirts, Tights, Tracksuits, Hoodies & Sweatshirts, Balls, Bags, Headwear, Socks, Skateboarding, Football, Tennis, Running, Rugby, Outdoor, Training, Basketball |
| Women | Tennis, Running, Originals, Training, Slides, Tracksuits, Shirts & Tanks, Skirts, Sports Bras, Dresses, Tights, Shorts, Jackets, Pants, Hoodies & Sweatshirts, Socks, Bags, Headwear, Swimming, Training, Tennis, Running, Outdoor |
| Kids | Girls Shoes, Boys Clothing, Girls Shoes, Accessories, Boys Shoes, Accessories, Boys Clothing, Girls Shoes, Boys Shoes, Girls Clothing, Boys Shoes, Girls Shoes, Accessories, Girls Clothing, Boys Clothing, Shoes, Clothing, Running, Training, Football, Basketball, Swimming |
| Sports | Accessories, Boots, Clothing, Shoes, Clothing, Accessories, Clothing, Accessories, Shoes, Accessories, Shoes, Clothing, Tennis, Rugby, Skateboarding, Swimming, Outdoor |
How To Shop on Adidas.com.au
You can easily shop on the Adidas website since its user interface is intuitive. You can shop from the various categories available or you can head straight to the section for specific sports items. This will enable you to select the shoes, accessories and clothing options that you want to look for a particular sport. The checkout process is simple and fast, enabling you to place your order in mere minutes without any difficulty at all.
Adidas (Australia) accepts Visa, Mastercard and American Express credit and debit cards. You can also pay via PayPal and AfterPay
You can get offers on Adidas by using an Adidas voucher before you checkout.
Adidas Special Deals and Offers
The easiest way to know about the latest Adidas special offers is by subscribing to Adidas. You will automatically receive a 15% Adidas discount on your first order when you make the purchase online. In addition, you will receive an Adidas promo code that you can use to save on any future purchase. There is a students section in the 'Support section where you will be able to find an exclusive Adidas discount code for students.
At present, there is a mid-season Adidas sale going on where you can get up to 50% off on full priced Adidas items. You can check out coupon websites where you will find Adidas voucher code, Adidas sale and Adidas promo coupon so you can save on your order. You can utilize one Adidas discount voucher per order.
How To Redeem Adidas Coupons
You can effortlessly redeem an Adidas coupon code or Adidas promo. When you checkout, the order summary page will be displayed in front of you. You should click on the 'Enter promo code section and then you can type the Adidas code that you see on the Adidas discount coupon. Click on 'Apply and you will see your discount reflect on the total amount you are required to pay for your order.
How To Shop On Adidas Using ShopBack
Shopping on ShopBack enables you to earn cash back on your purchase that you can use as real cash. When you shop on Adidas through ShopBack, you can get an Adidas cashback of 6.00%. You need to sign up for a free account at ShopBack after which you need to activate cash back. Then just shop on Adidas official website like you normally would. Your ShopBack account will receive the cashback amount.
Adidas Shipping And Return Policy
Adidas (Australia) charges a flat shipping rate of AU$8.50. You can receive your Adidas order between one to four days depending on your residential location in Australia. If your order is more than AU$100 then you do not need to pay a shipping fee. You can return your items for free to Adidas. This process can be started by visiting the ParcelPoint website, stating your return, completing the form, packing and labelling, and then returning the package.
You can call Adidas customer care by calling on 1800801891. Else, you can chat with customer care representatives available on the Adidas website by clicking on the chat option. You can contact the customer service from Monday to Friday between 7 a.m. to 5 p.m. You can send an email to the customer care representatives by filling up a contact form on the website.
You can follow Adidas on social media to get news on an Adidas promotion, updates on an Adidas sale and latest Adidas deals.